[bsa_pro_ad_space id=4]
October 3, 2013 – Andrew Perala, is so proud of the First Place Award for Outstanding Publication of a Specialty Coin Club, recently presented by the American Numismatic Association, that he hung it prominently on the wall in his living room. This wouldn't be so noteworthy, but for the fact that Perala has never hung any other award, not even the Pulitzer Prize or the Investigative Reporting Award from the Society of Professional Journalists, both won in 1989.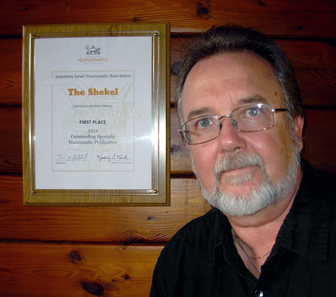 Andrew Perala and the award on the wall. Photo courtesy of Andrew Perala.
Perala won as editor of The Shekel, the bimonthly magazine published by the American Israel Numismatic Association since 1968.
While Perala was unable to be present, the award was accepted by AINA President Mel Wacks, who not only lauded the editor, but also credited the many writers and particularly the Israel Coins and Medals Corporation, that prints the Shekel in full color at no charge to the non-profit organization.
This prestigious award will be announced to the over 700 AINA members around the world on the cover of the next issue of the Shekel, which happens to be the 250th edition of the magazine. Mel Wacks, AINA President, advises that "The articles published in the Shekel over the past five decades – ranging from ancient Judaean coins, through Judaic coins and medals issued around the world, to the coins, medals, paper money, etc. of Israel – form an Encyclopedia of Judaic Numismatics. Most of our members read each issue of the magazine from cover to cover."
The 250th issue features articles about ancient coins: Rome's Judaea Capta Coins by Robert Deutsch, and The Jewish Kings of Armenia by Marvin Tameanko; new issues from Israel: Israel's 2013 Maccabiah Coins by Andrew Perala, and Yitzhak Shamir Honored on Medal by Yossi Ahimeir; and the Holocaust: Medals Commemorate Shanghai Ghetto by Donn Pearlman, Deggendorf Dollars by Robert Messing, and The Extraordinary life of Nat Sobel, Holocaust Survivor, and Father of The Shekel.
This is the website of the American Israel Numismatic Association where you can also find more information on The Shekel.