[bsa_pro_ad_space id=4]
by Ursula Kampmann
translated by Christina Schlögl
April 20, 2017 – There was a time when the world of numismatics was still one and undivided, when enthusiasts for ancient coins naturally put the newest commemorative coins of their countries in their coin trays and could spend days and hours discussing the artistic value of the recently minted coins and medals in their scientific publications. Yes, there once was a time when coin dealers had a natural part in the academic world, when trade and museums were not separated and museum curators still accumulated highly significant own collections, and coin dealers held lectures at universities. There once was a time when all collectors gathered coins simply because of their love for these objects and not because they wanted to obtain a great return for their collection.
This time is long gone but Albert M. Beck still dreams of it until this day. He has dedicated all his energy toward the task of undoing the social trend of the numismatic world that came about during the time of the silver boom. He is fighting for the return of a numismatic world where all collectors, all traders, all producers of coins, all museums and all scholars communicate and work together.
In 1965, surrounded by his family, Albert M. Beck did not yet know that he would travel the world for his interest in numismatics. Photo: AMB.
The silver boom and the start of the MünzenRevue
In order to understand how the current environment of coin collectors came to exist, we have to go back to the years after 1967. Until then, the 'good old times' had prevailed. The circle of coin collectors was limited. Whoever spent time with this hobby, would invest a lot of time to gather information on "the own" coins. Grade did not play an important part because collectors were more interested in the historical background of the coins. It was an exclusive community of coin collectors, but their world crumbled when the silver boom came.
Since the autumn of 1966, Germany was undergoing a lasting recession. After the flourishing economy in the post-war-era, layoffs, inflation and beginning social unrest seemed threatening. People's trust in their currency was long gone and investors invested in material assets. Between September 1967 and March 1968 alone, private investors bought 3,000 tons of gold worldwide in order to have a safe asset during times of inflation. And if anyone did not have enough capital to buy gold, they invested in silver, which is why the price for this type of metal rose form formerly 260 Swiss francs per kilo in 1967 to 350 Swiss francs per kilo in spring of 1968 and eventually reached its peak of 2,000 Swiss francs. The consequence was a hunt for coins. In Switzerland, people started to collect circulation coins whose silver value exceeded its nominal value by far. In Germany, collectors suddenly wrested commemorative coins from banks, which, up that point, usually had to be touted like old fish and a young student visited the numismatic lecture of the Basel professors Hill and Erbe.
This young student's name was Albert M. Beck and he was not that young anymore after all. Born on 15 April 1937 in Neuenkirch, Canton of Lucerne, he had already had a professional career. As one of 12 children he certainly had not had a chance to study at university. After his school education, he had decided to train as a book printer and type setter. But he had gained as little joy from working at the letter case as he had had from working as a proof reader, which he had been doing since 1961 at the printing house Werner Bischoff in Basel. He wanted to be a teacher, despite the fact that he was promoted to chief editor after only a few years. In order to achieve this goal, Albert M. Beck would go to school in the evening after a normal day at work. He got his 'Matura' (secondary school certificate) in 1965. Thus he could teach – which he did, starting with a part-time of nine hours per week at the Allgemeine Gewerbeschule Basel, later at the arts school and, until his retirement, at the Schule für Gestaltung.
But Albert Beck still was not satisfied. In 1968 he decided to attend the faculty for philosophy and history at the University of Basel. And at the peak of the silver boom, when everyone suddenly seemed to have discovered coin collecting, Albert M. Beck heard the numismatic theories of his professors and spent nights discussing the latest developments with his fellow students.
Soon, Albert Beck realised that there was a dire need for a journal to guide the many Swiss citizens who had started to collect (resp. hoard) coins and medals during the silver boom. That is how, on his initiative, the Basler Gesellschaft zur Förderung der Numismatik was founded and it issued a journal which now celebrates its 49th year of publishing.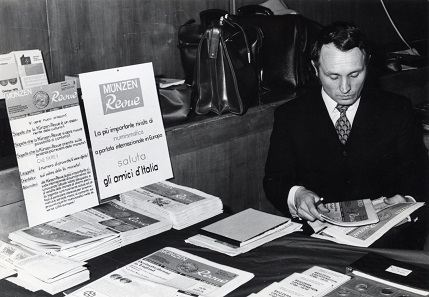 In May 1971, Albert M. Beck introduced his new journal, the MünzenRevue at the coin fair in Rome. Photo: AMB.
The first MünzenRevue
The MünzenRevue was born. It dealt with the question that still interests 90% of all coin owners: "What is your coin worth?" It already entailed the price index for German and Swiss coins. Victor Gadoury reported on exchange meetings and auctions, as well as news and he introduced the already planned Olympic coins on occasion of the XX Olympic Games 1972 in Munich, which should support a breakthrough of coin collecting in Germany. The segment 'dates' already existed and a large section for advertisements – although established companies like the Zürcher Bank Leu or the Basler Münzen und Medaillen AG initially abstained.
Foundation of the Organisation Europäischer Münzbörsen – OEMB
While traditional coin trade had lived from the bond of trust between the dealer and the collector, woven over several decades, the "new market" was almost inscrutable for a new collector. Countless small and big dealers offered their coins to potential buyers, sometimes for fair, sometimes for excessive prices. How should one get orientated? A magazine was one opportunity, a direct comparison on a kind of market place another. Thus formerly privately organised meetings of collectors became virtual coin fairs, whose organisation demanded the efforts of an entire team. Just like mushrooms shout out of the ground after a warm rain, so did the coin fairs, all around Europe. And just like with every growth, there was rank growth also. A competition of fair owners started, and it was certainly not for the benefit of the collectors.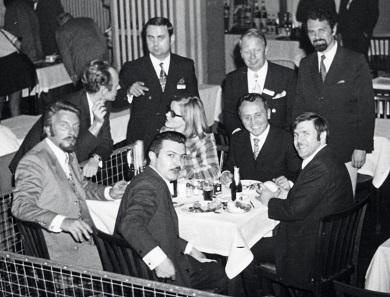 Initial talks about founding an association of the coin show organizers took place on the evening before the 1st Bayerischer Münztag in 1970. Everyone involved in the foundation on 26 June 1971 is present in this image: At the table, seated in the middle, is Albert M. Beck who would later become the first chairman and general secretary of the OEMB, Brigitte Landenberger, Hamburg, to his left, Gianfranco Lissoni, Milan, to his right. Behind Albert Beck, there are Gerhard Richter, Berlin, front left is Walter Osterwald, founder of the Munich coin fair, the precursive event of Numismata. Photo: AMB.
Although Albert M. Beck as the editor of the MünzenRevue was somewhat outside the tumult, he still saw that no good came from the overlapping dates of the separate fairs. He thus took the initiative and spoke to the most important fair hosts and obtained approval for his idea of founding an organisation of European coin fairs, whose members should lead their fairs according to a certain standard. On 26 June 1971, the founding assembly of the OEMB was held at the Löwenbräukeller in Munich. Albert M. Beck was made general secretary and first chairman. Admission requirements for dealers, mutual support by each member and joint advertising were then discussed under his conduct. Upon request of the second chairman, Walter Oswald, who was organising the precursive event to the Numismata, the organisation explicitly forbade the admission of coin dealers who put forgeries or restrikes up for sale.
Item 15 on the record entailed an agreement on the places and dates of the coin fairs. A fair in Basel started them off on 22 January 1972 – a fair which had yet to be founded.
While the established coin dealerships had initially been skeptical of the new group of collectors, they too had to face the new development soon. This is a photo from the Basel coin fair 1976 which shows the table of the Bank Leu. Second on the right is Dr. Alan Walker, third from the right is Silvia Hurter. Photo: AMB.
The Basel Coin fair becomes the World Money Fair
The first coin fairs in Basel were similar to all events at the time. Coin dealers would stand behind long tables and put their products up for sale to the long queues of buyers that were passing them. Albert M. Beck probably enjoyed this, seeing as both the coin fairs and the MünzenRevue were developing nicely. Another thing that was improving was his knowledge of current numismatics – contemporary coins, which no renowned numismatist wanted to get involved in. Scholars and museum curators at the time were wrinkling their noses on this sell-out of collecting. No one was willing to deal with this kind of "underclass numismatics". The mints' efforts to attract customers was criticised as rip-offs – and a few states actually had orientated their coin programs too much toward making profit. But as soon as a decline of the silver boom and thus decreasing coin purchases started to loom ahead, there was a great demand of governments and mints for experts on the market. This was the gap Albert M. Beck discovered for himself.
It was already on occasion of the 5th Basel coin fair, that a colloquium to inform collectors took place. The speakers at the time were (from l. to r.) Georg Wimmelmann, Hanover, on medals in art, Albert M. Beck on sensible collecting, Oluf Zierl, Munich, on forgeries and W. Diebold, Karlsruhe, on the coins of the Baltic states. Photo: AMB.
Albert M. Beck – sought-after specialist for current mints
Soon the editor of the MünzenRevue was a demanded advisor for drafting promising coin programs. His first assignment came from the Russian foreign trade bank in Moscow, which was planning a succeeding program of Olympic coins and medals on occasion of the XXII Olympic Games in 1980 in Moscow. The program was supposed to bring western foreign currency to the country. Up until then, coins on big victories of patriotic wars or coins with Lenin's portrait had been minted and neither had been particularly suited for the world market. Therefore they needed a specialist who knew the market and who could advise the coin producers in Moscow and Leningrad. The Swiss editor was proudly shown first drafts of coins that should promote the greatness of Russia to the world. Albert likes to report on his reaction at the time: He ripped the drafts apart. They were full of political messages which did not have anything to do with the Olympic spirit. Of course people were very upset but after a fortnight he was presented with new drafts that had implemented his suggestions.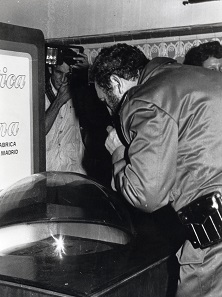 Fidel Castro visits his exhibition DEPORTFILX in Havana and takes a look at the coins on display. Albert M. Beck was part of the jury. Photo: AMB.
Russia was not the only country to invite Albert M. Beck. Many states called him in as a specialist. One of these countries, as Albert also likes to tell people, was communist Cuba, which wanted to start doing business with the western world in 1982. As a traveler for current numismatics, Albert Beck was allowed to meet the most important politicians in contemporary history. His expertise led him into social circles, the modest Swiss family man never would have dreamed of seeing until then.
In 1981, the Royal Canadian Mint was the first mint and guest of honor to participate in the 10th Basel coin fair. Albert M. Beck is handing over the traditional present for the guest in this photo. Photo: AMB.
The mints come to Basel
Of course these contacts also led to a close relationship with international mints. Thus the Royal Canadian Mint invited Albert M. Beck to their press conference on occasion of their introduction of the newest Canadian 1$ silver commemorative coin in Frankfurt. The optimistic Canadian president of the mint had ordered a buffet for 40 people to feed the members of the press, but only one journalist came. Certainly everyone was hugely disappointed. Consequently Albert M. Beck's suggestions were gratefully received. He advised them not to seek the collectors through the press but to look for them where they already were – at the coin fairs. Thus the Royal Canadian Mint was the first mint and guest of honor to participate in the 10th Basel coin fair.
Of course these contacts also led to a close relationship with international mints. Thus the Royal Canadian Mint invited Albert M. Beck to their press conference on occasion of their introduction of the newest Canadian 1$ silver commemorative coin in Frankfurt. The optimistic Canadian president of the mint had ordered a buffet for 40 people to feed the members of the press, but only one journalist came. Certainly everyone was hugely disappointed. Consequently Albert M. Beck's suggestions were gratefully received. He advised them not to seek the collectors through the press but to look for them where they already were – at the coin fairs. Thus the Royal Canadian Mint was the first mint and guest of honor to participate in the 10th Basel coin fair.
The Basel coin fair offered a public audience, the Royal Canadian Mint could not have dared to dream of until then and Albert Beck realized that it was not just Canada that needed such a populace. He started to actively advertise for participation at the Basel coin fair at the mints. And they came, initially decoyed by the collectors and then by numerous resellers, which they started meeting regularly in Basel. Today, the World Money Fair in Berlin is the most important meeting point, "the" market place for mints, dealers, resellers, supplying industry and collectors worldwide. Not in his boldest dreams could Albert M. Beck ever have imagined what would become of the small, modest, local coin fair in Basel. But he was the one who made it all possible with his imagination, his patience and constancy and not least through his close contact to all teammates of the market.
Since 1994, the Olympic medals are officially introduced in Basel. At the time, they were presented under the watchful eyes of IOC-president Juan Antonio Samaranch. These are the coins that were minted on occasion of the Winter Games in Lillehammer. Photo: AMB.
The IOC as the motor of progress
Albert M. Beck's efforts for the Olympic coins of Moscow did not go unnoticed at the international Olympic committee. They realized that they actually needed a specialist for the coins, which had started making increasing profits. Closer contacts were knit and soon Albert Beck, as an executive member of the Olympic collectors' commission at the IOC, was supervising both the new Olympic coins and the coins for the Olympics museum in Lausanne. That is the reason why all Olympic coins were first presented at the World Money Fair for decades. That is why the president of the IOC, Juan Antonio Samaranch, came to Basel in 1994 to open the World Money Fair.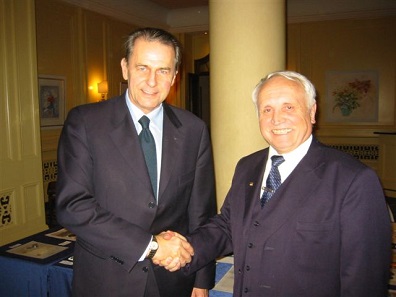 IOC-president Dr. J. Rogge congratulates A.M. Beck on his exhibition on the Winter Olympics in St. Moritz 1928 and 1948. Photo: AMB.
Albert M. Beck's biggest talent has always been what is called networking today. He generously supported many promising young people, he always was and still is a good conversational partner, who is able to talk away in a lot of different languages. His way of enjoying life is appealing to many, which is why he has developed a relaxed and friendly relationship with numerous important figures of numismatics. All of Albert M. Beck's "babies", like the MünzenRevue, the World Money Fair and the Olympic coins benefit from these connections.
When the 30th World Money Fair was celebrated in 2001, it was still a "family business" – here we can see Albert M. Beck with his wife Alda and his daughter Emanuela. Photo: AMB.
Congratulations on your 80th birthday
Despite his 80 years of age and the severe illness he had to fight over 15 years ago, Albert Beck still actively participates in the world of numismatics, travels the world at visit mints, looks forward to the next Mint Directors Conference and enjoys the success, he has worked for all these past years.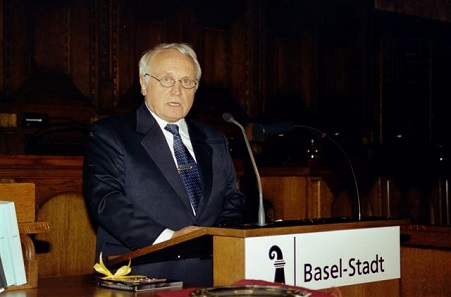 Albert M. Beck during his speech at the World Money Fair 2005 in Basel. Since 2006, this most prominent specialised fair for coins has moved to Berlin and is successfully managed by Barbara Balz. Photo: AMB.
He still advocates for his vision of a numismatic world where collectors and dealers, coin producers and museums, scholars and journalists can have discussions without prejudice or aversions and spread enthusiasm for numismatics.
Albert M. Beck with one of his numismatic foster children, Ursula Kampmann, who first stepped in his shoes as editor of the MünzenRevue for ten years and later on – just like he did – founded her own journal. Photo: WMF.
With its attempt to build a bridge to the numismatic world, CoinsWeekly is bound to the vision of Albert Beck. The congratulant is another one of the many young people, Albert once generously supported.
Dear Albert, thank you for everything! Congratulations on your 80th birthday and please keep doing what you're doing for many more years!
You can find out more on Albert M. Beck's World Money Fair on their official website.
CoinsWeekly introduces the catalogue of the Olympic coins of Albert M. Beck here.
And this CoinsWeekly article by Rainer Albert reports on the 45th founding anniversary of the MünzenRevue (only in German).
You can find a summary of the life of Albert M. Beck, with many more links, also in the CoinsWeekly Who's Who.