[bsa_pro_ad_space id=4]
Agora's Fixed-Price List XX
Agora Numismatiek published their Spring fixed-price list. Over the last two years the market for ancient coins has proven to be very resilient. But an almost continuous rise in prices has put a lot of coins out of reach of the average collector, so it seems. Another movement in our hobby, which had already been going on for a few years, is the search for perfectly struck and preserved examples. Of course one should always strive to have the best specimen possible in one's collection. However, this has left behind many interesting and collectible issues that never have been minted in perfect condition in the first place.
In this section there are probably still bargains to be had. Collector's can re-evaluate their collection and add some, maybe not perfectly struck but from a numismatic point of view interesting coins. In doing so their collection's will mature and become more whole.
In this Fixed Price List Agora Numismatiek hopes you'll find both: the perfect coin and the rare and interesting coin. And maybe even coins that combine both. Enjoy the selection of coins!
All coins from Agora Numismatiek come with a lifelong guarantee and a Certificate of authenticity. Here are some honorable highlights: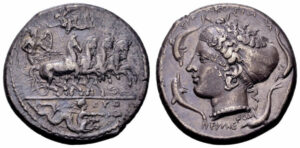 Sicily, Syracuse. Circa. 412 BC. AR tetradrachm, 17.25 gr., 26 mm. Signed by Euth… and Eumenos. Obv: winged charioteer (Agon?) driving fast quadriga to the right; above: Nike flying to the left to crown driver; in exergue: Skylla to the right, pursuing fish swimming to the right and artist's signature: EYΘ. Rev: SYRAKOΣΙΩN; head of Arethusa to the left, wearing pearl necklace, whorl earring, ampyx, and sphendone ornamented with stars; around: four dolphins, under truncation: artist's signature: EYMENOU. Ref: Tudeer 48 (15/26). Rizzo pl. xliii, 10 (these dies). SNG Munich 1060 (these dies). Toned, with full and legible signatures. Nearly extremely fine. Price: 30,000 EUR.
Seleukid Kingdom, Seleukos VI Epiphanes Nikator. Seleukeia on the Kalykadnos, circa 96-94 BC. AR tetradrachm, 16.04 gr., 32 mm. Obv: diademed head of Seleukos VI to the right. Rev: BAΣIΛEΩΣ ΣEΛEΥKOY EΠIΦANOΥΣ NIKATOΡOΣ; Athena standing facing, head to the left, holding Nike in right hand and resting left on shield set on ground; spear leaning against left arm; in outer left field: silphium plant (?), in inner left field: ΘE, above: ΠA-monogram. Ref: SC 2403.1a; A. Houghton in: Kraay-Mørkholm Essays, p. 94, 137 corr. A beautifully toned example of this extremely rare Attic weight issue. The obverse struck from a slightly worn die. Choice very fine. Price: 1,100 EUR.
Marcus Aurelius, as Caesar. Rome, 145-147 AD. AR denarius, 3.34 gr., 18.5 mm. Obv: AURELIUS CAESAR AUG PII F; bare head of Marcus Aurelius to the right. Rev: COS II; Honos, togate, standing to the left, holding branch in right hand and cornucopia in left. Ref: RIC (Pius) 429a (Pius); BMC (Pius) 595. From the Thomas A. Palmer collection, purchased from David Herman, January 1989. Superb portrait in high relief. Deep iridescent toning. Virtually as struck and almost FDC. Price: 1,650 EUR.
Faustina minor, as Augusta. Rome, circa 147-150 AD. AR denarius, 3.18 gr., 18 mm. Obv: FAUSTINAE AUG PII AUG FIL; draped bust of Faustina minor to the right. Rev: PUDICITI; Pudicitia standing facing, head to the left, raising veil with her right hand and skirt with her left. Ref: RIC 507a; BMC 1051. A beautiful portrait of great artistic merit with lovely iridescent toning. Delicate golden toning. Lustrous. Virtually as struck and almost FDC. Price: 1,000 EUR.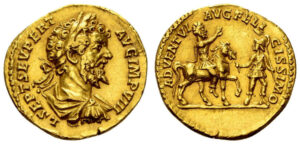 Septimius Severus. Rome, 196-197 AD. AU aureus, 7.24 gr., 20 mm. Obv: L SEPT SEV PERT AUG IMP VIII; laureate, draped, and cuirassed bust of Septimius Severus to the right. Rev: ADVENTUI AUG FELICISSIMO; emperor on horseback right, raising right hand in salute; to the right: soldier advancing to the right, head to the left, holding reins of horse and vexillum. Ref: Calicó 2427 (these dies); RIC 73 var. (bust type); BMC 150 var. (these dies); Biaggi 1061 (these dies). Ex Freeman & Sear, Mail Bid Sale 11 (2004), lot 354. Lustrous. Some edge marks. Extremely rare. Extremely fine. Price: 16,000 EUR.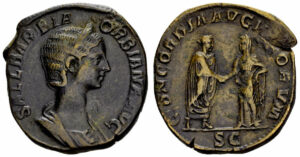 Orbiana, as Augusta. Rome, 225 AD. Æ sestertius, 18.66 gr., 28.9 mm. Obv: SALL BARBIA ORBIANA AUG; diademed and draped bust of Orbiana to the right. Rev: CONCORDIA AUGU[ST]ORUM; Severus Alexander standing to the right, in dextrarum juncto with Orbiana standing to the left; in exergue: S C. Ref: RIC 657; BMC 293. Ex Triton V (2002), 2039; ex Stack's, 19 June 1969, lot 604 (with ticket). From the Niggeler collection, Bank Leu and Münzen und Medaillen, 2 November 1967, lot 1427. Glossy chocolate-brown patina. Striking flaw on the reverse rim. Good very fine. Price: 1,250 EUR.
Constans, as Caesar. Constantinople, 336 AD. AU solidus, 4.44 gr., 21.5 mm. Obv: FL CONSTANS NOB CAES; laureate, draped and cuirassed bust of Constans to the right. Rev: PRINCIPI IUVENTUTIS; Constans standing facing in military dress, head to the left, holding vexillum in his right hand and long sceptre in his left; to the right: two signa; in exergue: CONS. Ref: RIC -, cf. p. 719, 112A var. (rosette-diademed); Depeyrot -, cf. 7/9 var. Ex NAC 78 (2014), lot 1161. Unpublished in the standard reference works. Extremely rare. A pleasing portrait and Extremely fine. Price: 6,000 EUR.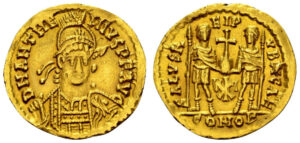 Rome, 468 AD. AU solidus, 4.42 gr., 21.2 mm. Obv: D N ANTHEMIUS P F AUG; helmeted, pearl-diademed and cuirassed bust of Anthemius to the right, holding spear over shoulder with his right hand and shield with horseman and enemy motif in his left. Rev: SALUS REI PUBLICAE; two emperors, in military dress, standing facing, holding spears and supporting a globe surmounted by cross between them; in centre field, Christogram; in exergue: COMOB. Ref: RIC 2822 var.; Depeyrot 63/1 var.; Lacam 55 var. Ex NAC 8 (1995), lot 79; ex Tkalec, 8 September 2008, lot 334. Rare. Light reddish tone, minor area of weakness on obverse. Nearly extremely fine. Price: 7,500 EUR.
The complete list is available on the Agora website.