[bsa_pro_ad_space id=4]
Agora's Fixed-Price List XVIII
Agora Numismatiek published their Spring fixed-price list. The list is later than usual and contains less coins than you'd normally expect. This is mainly due to the pandemic and its subsequent restrictions. The influence of these restrictions on the coin-market are considerable. No coin-shows, rising prices, an influx of new collectors, to name only a few. A booming coin-market is of course wonderful. But the downside is that the coins become more expensive, and a lot of collectors have to adjust themselves to these new prices. In markets like this it is important to discern the value of the coins on the basis of style and preservation, amongst others. The fact that it all seems to happen online and in an auction environment these days, doesn't make it easier. With a fixed-price stock and free advice, Agora Numismatiek loves to help you to take the best decision for your collection in this difficult market. So, don't hesitate to call Agora if you're in the need of more information.
That said, this pricelist offers a nice selection of rare and interesting coins in the quality you're used to from Agora Numismatiek for pre-pandemic prices.
Here are some honourable highlights: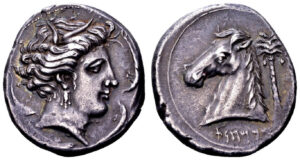 1293: Sicily, Entella (?). AR tetradrachm, c. 320-300 BC. 17.16 gr., 26 mm. Av: head of Tanit-Persephone to the right, wearing wreath of grain leaves, triple-pendant earring and pearl necklace; around: three dolphins. Rv: š'mmhnt (= "people of the camp" in Punic characters); head of a horse to the left; behind: palm tree with two date clusters. Ref: Jenkins, Punic, 178 (O51/R158). From an old Swiss collection, formed in the 1970's. Beautifully toned. Nearly extremely fine. Price: 3,250 EUR.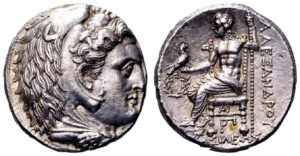 1301: Kingdom of Macedon, Susa. AR tetradrachm, c. 316-311 BC. Struck under Aspesias, satrap of Susiana. 17.25 gr., 23.7 mm. Av: head of young Herakles to the right, wearing lion skin headdress. Rv: ΒΑΣΙΛΕΩΣ ΑΛΕΞΑΝΔΡΟΥ; Zeus Aëtophoros seated to the left; in left field: wreath, below throne: AI and ΓΠ monogram. Ref: Price 3857. Ex Dr. B. Peus Nachfolger 403 (2011), lot 97. Extremely fine. Price: 1,100 EUR.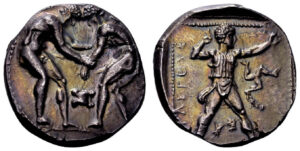 1284: Pisidia, Selge. AR stater, c. 400-325 BC. 10.79 gr., 21.3 mm. Av: two wrestlers grappling; between them: astragalos. Rv: ETΛEΓEYΣ; slinger in throwing stance to the right; in right field: triskeles, between legs: YƎ; all in dotted square within incuse square. Ref: SNG BN 1924 (same dies); SNG von Aulock 5251–3 (same dies). Ex Van Erp collection before 1971. Very rare. Beautiful iridescent color patina. Extremely fine. Price:1,800 EUR.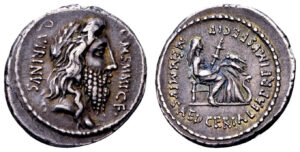 1309: C. Memmius C. f. AR denarius, 56 BC, Rome. 3.93 gr., 18 mm. Av: laureate head of Quirinus to the right; before: C•MEMMI•C•F, behind: QUIRINUS. Rv: Ceres seated to the right, holding torch and corn-ears, before: serpent; around: MEMMIUS AED•CERIALIA•PREIMUS•FECIT. Ref: Crawford 427/2; Sydenham 921. Ex Nomos 14 (2017), lot 260. Choice very fine. Ex Stoecklin collection. Price: 950 EUR.
1310: Vitellius. AR denarius, 69 AD, Rome. 3.06 gr., 17 mm. Av: [A VIT]ELLIVS GERMAN IMP TR P; laureate head of Vitellius to the right. Rv: LIBERI IMP GERMAN; confronted busts of Vitellius' son, Vitellius Germanicus, and daughter, Vitellia. Ref: RIC 79; BMC p.370, note 12. Ex Berk BBS 121 (2001), lot 320. Very rare. Good very fine. Neither the British Museum nor the Bibliotheque Nationale possesses an example of this rare issue. Note the double binding of the laurelwreath on the obverse! Price: 7,250 EUR.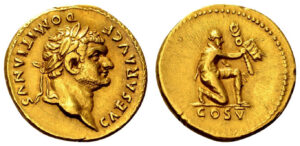 1294: Domitian as Caesar. AV aureus, 77-78 AD, Rome. 7.25 gr., 18.7 mm. Av: CAESAR AUG F DOMITIANUS; laureate head of Domitian to the right. Rv: captive kneeling to the right, offering standard with vexillum; in exergue: COS V. Ref: Calicó 819; RIC (Vespasian) 959; BMC (Vespasian) 231. Ex HSA 22285; ex NAC 71 (2013), lot 224 (hammerprice: 16,000 CHF). A superb portrait of high style, light reddish tone. Extremely fine. Ex Archer M. Huntington collection. Price: 12,500 EUR.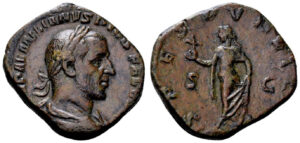 1307: Aemilian. AE sestertius, 253 AD, Rome. 18.94 gr., 28 mm. Av: [IM]P AEMILIANUS PIUS FEL [AUG]; laureate, draped and cuirassed bust of Aemilian to the right. Rv: SPES PUBLICA; Spes advancing to the left, holding flower in right hand and raising skirt; across fields: S C. Ref: RIC 39; Banti 13. Very rare. Brown tone. Good very fine. An expressive face of this short-lived emperor and a gem of mid 3rd century die-cutting. Price: 2,250 EUR.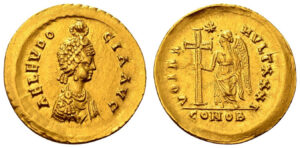 1296: Aelia Eudocia as Augusta. AV solidus, 423-429 AD, Constantinople. 4.45 gr., 21.2 mm. Av: AEL EUDOCIA AUG; pearl-diademed and draped bust of Aelia Eudocia to the right, crowned by Manus Dei. Rv: VOT XX MULT XXXI; Victory standing left, holding long jeweled cross; above: star, in exergue: CONOB. Ref: RIC 228; Depeyrot 75/2. Rare. Extremely fine. Price: 5,250 EUR.
The complete list is available on the Agora website.