[bsa_pro_ad_space id=4]
Agora Numismatiek's Fixed-Price List XXI
Coins tell stories. That is just one of the interesting aspects of the hobby. Through coins, small testimonies of times past, collectors can delve into history and find out more about the people behind the coins, the world they lived in and how they perceived it.
In the new Agora Numismatiek pricelist, coins from Himera and the Mamertini tell tales about tumultuous times in Sicily. The coin of the Mamertini boasts a respectable pedigree, coming from the Pozzi and Virzi collections. Other interesting Greek coins are a tetradrachm from Ilium with a hitherto unknown magistrate and a heavy stater of king Croesus of Lydia, who lost his realm to Cyrus the Great through his misinterpretation of the words of Delphic oracle.
From the collection of Jean-Pierre Righetti comes a rare Roman provincial drachm. Maybe not in the best quality, but featuring the Egyptian god Tutu whose strange appearance is deserving of some attention.
A sestertius by Caligula for Agrippina the Elder is a rare variant in the way of her hairstyle and finds a match with a bust of hers in the Museo Capitolino. Readers will also find a denarius of Lucius Verus which is only known in gold and a Commodus denarius with an unpublished bust for the reverse.
In the Byzantine section, a very rare solidus of Constantine VII tells of the resolve of a young boy who became emperor and was dominated by powerful generals but who in the end survived them all. To top it off, there is a good selection of coins from a collection formed in the 1950's and 60's and which have been held in a bank vault since.
Here are some highlights of the list: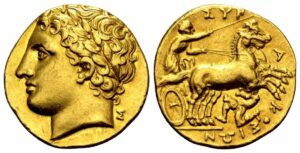 Sicily, Syracuse. Agathokles, 317-310 BC. AU 60 litrae or dekadrachm, 4.26 gr., 15.4 mm. Obv: laureate head of Apollo to the left., behind: Σ. Rev: ΣYPAKOΣIΩN; charioteer driving fast biga to the right, holding kentron in his right hand and reins in his left; below: triskeles. Ref: Gulbenkian I, 109, 327 (these dies); SNG ANS 551 (these dies); SNG München 1190. Ex Hess-Divo 332 (2017), lot 17. Of excellent style. Scarce. Extremely fine. Price: 12,500 EUR.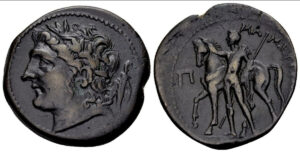 Sicily, Mamertini. Circa 220-200 BC. Æ pentonkia, 11.79 gr., 25 mm. Obv: laureate head of young Ares to the left, behind: sword in scabbard. Rev: ΜΑΜΕΡ[ΤΙΝΩΝ]; horseman, holding a lance, standing beside horse; in left field: Π. Ref: SNG ANS 429; Calciati 25. Ex Gorny & Mosch 207 (2012), lot 59. A portrait of excellent style and a wonderful brown tone. Good very fine. Price: 1,250 EUR.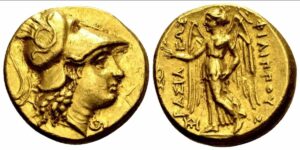 Macedonian Kingdom, Philip III Arrhidaios. Babylon, 323-317 BC. AU stater, 8.62 gr., 12.4 mm. Obv: head of Athena to the right, wearing crested Corinthian helmet decorated with serpent. Rev: BAΣIΛΕΩΣ ΦΙΛΙΠΠΟΥ; Nike standing to the left, holding laurel wreath in right hand and stylis in left; in left field: wheel; below left wing: monogram; below right wing: N. Ref: Price P193B. Ex European Ambassador collection formed in the 1950's–1960's. Nearly extremely fine. Price: 8,500 EUR.
Bithynia, Herakleia Pontika. Circa 394-352 BC. AR trihemiobol, 1.27 gr., 10 mm. Obv: bearded head of Herakles to the left, wearing lion's skin headdress. Rev: ΗΡΑΚΛΕΙΑ; club to the right. Ref: SNG Stancomb 812; SNG BM 1577. Originally acquired in Germany in the 1980's. Attractively toned, fine Classical style. Minor deposits as found. Extremely fine. Price: 2,500 EUR.
Mamilius Limetanus. Rome, 82 BC. AR denarius, 3.89 gr., 18.6 mm. Obv: draped bust of Mercury to the right, wearing winged petasos; behind: caduceus and T. Rev: [C•] MAMIL LIMETA[N] (partially ligate); Ulysses standing to the right, holding staff in left hand and extending right hand to Argus on the right. Ref: Crawford 362/1; Sydenham 741. Old cabinet tone. Tiny knick on obverse, edge fault and scratch on reverse. Nearly extremely fine. Price: 1,500 EUR.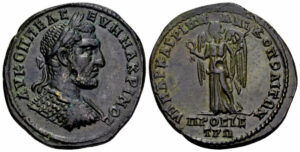 Moesia Inferior, Nicopolis. Macrinus. 217-218 AD. Æ-27, 14.12 gr., 27 mm. Obv: ΑΥ Κ ΟΠΠΕΛ ΣΕΥΗ ΜΑΚΡΙΝΟΣ; laureate and cuirassed bust of Macrinus to the right, drapery on far shoulder. Rev: ΥΠ ΜΑΡΚ ΑΓΡΙΠΠΑ ΝΙΚΟΠΟΛΙΤΩΝ; Nike standing to the left, holding wreath and palm; in exergue: ΠΡΟΣ ΙΣΤΡΩ.Ref: AMNG I 1691; Varbanov, GIC I. Ex Tkalec, Zürich (2003), lot 333. Rare variant with pre-nomen of Agrippa. Extremely fine. Price: 800 EUR.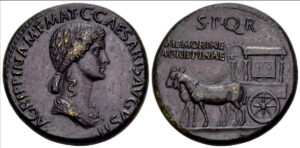 Gaius for Agrippina Maior. Lugdunum, 40–41 AD. Æ sestertius, 30.30 gr., 34.4 mm. Obv: AGRIPPINA·M·F·MAT·C·CAESARIS·AUGUSTI; draped bust of Agrippina Maior to the right, hair at back of neck tied in long queue. Rev: carpentum with ornamented side and cover supported by three Karyatids, drawn to the left by two mules; above: S P Q R, in left field: MEMORIAE AGRIPPINAE in two lines. Ref: RIC 55; BMC 81; Bant 38/1 (this coin); RIM pg.144, 50 (this coin). Ex Glendining auction 16/21 november 1950, lot 1003; ex Münzen & Medaillen AG, Basel, auction 66 (1984), lot 354; From the Bunbury and Henry Platt-Hall II collections. Red-brown patina. Very rare variant. Extremely fine. Price: 12,500 EUR.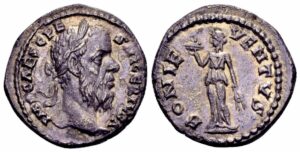 Pescennius Niger. Antioch, 193–194 AD. AR denarius, 4.35 gr., 18.4 mm. Obv: IMP CAES C PES NIGER IUSA; laureate head of Pescennius Niger to the right. Rev: BONI EVENTUS; Fides standing facing, head to the left, holding basket of fruit and corn ears. Ref: RIC 5a; BMC 299 note; Cohen 10 var. (different obverse legend). Privately acquired from Freeman & Sear in 2009. Rare and in exceptional condition for the issue. A lovely portrait struck on unusually fresh metal and with a wonderful iridescent tone. Extremely fine. Price: 5,000 EUR.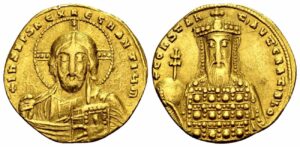 Constantine VII Porphyrogenitus. Constantinople, circa 945 AD. AU solidus, 4.24 gr., 19 mm. Obv: +IhS XPS RЄX RЄϚNANTIЧm; nimbate bust of Christ facing, wearing pallium and columbium, raising right hand in benediction and holding book of Gospels in left; three dots in each arm of cross. Rev: + COҺSƮAҺƮ'AVƮ'CRAƮ'N'ҺO•; crowned bust of Constantine VII facing, with long beard and wearing a loros, in his right hand holding a patriarchal cross on a globus. Ref: DOC 13a.1 (these dies); Sear 1747. ex Numismatica Ars Classica 92 (2016), lot 988. Extremely rare. Well-centered. Some minor marks, nevertheless Nearly extremely fine. Price: 30,000 EUR.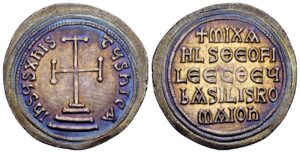 Michael II the Armorian, with Theophilus. Constantinople, 820-829 AD. AR miliaresion, 2.1 gr., 22.7 mm. Obv: IҺSЧS XRISTЧS ҺICA; cross potent set on base with three steps. Rev: +MIXA HL S ΘЄOFI LЄЄ ЄC ΘЄЧ´ ЬASILIS RO/MAIOҺ in five lines. Ref: DOC 6; Sear 1691. From the European Ambassador collection, formed in the 1950's and 1960's. Beautiful rainbow coloured toning. Good extremely fine. Price: 850 EUR.
For the rest of the collection or additional information, please visit the website of Agora Numismatiek.