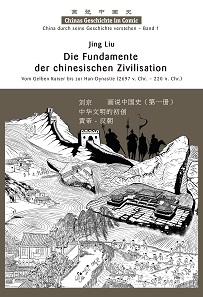 [bsa_pro_ad_space id=4]
by Ursula Kampmann
Translated by Leonie Schulze
September 27, 2018 – China is different. China is important. We all should have studied and read up on China a long time ago, if only we had more time on our hands. China is complicated precisely because we know so little about it.
Jing Liu, Chinas Geschichte im Comic – China durch seine Geschichte verstehen. Vol. 1: Die Fundamente der chinesischen Zivilisation. Vom Gelben Kaiser bis zur Han-Dynastie (circa 2697 v. Chr. – 220 n. Chr. 308 S. ISBN: 978-3-905816-78-5. / Vol. 2: Von der Epoche der langen Spaltung bis ins goldene Zeitalter. Von den Drei Reichen bis zur Tang-Dynastie (220-907). 288 pp. ISBN: 978-3-905816-79-2. Both volumes in dual-language German/Chinese, illustrate in black and white throughout. Paperback. 15.2 x 20.2 cm. Chinabooks Publisher.
All those who have always found a good excuse so far as to why they haven't yet been able to deal with China are getting their chance to do so now. The Chinese comic artist Jong Liu offers his short version of the Chinese cosmos: The history of China from 2697 BC until 1912 in four volumes, the first two of which have just been published.
An overview of 5000 years of Chinese history. © Jing Liu.
First things first: these comics are amazing. But they constitute a heap of information. You can't just read them on the go in between two train stops. It is almost like a friendly ghost has highlighted all the information in a schoolbook that you absolutely must remember for the upcoming exam and then illustrated that information beautifully.
The author Jing Liu. © Jing Liu.
Author Jing Liu usually makes a living as a commercial artist in China. And his comic art is indeed designed very appealingly. The "mini chapters" are often restricted to two pages and convey the message in words and images. But a word of advice: the intellectual focus is definitely on the text. You have to read it and reflect on it carefully. And you should not take on too much at once or else you will have forgotten the context of the beginning chapters once you get to the end of the book.
Why the Great Wall of China was built. © Jing Liu.
What is really fascinating about this book, is the Chinese point of view that it offers. Which aspects of his own history are important enough for author Jing Liu to mention them in his comic? Just think about it for 10 seconds: what would you focus on if you had to write a history of the occident from the Neolithic period to the First World War!
Well, as a numismatist, I was delighted to see that this Chinese chronicle offers plenty of room to the economic history. In the section on the fall of the eastern Han dynasty – around the same time as the reign of Marcus Aurelius – the author doesn't fail to mention – despite the limited space he is working with – that the costs of the military operation against the Quiang amounted to 32 billion copper coins while the annual state revenue amounted to 6 billion copper coins. The rest is simple mathematics.
Although it makes me a little envious to think of all the detailed sources Chinese historians must have access to. Roman emperors were dealing with similar problems at the time – but we can only dream of such accurate statements!
That is only one of many examples. Social and economic history is treated as almost as important as factual history. But you can forget about the anecdotes and tiny scandals that fill up our popular history books. Only a few times do we hear about a specific personage and their fate.
The rich and the poor during the Tang dynasty. © Jing Liu.
So, if you want to learn more about the history and culture of China (and you are a bit of a comic aficionado) these four volumes are well worth the purchase. Although you will probably have to consult them repeatedly, as the sheer amount of information requires constant repetition if you truly want to memorize the long history of the giant "Middle Kingdom".
By the way, the English version of this comic history opus won the bronze medal at the 2013 Independent Publishers Book Award in the Graphic Novel category.
And another apropos: in case your children are learning Chinese, these comics are the ideal reading material – they are dual-lingual: German in the front, Chinese in the back.
The volumes are published by the Swiss publishing company Chinabooks, where you can directly order the comics. Of course, you can just purchase them on Amazon, but please do keep in mind that you can support smaller publishers in particular by saving them the high Amazon fees.
You can order volume 1, volume 2, volume 3, and volume 4 here.
The publishing company Chinabooks specializes in translating Chinese comics into German. The aesthetics of their books are incredibly beautiful.
And you can order the English version of these volumes here.