[bsa_pro_ad_space id=4]
by Swiss National Museum
May 3, 2018 – A banknote's design must meet the client's stringent requirements, which generally mean the text, images, size and colour. Once a design has been created on the basis of these specifications and is in with a chance of becoming a new note, an engraver must be able to make it a reality and transfer it to the printing plate.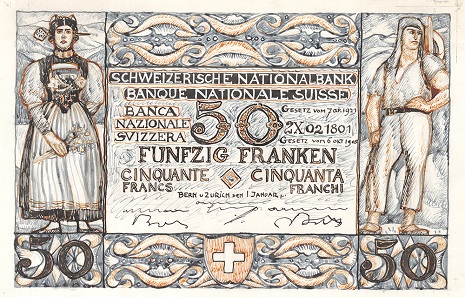 The front of Edmond Bille's design. Photo: Swiss National Bank.
After several failed attempts to present its own design for a new CHF 50 note, the Swiss National Bank launched a public competition to come up with new notes in 1921. Some 180 artists entered, including famous names like Wilhelm Hartung, Hans Häfliger and Edmond Bille.
The painter from Neuchatel submitted two motifs for the back. This one features the Rütli Oath. Photo: Swiss National Bank.
The painter from Neuchâtel submitted two designs and won second prize. A total of 24 designs received awards and Bille's two entries were kept on file by the SNB.
The second version, Bille depicted a scene from Swiss folklore: a young man beside a tamed bull. Photo: Swiss National Museum.
Another design for the back of the CHF 50 note is now held by the Swiss National Museum. The motif chosen by Bille shows a scene from Swiss folklore: a young man beside a tamed bull.
However, the contest in 1921 came to nothing; the National Bank ultimately decided against issuing a new banknote. At that time, Switzerland lacked the expertise required to produce banknotes that could satisfy the National Bank's aesthetic and anti-forgery requirements. Various attempts in the interwar period to print banknotes failed. Switzerland proved unable to produce higher-value notes (above CHF 50) that were successful in everyday use until the 1970s. Before then, higher-value notes were printed in London at Waterlow and Sons and De La Rue, with Orell Füssli responsible for the CHF 10 and CHF 20 notes.
This is why the CHF 50 note with the woodcutter designed by Ferdinand Hodler in 1910 was retained until the mid-1950s. Today, Switzerland prints its own banknotes, the most recent example being the CHF 10 note.
This is the website featuring the blog of the Swiss National Museum.
And if you want to visit one of the branches of the Swiss National Museum, here is more information.
We reported on the reopening of the Zurich branch of the National Museum.
By the way, the CHF 10 note just was awarded the IBNS Bank Note of Year Award. Not surprising, the year before, the CHF 50 won the same award.