[bsa_pro_ad_space id=4]
A Happy Escape From the Pandemic: Obolos 19
Yes, indeed, another Obolos sale is now online. The auction closes on 8th May 2021. This time there are 1,211 lots, ranging from the Celts on up to a multiple lot of 29 coins dating from medieval times to the 18th century. Looking through all this material will be a happy escape from the Covid pandemic and all the unpleasantness that is occurring all over the world. A coin may have been issued on behalf of a long-gone ruler who was crazed and vicious, or merely stupid and ineffective, like so many are today, but the coin itself is basically an historic document, a witness, free from any possible moral opprobrium. When we handle and look at these coins, when we are their temporary owners, we are, for good or ill, in touch with that past, and we can learn from it. So let's look at a few of these "blasts from the past" and see what we see …
Lot 172 (Starting price: 200 CHF), a silver stater of King Archelaos I, who was a son of Perdiccas II, and ruled Macedon 413-400/399 BC. He was a good ruler who stabilised the kingdom and put in the reforms that finally, under his cousin Amyntas III, grandson of his uncle Amyntas – father of Philip II – led to Macedon's prominent place in the Greek world. Archelaos was murdered by one of his pages, who apparently felt insulted. This led to nearly ten years of anarchy, and a considerable number of short-lived rulers, before Amyntas finally brought the anarchy to an end in 392 BC. As a coin, this is clear and attractive, well-centered and very pleasing. It comes from a collection based in Geneva and formed in the early 1980s. Westermark, who did the major study on the coinage of Archelaos I, firmly identified the head on the obverse of this coin as Apollo – she certainly seems to be correct. Given Archelaos's cultural ambitions, the symbolic advantages of an Apollo head, as compared to one of Ares, another good possibility, as a coin type are plain.
The next coin, lot 367, can only be described as minor bronze coin, perhaps a hemichalchous, which was minted in Rhodes during the second half of the 4th century BC (Starting price: 50 CHF). The obverse shows a head of nymph Rhodos and the reverse the usual rose. What is interesting, even fascinating, about this coin is the magistrate's symbol on the reverse, a horse's head. The head has been engraved with the greatest care and is finely done, just as well as the main types. Could it be that this is actually a portrait of the magistrate's favorite horse? Why not?
Lot 569 (Starting price: 100 CHF) comes from Accilaeum (Akkilaion) in Phrygia, a rather rare mint from which von Aulock was only able to find a total of 35 coins, all struck under Gordian III. What is notable about this piece is great care the engraver took over the portrait of the young emperor. While his head is in profile to right, his upper bust is turned slightly to his right, thus showing his full right shoulder, his cuirass and part of his cloak, and a hint of his left shoulder. This shows a great deal of skill – as does the carefully engraved figure of Tyche on the reverse.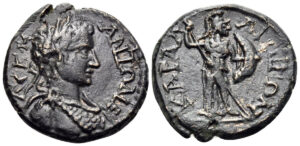 Lot 595 (Starting price: 75 CHF) is another provincial coin with a special obverse bust. It is a diassarion of Elagabalus from Karallia in Cilicia. The engraver who produced the dies for this coin was definitely not as refined as the one who made those for the Accilaeum, but he (there is an infinitesimal possibility that the engraver was a woman) does have a powerfully vigorous style, that is attractive. Here the bust is basically in full profile, but what is intriguing is its heroic nature: the emperor's upper torso is bare but for the aegis he has around his neck. Given Elagabalus's known predilections, making him into a hero was pure flattery! As for the reverse, Athena is holding her spear in a rather curious way: diagonally across her body with the point below. Could she be Athena the Gondolier? There is, in fact, a Gondolier Pizza in Athens Tennessee, USA: is this more than a coincidence?
And now for something completely different! This lot 1146, a silver penny of Cnut – the famous "King Canute" – who was the Danish king of England, Denmark and Norway, 1016-1035 ((Starting price: 200 CHF). It was minted in Thetford, Norfolk, between 1017 and 1023, by the moneyer Sumerlede. It is a bold and attractive coin with which to end this Nomos Note on Obolos 19.
View all 1,211 lots of Nomos Obolos 19 sale on their website.