[bsa_pro_ad_space id=4]
Nomos 23 Highlighted by Gold Tetralitron From Syracuse
The forthcoming Nomos 23 will take place on 30th November 2021 in Zürich and features over 360 highlights and rarities of numismatics mainly from ancient times. The catalogue is already online and here are a few intriguing pieces: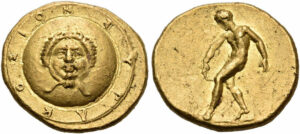 Lot 35: Beyond any doubt, this is one of the absolute highlights of Nomos 23 – in fact, it would be the absolute highlight wherever it would appear! This is an extremely rare gold tetralitron of Syracuse – one of eight known examples – and from an iconographic point of view, it is undoubtedly one of the most extraordinary coins ever struck in Syracuse (Estimate: 100,000 CHF). The obverse seems to bear the state shield of the city (with a head of the Medusa on the central boss and the city name around the rim), coupled with a reverse showing an athlete holding a strigil and performing a dance-like exercise.
Lot 95: This is certainly not your normal "coin", is it? In fact, it is a seemingly unpublished and hitherto unknown weight (perhaps a Mna) bearing a boar's head, which was found in the area of ancient Illyria during a trip in the 1990s (lot 95, Estimate: 2,500 CHF).
Lot 127: Sad to say, most of the early electrum staters of Lampsakos have a habit of being both imperfectly struck and of imperfect condition. This piece (Estimate: 30,000 CHF) is a rule breaker: very well-centered, very well-struck, and beautifully toned, it was owned by C. Gillet, E.G. Spencer Churchill, G. Duruflé and Albéric, Comte du Chastel and has a pedigree going back to 1889. Need one say more?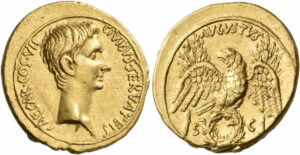 Lot 209: Some of the aurei struck under Augustus were produced in a Romano-Hellenistic, Julio-Claudian style that is iconographically remarkable for a severe elegance combined with ostensible simplicity. This piece (Estimate: 90,000 CHF) is a perfect example. Struck in 27 BC, shortly after 16 January when Octavian received the title Augustus, it bears a simple, unadorned head of the emperor, combined with a legend that is epigraphically still in the Republic. The reverse is much more elaborate: it shows the eagle of Jupiter grasping the wreath that the Senate had offered to Octavian/Augustus, as well as the two laurel trees the Senate had planted in his honor; and to make everything perfectly clear we have the name Augustus above and the S C below.
Lot 238: Finally, here is another fabulous Roman gold piece, this time an aureus of Macrinus (Estimate: 125,000 CHF): This is unquestionably one of the finest of all the known gold coins of Macrinus: by 1908 it was in the collection of Robert Jameson. What better recommendation could it have?
Lot 217: This remarkable sestertius is one of the true highlights of Nomos 23. A sestertius (Estimate: 50,000 CHF) struck in the name of Titus Caesar in 72-73, which commemorates his victorious command during the Jewish War. On the obverse is an excellent portrait of Titus, surrounded by his titles engraved in particularly elegant lapidary epigraphy. But the reverse is what should catch our eye: we have the togate figure of Titus standing in a triumphal chariot, driving a team of four horses who are sedately walking to right. Titus holds a scepter in his left hand and, in his right, the reins and a laurel branch. It is interesting that he is alone in the chariot, and that he seems to be bare-headed: could it be that the wreath of victory was intended to be given to him only after he arrived at the Temple of Jupiter on the Capitoline Hill, the goal of all triumphal processions? The chariot itself is adorned with garlands and a figure of Victory seemingly setting up a trophy. Not only is this coin in a superb state of preservation, it is extraordinarily rare. This coin will make any collection in which it goes into a great one!
All lots of Obolos 20 can be found in the Nomos online catalog.
For further information visit the website of Nomos AG.