[bsa_pro_ad_space id=4]
"We have to express all of our ideas and imagination in a tiny, tiny coin. So, we have to choose the right elements to tell the story in a very limited space. It is a very large challenge," reflected Italian coin designer Chiarra Principe. From near and far the Shanghai Coin Design Forum brought artists together to discuss and explore that challenge in today's world.
Over two days from November 11-13, 2019 at the Renaissance Hotel in Shanghai, the focus was always on coin design, coin creation. Some speakers described how they now create exclusively on computers, while others work entirely with traditional tools. Many related how they combine multiple skills in innovative ways. All in all, a fascinating range of approaches to an art form in transition was presented.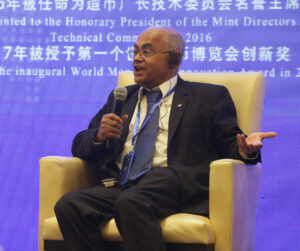 The significance that China attached to this Shanghai Mint-sponsored Forum could be measured by the large contingent of officials there. For example, Mr. Li Huifeng, the People's Bank of China's Deputy Director of Currency and Mr. Bu Jiangchen, the General Manager of China Banknote Printing & Minting, spoke to open the conference. Eleven foreign artists and engravers made the journey to Shanghai as did coin designers from every Chinese coin mint. Also present were Mr. Prabir De, founder of Mintmatrix and former Chief Operating Officer of the Royal Australian Mint, Ms. Cecily Mok and Mr. Matt Bowen of the Royal Canadian Mint, German equipment manufacturer LANG GmbH & Co and a couple of lucky Americans with numismatic interests.
Fittingly, because he is both an old friend of the Shanghai Mint and also diligently recruited coin designers to this event, the first to speak was USA Mint artist Mr. Joel Iskowitz. His speech last year to the Shanghai Mint's coin designers is warmly remembered. Mr. Iskowitz, continued his thoughts at the Design Forum and added, "I think that if the artist is doing his, or her, job… it will speak to anyone in any part of the world."
Next came an exceptional journey through Chinese coin development delivered by Mr. Zhou Weirong, Curator of the China Numismatic Museum. From spade and knife money to today, Mr. Zhou observed that, "Cost of minting is high on the agenda of the maker…For a circulating coin, efficiency and standardization are the two most important goals." Methods originally invented to cast Chinese coins are still widely used in industrial production today.
After Mr. Zhou came one of the world's more unusual coin designers, Ms. Susanna Blunt. The Canadian portrait artist explained how her image of Queen Elizabeth has been impressed on more than 17 billion coins. The most senior artist at this event, she charmed the Forum and quickly became an audience favorite.
The next two speakers presented almost opposite approaches. First was Mr. Wang Min — a former art student who was one of Adobe's first dozen employees. He led the forum through how PC software revolutionized publishing and design, but created burdens that fell ever more heavily on artists' shoulders. The solution, Mr. Wang continued, is AI (artificial intelligence). Many examples of AI influenced design were shown. It was quite an interesting preview of what the future may hold.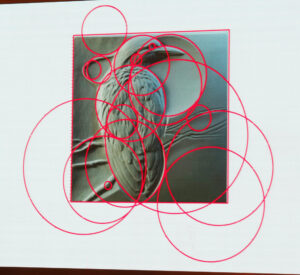 As if in reply, Ms. Heidi Wastweet asked, "How do we combine tradition with the modern?" Her presentation broke down an elegant bird medal design into its basic elements. "At this point I am not yet thinking about the medal. I am exploring the subject and looking for repeating patterns." As she reconstructed the medal's design, the audience hung on her every word. It was a master class for designers and went down like cool water on a hot afternoon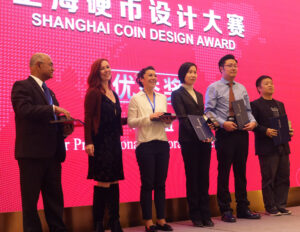 Many of the artists had submitted designs for a competition and now the winners were announced. Top prize winner was Mr. Zhu Xihua. Ms. Sandra Deiana took the silver prize. Honorable Mention recognition went to Ms. Aleksandra Stokic, Ms. Lu DanYe and Mr. Qiu YanXin.
The next morning began with USA coin designer Mr. Thomas S. Cleveland. As part of his presentation "Feng Shui in Cross-Cultural Aesthetics," he told his fellow designers, "Yesterday is today, today is tomorrow. The Shanghai Mint has brought a brighter future to coin making."
That was very much in tune with Ms. Loredana Pancotto's presentation. Of all the speakers, her work methods were perhaps the most traditional. Every character appeared hand-chiseled in example after example of powerfully sculpted subjects that ranged from portraits to fountains. "We must see beauty in harmony," she observed.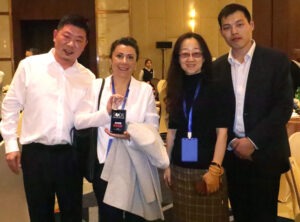 Ms. Aleksandra Stokic then showed the Forum some of her exceptional designs for the Royal Australian Mint. One that's very close to her heart is the twelve-sided 2019 50 cent coin. It honors the country's indigenous languages — many near extinction. 14 translations of the word "coin" are drawn from native languages. A blank spot honors those already lost.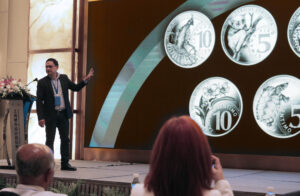 A speaker then walked on stage who has his feet firmly planted in traditional techniques, but is truly a master of the digital world: Emerson RG Abraham of the Philippines. He has mastered everything from manually polishing dies to virtuoso level digital designs. With his characteristic good humor, he explained how he once rejected using an unauthorized program. Instead, he wrote to the company and offered to create a marketing design in exchange for a license. The company agreed. His work was accepted and the company immediately requested another design. "Sure," replied Mr. Abraham, "but first send me my license."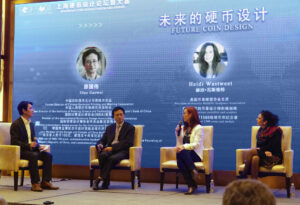 "We are constantly on a journey through life. It enriches us and is expressed through our art," remarked Chiarra Principe. The talented and accomplished Italian designer presented a compelling case for this thought through her outstanding designs. A favorite subject was children and families. She concluded with a medal design that brought a gasp from the audience; her interpretation of the Pandora's Box legend.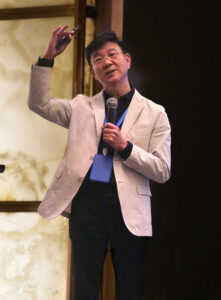 The artist who is probably The People's Republic of China's most honored coin designer then took the stage — Mr. Luo YongHui. The audience closely followed his reminiscences of his 1979 design for the first set of commemorative coins for his country. "All we had was conviction and attitude. We put our hearts into it." Mr. Luo then used the 2008 gold 100,000 Yuan coin to discuss his philosophy and methods for coin design.
A panel discussion with three of the guests then wrapped up the Forum schedule. It included Zhu Xihua, the current leader of the Shanghai Design Center's team. He asked, "What is the way forward? We compete with mobile payments and digital currencies. Even, I myself use mobile payments."
"I think the future will focus more on the art side. It will have the function of currency, but it will be an art product. Designs are becoming more diverse in all countries. For young designers we must focus on how to develop more useful aspects for coins."
The Shanghai Coin Designer's Forum was a first. There had never been a gathering of artists like this before, brothers and sisters in numismatic art. A goal for every designer present was to improve the quality of his, or her, own work and to lead their country's numismatic products into the world of tomorrow. The bar was set high, but everyone is determined to return and soar even higher next year.
Additional information and contact numbers may be found here.