[bsa_pro_ad_space id=4]
A First: Live Bidding at Heidelberger Münzhandlung
It will be a first. For the first time, Heidelberger Münzhandlung under the lead of Herbert Grün will not be holding a room but a live online auction. Of course, this is due to the difficult circumstances in times of the coronavirus. That's why the auction was postponed to 18 and 19 June. The team of Heidelberger Münzhandlung had hoped until the very last moment to be able to welcome their bidders personally with their usual and legendary hospitality. Now, they had to decide on this alternative.
Thus, a lot of new and unusual things. However, there is one thing the clients of Heidelberger Münzhandlung can count on: auction 78 contains exciting pieces and offers something for everyone. As always, the sections German States and German coins after 1871 are particularly well represented. Collectors can look forward to an abundance of rarities, they just have to buy them online instead of on site.
Ancient Coins
Historically interesting coins of partly excellent qualities and great rarities of a grade that makes it also possible for "average mortals" to afford them – that's how one might describe the more than 350 lots of ancient coins. The spectrum ranges from a mint state gold quinarius of Gallienus whose obverse features a marvellous bust to the left from a fresh die – estimated at 20,000 euros – to an admittedly scratched Pertinax with an estimate of only 150 due to this blemish.
Whether a gold stater of the Helvetii or a Germanic gold quarter stater from the Middle Rhine Valley, whether an archaic owl or a Persian daric, whether a portrait of Caesar (for unbeatable 250 euros!), a Paduan featuring the Colosseum or an extremely fine aureus of Tiberius – the variety of the offered coins is incredible. Browsing through the material attentively is definitely worthwhile for any collector.
World Coins
No. 361 is the first piece in the section of World Coins including large series from France, Russia and China. Collectors of other countries should also check carefully whether rare coins from their field of collection might be there, too.
In the section of Denmark, for example, a rare and well-struck speciesdaler of 1572 in very fine + is listed. The attractive piece presents a marvellous renaissance portrait of Frederick II, King of Denmark and Norway, the great patron of Tycho Brahe.
The offer includes a selection of 70 lots with French coins: royal and féodal. Among them are many gold coins as well as a small collection of medieval deniers. The piece shown here is from Lorraine and was minted in 1704 by Leopold Joseph, who was married to the daughter of Elisabeth Charlotte of the Palatinate. Their son Francis I of Lorraine was to marry the heiress to the Austrian throne, Maria Theresa.
In addition to a small series of Russian pieces, especially the offer of Chinese coins is very interesting – even though there are only few lots in this section. However, some of these lots contain extensive series of modern Chinese commemorative coins. Thus, lot No. 591 contains a total of 165, and lot No. 592 a total of 128 silver coins.
Collectors know that circulation coins usually aren't rare at all. However, it's harder to get circulation coins of excellent grades than any ducat, any taler. Heidelberger Münzhandlung is one of the auction houses that attach great importance to presenting such rare pieces to their clients. A perfect example is the set of circulation coins of the Republic of Myanmar offered in auction 78 – only 100 of these sets were produced.
Holy Roman Empire
Lovers of coins from the Holy Roman Empire can look forward to rare talers and even more rare gold coins, for example an extremely rare double taler of Emperor Matthias, minted in 1612 in Prague, and a probably unpublished threefold ducat of Charles VI, minted in Wrocław in 1719.
Really spectacular is a perfect, extremely rare gold medal weighing 40 ducats used by Emperor Franz Joseph in 1865 to celebrate the greatest general of the Habsburg monarchy, Prince Eugene. It is particularly noteworthy in which year it was minted. It was one year before the Austro-Prussian War broke out, during which the Kingdom of Prussia fought against Austria for supremacy in the German Confederation. The medal was hoped to recall earlier Austrian successes by showing Prince Eugene. Unfortunately, Ludwig von Benedek, the Austrian commander-in-chief during the Battle of Königgrätz in 1866, did not live up to this example.
A group of medals and jetons issued by Franz Joseph on the occasion of the Hungarian coronation is likely to attract particular interest. The spectrum ranges from silver coronation jetons with an estimate of 75 euros to a gold medal weighing 15 ducats with an estimate of 9,500 euros (for Franz Joseph) and of 9,000 euros (for "Sisi").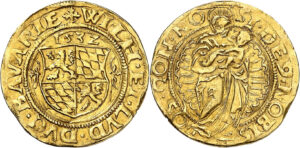 German States
Bavarian gold multiples of the finest quality dominate the section of coins from the German States. Already the first coin is one of those that you only see on very rare occasions, a gold gulden by the brothers William IV and Louis X graded very fine. By the way, the Bavarian beer purity law was adopted under the rule of these brothers. However, both rulers would be quite surprised to find out that this rather marginal regulation is the most famous law of their entire reign today.
A double Max d'or of 1717 minted by Max Emanuel is also extremely rare. He would have loved exchanging unloved Bavaria for the way richer Spanish Netherlands.
We mention these two coins only as examples of this section. Lovers of Bavarian gold coins will find much more, such as multiple ducats, gold from the Danube, the Isar and the Inn rivers, not to mention a perfect ducat by Charles Theodore honouring the Vicariate.
Those who love Bavarian history but don't want to spend so much money should take a close look at the comprehensive series of talers from the 19th century, including numerous historical talers by Ludwig I.
However, the masterpiece among the coins from the German States doesn't come from Bavaria but from Hanau-Lichtenberg. It's an extremely rare taler that had originally been part of the Fürstenberg Collection. The piece minted in Hanau in 1680 shows Friedrich Casimir of Hanau on the obverse, one of the most controversial rulers of the 17th century. The enlightened and pragmatic Prince went down in history as the King of Cockaigne because of his (failed) ambitions of a colonial empire in South America.
Even though there are numerous interesting silver coins in the section of the German States, the main emphasis lies on gold – gold from a variety of areas. We'll conclude this part of the preview with a comprehensive series of gold "coins" made by Nuremberg goldsmith Joseph Wild, who, after the hyperinflation, fought with his gold coins for a secure monetary system based on the gold standard, and who paid for this fight with prison and his life.
Medals
If you are interested in medals, you will find a rich selection in auction catalogue 78. Remarkable is a medal that was unpublished in this size until now, it shows a completely different side of well-known medallist Karl Goetz: the sewing machine factory Pfaff in Kaiserslautern commissioned the artist with issuing a medal celebrating the company's 50th anniversary in 1912.
German Empire
As always, there's an extensive and impressive offer of coins from the German Empire. We limit our preview of gold and silver pieces to the three most expensive coins, even though collectors can bid on issues of extraordinary quality in every price range.
Let's start with silver coins of the German Empire:
No. 1619. Bavaria. 3 marks 1918 "Golden Wedding Anniversary". Very rare. Almost FDC. Estimate: 30,000 euros
No. 1660. Hesse. 3 marks 1917 "25 Years of the Reign" Proof. Estimate: 5,000 euros
No. 1827. Württemberg. 3 marks 1916. "25 Years of the Reign". FDC / Proof. Estimate: 6,000 euros
And here are the three most expensive gold coins of the section German Empire incl. connected states:
No. 1994. Reuss. 10 marks 1882. Gem of gorgeous quality. Extremely rare. FDC. Estimate: 27,500 euros
No. 2023. Saxe – Meiningen. 20 marks 1882. Very rare in this quality! Almost FDC. Estimate: 27,500 euros
No. 2157. German New Guinea. 20 marks 1895A. Only 1,500 specimens minted. Estimate: 50,000 euros
Another highlight is a series of minting dies for coins of the German Empire, which will be auctioned off at the end of the section of German coins after 1871.
Paper Money
As in auctions 76 and 77, Heidelberger Münzhandlung also offers a selection of paper money in this catalogue, including not only one of the sought-after early Chinese banknotes from the Ming dynasty but also banknotes made of special materials.
Numismatic Literature
Bibliophile people will look forward to the end of auction 78 of Heidelberger Münzhandlung for a variety of reasons. On the one hand, a wealth of early numismatic literature from the 16th to the 19th century will be on offer.
On the other hand, an extensive library of early auction catalogues, mainly from the 19th and 20th century, can be purchased. The oldest piece is from Hamburg and documents the sale of a ducat cabinet on 4 April 1785.
Just reading the names of the collections makes every coin enthusiast's mouth watering: there are duplicates of the Fürstenberg Coin Cabinet, the Germanic National Museum in Nuremberg, the All-Highest Imperial House (!), the Hermitage and, of course the collections of Prince of Windisch-Grätz, Jules Florange de Sierck, Apostolo Zeno, Miller zu Aichholz, Prince d'Essling, Franz Trau, Consul Friedrich Weber, Julius, Wunderly and Gaettens, and so on, and so forth…
The estimates of the catalogues are very low. For those who simply want to see beautiful coins or want to delve deeper into provenance research and the history of coin trade, it's a "must" to attentively leaf through the catalogue until the very last pages.
The corresponding auction catalogue can be purchased at the price of 12.50 euros at Heidelberger Münzhandlung Herbert Grün, Gaisbergstr. 40, 69115 Heidelberg, Germany; phone: +49 / 6221 / 65 2970; fax: +49 / 6221 / 65 297-29; via email or the website of the auction house.
You will also find the catalogue on the auction house's website as well as on Sixbid, biddr.com and Numisbids.