[bsa_pro_ad_space id=4]
In 2019, it will be 75 years since Operation Market Garden took place, the largest airborne operation in history. The goal of the Allies was to get hold of the bridges over the Maas, Waal and Rhine and to push them through to Berlin to end World War II before Christmas of 1944.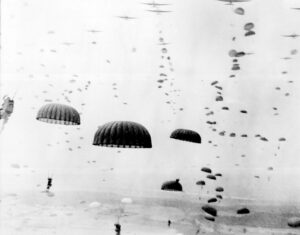 British Field Marshal Montgomery's Bold Plan
Operation Market Garden took place in September 1944 and consisted of two parts: the airborne operation (Market) and the ground offensive from Belgium (Garden). It was a bold plan by British Field Marshal Bernard Montgomery, which was executed by 41,628 people from the English, American and Polish airborne troops and three divisions of ground troops. The operation failed, among other things due to bad weather, communication problems, errors at high command and heavy German resistance, especially at the last bridge in Arnhem. The Allies failed to conquer it; the proverbial "bridge too far". Operation Market Garden stranded in the Betuwe at the end of September 1944. It had cost a lot of military resources and the Allied advance came to a halt. Because the failed operation coincided with the 1944 railway strike, the western part of the Netherlands in particular suffered from the hungry winter that followed. While the south of the Netherlands was already liberated, the area above the rivers still had to wait until the spring of 1945.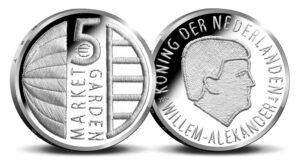 The Designer's Inspiration
Tim Breukers is the designer of the Market Garden 5 Euro Coin. He was inspired by the Airborne Museum Hartenstein in Oosterbeek, where embroidered badges and emblems caught his attention. He applied the various stitches to the design of the commemorative coin. The reverse of the coin, for example, shows a parachute with satin stitches as a symbol of the operation. The bridge over the Rhine near Arnhem is visualized with a zigzag stitch. The different directions of the stitches reflect the light when the coin is tilted. King Willem-Alexander's portrait is filled with a characteristic step stitch. The sensitivity of a single thread can be traced in the text on the front and back. On the basis of iconography and material, the Market Garden 5 Euro Coin tells the impressive story of the largest airborne operation in history and brings it tangibly close.
For details, visit the website of the Royal Dutch Mint.
For more information about the Royal Dutch Mint, have a look at our archive section.
The Imperial War Museum provides an impressive overview of the Operation Market Garden in photos.
Did you miss the movie "A Bridge too Far"? Here it is.
If you do not have the more than two hours to watch, you might prefer this 30 minute film about the historical errors seen in "A Bridge too Far". And by the way, there aren't as many as in most other period movies.