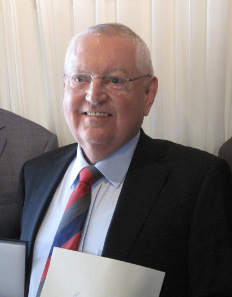 [bsa_pro_ad_space id=4]
by Ursula Kampmann
translated by Annika Backe
December 23, 2015 – On Monday, December 20, 2015, Dieter Raab died, long-time owner of the Frankfurt-based numismatic trade establishment Dr. Busso Peus & Co. With his passing, we lose one of the most lovable figures of the of the coin trade in post-war Germany.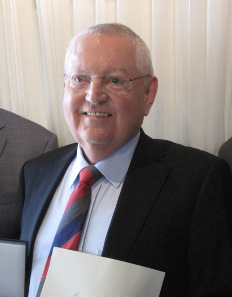 Dieter Raab during the the Otto Paul Wenger Award ceremony. Photograph: Verband Schweizer Berufsnumismatiker.
Dieter Raab was born in Steinhöring near Munich on December 11, 1938. But he grew up in Stuttgart, where his father owned a pub as he never grew tired of telling. In this pub, he earned his first money and invested it right away into something useful, in coins.
As a twelve-year-old, Dieter Raab started collecting. By the time he began studying business administration a few years later, he had already become an experienced coin connoisseur. The people in Stuttgart were aware of this. And so, after the first semester, Kurt Jaeger, living at Stuttgart as well and author of the well-known Jaeger catalog of German coins after 1871, got Dieter Raab a job at the Münzen und Medaillen AG. What Dieter Raab found with this job fulfilled his lifelong dream and made him quit university immediately and plunge into gaining practical experience. Dieter Raab was always enthusiastic when he talked about the time he worked in Basel, not least because it was during his stay at Münzen und Medaillen AG that he met his wife Lilo. She was as a secretary there, and Erich Cahn never really forgave his assistant that he not only left MMAG in 1967, but took the most competent secretary with him as his wife.
In 1966, there was the opportunity to take over the renowned company Dr. Busso Peus in Frankfurt, together with Peter Schulten. The company-takeover was only subject to one condition. The name of the house should be retained. To Dieter Raab, this did not pose an obstacle. Personally modest, he did not care about the name of the house as long as it gave him the opportunity to fulfill his dream of the perfect coin house.
In 1973, Peter Schulten retired, shortly after the coin house Dr. Busso Peus Nachf. had moved to the current premises at Bornwiesenweg 34. There, Dieter Raab led the company in his own style. He showed a warm friendliness as it is hard to find. He always placed the love for numismatics and the customer at the center. The customers rewarded him with their consignments. Dieter Raab auctioned off the important Mainz collection of Dr Rudolph Walther. Still a standard work for the bracteates is his auctions of the collections of Friedrich Bonhoff I and II. Largely unknown but still a standard work is the collection of pilgrimage medals of Dr Busso Peus. In 1993, Dieter Raab was commissioned with auctioning off the duplicates of the Berlin Coin Cabinet. This was followed by the remaining stocks of the State Bank Berlin in twelve auctions between 1994 and 2000 as well as the old shares and securities of the GDR in five auctions between 2002 and 2009.
Even though, until his death, Dieter Raab did not want to stop "playing with coins" – that is how he referred to the challenging task of describing and identifying coins –, he passed the ownership of the company into the hands of his son Christoph Raab as early as 2007. Nevertheless he continued working in his office every day, as long as his health permitted. What else could he do? The coins were his life.
Representing the numismatic trade in the Numismatic Commission of the States of the Federal Republic of Germany, Dieter Raab also advocated the understanding between museums, academics and the trade for many years.
With his passing, we not only lose a person who always deemed integrity, fairness and reliability more important than a short-term gain. He was an incarnation of the joy of life. Nobody could wax lyrical about things more enthusiastically, whether about a coin, skiing in the Swiss mountains, a good restaurant (preferably with a refined Italian cuisine), a good wine or a good conversation. Dieter Raab enjoyed his life and he shared this love for life generously with many others.
Our sympathy goes to his wife Lilo, his sons Christoph and Stephan, his daughters-in-law and his grandchildren. The team of CoinsWeekly mourns with them a man who always acted for the good of numismatics. We could only take comfort in remembering that Dieter Raab had mastered the high art of looking at the positive of life, every single day.