[bsa_pro_ad_space id=4]
by Björn Schöpe
July 28, 2011 – The official proof silver medal of the US Mint commemorating the 10th anniversary of the September 11, 2001, terrorist attacks on the United States, arouse extreme interest with US buyers.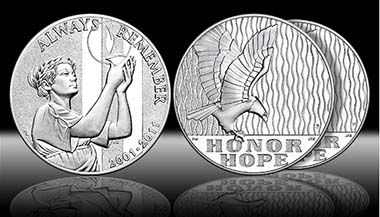 In the week following the June 20 beginning of sales at the U.S. Mint, collectors purchased 50,998 of the 9/11 Memorial medals. Buyers strongly favored the medal with the "W" West Point mintmark over the "P" Philadelphia mintmark. They took 33,046 "W" pieces versus 17,952 "P" medals.
Price of the 9/11 medal is $56.95, $3 less than the 2011 proof silver American Eagle that was to go on sale starting June 30. In August, the Mint will add another $10 to the medal's price. A $10 surcharge per medal is authorized to be paid to the non-profit National September 11 Memorial & Museum.
For more information on this coin visit the US Mint's website.
If you wish to purchase the medal, click here.