[bsa_pro_ad_space id=4]
by Ursula Kampmann
translated by Annika Backe
September 24, 2015 – L'art pour l'art, art for art's sake, is a maxim that does not fit in current times. Art has become a commodity which is being traded on the art market. The same goes for cultural heritage. It is not for nothing that Italian Minster Dario Franceschini is not only responsible for antiquities but likewise for tourism.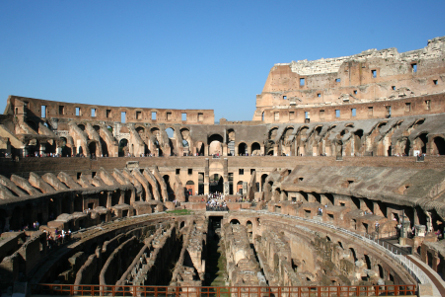 View into the Colosseum. The floor lacking, the substructures become recognizable. Photograph: Jean-Pol Grandmont / Wikipedia.
Plans for the Colosseum
From this point of view, the Colosseum clearly has a shortcoming. The current, privately funded, renovation notwithstanding, no ambitious tourism expert can be satisfied with the present situation. Roughly 6 million people visit the Colosseum every year. Most visitors pay 12 euros for an admission ticket. Some invest the additional sum of 5.50 euros in an audioguide. How many visitors would be willing to pay considerably more money, given they could watch stage fights conducted in the Colosseum?
Unfortunately, however, the Colosseum has no floor. It has been removed in a 19th-century restoration. It would take 18.5 million euros (for comparison: the renovation of the entire building costs 25 million) to install a floor. The idea is to re-enact Roman games and also provide a stage for other events.
The Uffizi Gallery. © Samuli Lintula / Creative Commons Attribution-ShareAlike 3.0
An annex for the Uffizi Gallery
The Uffizi Gallery, Italy's most frequented museum which attracts 1.87 million visitors every year has a similar problem. It is simply not working to capacity. A total of 1,000 visitors are allowed in the rooms. Public demand is much higher, however. There are enormous queues at the ticket counters. The museum has to turn many people down, thus denying itself the 20 euros for an entrance ticket to the Uffizi Gallery.
An annex for 18 million euros would solve the problem. This additional building would allow spreading the masses of visitors over a greater space, hence guiding more visitors through the Gallery, and fully exploiting the financial potential of the tourists thirsting for culture.
Dario Franceschini, Italian Minister of Cultural Heritage and Activities and Tourism, proudly remarked on Twitter: "Investments in cultural assets are finally back." He could not have made it any clearer that these 80 million euros are not intended to finance the preservation of cultural heritage but to optimize tourism.
Further projects
Other funded projects are:
7 million euros for the Polo Reale in Turin
7 million euros for a National Museum of Judaism and the Holocaust, currently under construction in Ferrara
7 million euros for the restoration of the Certosa di Pavia monastery
7 million euros for a center for contemporary art in Rome's Papal Arsenal
5 million euros toward the completion of a museum for nine ancient Roman ships in Pisa
3 million euros to restore the historic Ponte Vecchio in Bassano del Grappa
3 million euros to create an archaeological museum around the Giants of Mont'e Prama in Cabras, Sardinia
2 million euros for a museum of contemporary art in L'Aquila
1.5 million euros to renovate the National Archaeological Museum of Aquileia
1 million euros for the excavation and restoration of the ancient Roman villa in Spello
490 million euros for Southern Italy
But there is more to come. 490 million euros have been promised as early as June 2015, to be invested in nearly 60 tourist attractions located in Southern Italy.
It seems that Italy takes the preservation of its cultural capital serious – it is not for nothing that politicians have replaced the term "cultural heritage" with "cultural assets". But we must not overlook the fact that the Italian state had expenditures amounting to 803 billion euros in 2014. The great investments in the promotion of cultural tourism in 2015 thus only make for 0.07%.
The main information has been taken from an article by Hyperallergic.