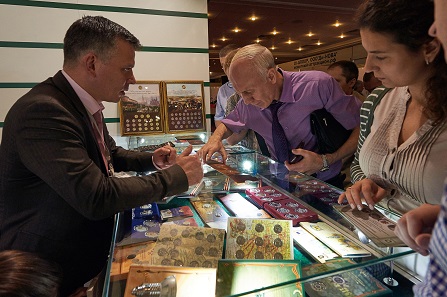 [bsa_pro_ad_space id=4]
February 25, 2016 – The Seventh International Coin Conference and Exhibition COINS-2016 will be held on 22-24 September 2016 as numerous participants wanted it to be again in autumn in Moscow on the territory of the well-known Radisson Slavyanskaya Hotel and Business Center.
Russia's largest coin convention
The International Coin Conference and Exhibition COINS is the only international forum in Russia on commemorative and investment coins. It's been held since 2008, starting from 2013 – every year in Moscow.
An impression from the last COINS event.
The participants of the conference are representatives of the Bank of Russia, Goznak, heads of departments of national and commercial banks, largest mints, coin distributors, auction houses, numismatic stores, and equipment suppliers. At sessions they discuss the current state of the commemorative coins market, trends of coin design, production technologies, marketing and promotion. The awarding ceremony of the International Commemorative Coins Contest 'Coin Constellation' is an integral part of the cultural program of the conference.
The conference is traditionally accompanied by the selling exhibition with participation of mints, banks, large distributors, and smaller dealers of coins minted in different ages and countries. For the show visitors there is always a vast entertaining program: games, quizzes, prize draws, open numismatic seminars, etc.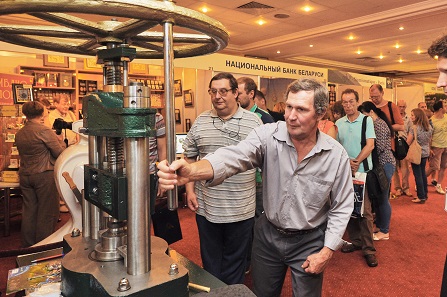 Every year the show sees an increasing number of visitors.
The COINS conference and show are attracting more and more attendees and visitors from year to year. In 2008 there were 147 delegates from 24 countries. In 2014 the number of participants increased up to 280. Such an extended interest to COINS proves a serious potential of the Russian coin market and high demand for the Russia-based meeting point of the world coin market players.
Call for presentations
The working program of COINS-2016 includes the working sessions for representatives of coin market members as well as numismatic seminars open to the public.
Topics:
Programs of mints: events and anniversaries
Coin markets of different countries (regions). Projected growth
Innovations in coin production
Effective methods of coins sales
Current state of investment coin market
The role of numismatic auctions in coin heritage conservation
Activities of national numismatic associations
An impression from the last COINS event.
For numismatic seminars the latest topics were chosen which can be of interest to a wide audience: specifics of coin expertise, online collector items trading, new methods of protection from coin forgery, etc.
Proposals may be sent to the organizers until no later than 1st April 2016. Here you can download the form. Please send your proposals to egorova@watermark.ru
For the speakers special conditions for participation in the conference are provided.
You can find a preliminary programme on the COINS website.
Here you can learn more about the last COINS event.
All rates of COINS 2016 registration fee is available online.