[bsa_pro_ad_space id=4]
November 5, 2015 – On the occasion of the 70th anniversary of the end of WWII, Coin Invest Trust, on behalf of Cook Islands, created a classic commemorative coin. It celebrates a condition which we must not take for granted.
Cook Islands / 1 Dollar / Gold .9999 / 0.5 g / 11 mm / Mintage: 15,000.
The obverse shows the Ian Rank-Broadley portrait of Queen Elizabeth II as well as her name, the title of the issuing nation and the nominal value.
The reverse depicts a map of Europe. In the top left, a flying dove facing right, an olive branch as the symbol of peace in her beak. Below, the inscription 70 YEARS OF PEACE / 1945 – 2015.
Colonel General Jodl signs the instruments of unconditional surrender in Reims on 7 May 1945.
At 11 p.m. on 8 May 1945, the German Instrument of Surrender, which had been signed by General Jodl the day before at General Dwight D. Eisenhower's headquarters in Reims, took effect. It ended a war which by then had cost more than 55 million human lives.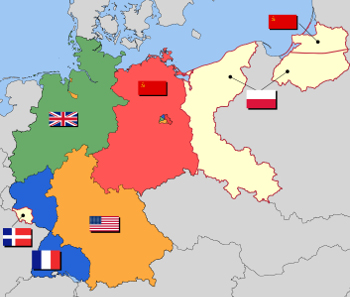 Borders of the occupation zones in Germany, ca. 1947. Photograph: 52 Pickup / https://creativecommons.org/licenses/by-sa/2.5/deed.de
The Allies – the US, Great Britain, France and the Soviet Union – were committed to prevent something like this from ever happening again. With the Berlin Declaration they heralded a new beginning on 5 June 1945.
German chancellor Angela Merkel and the President of France, Francois Hollande. Photograph: Garitan / https://creativecommons.org/licenses/by-sa/3.0/deed.de
Much has happened since then. The arch enemies Germany and France have become allies, which have promoted a united Europe by initiating the foundation of the European Economic Community. Where conflicts of interest were once solved by warfare, today there is peace, and that despite the insecurity that accompanied the extension and fall of the Iron Curtain.
70 years have passed since the Berlin declaration. The idea that Germany could go to war with France or Great Britain is inconceivable for young Europeans today. 70 years are a reason to celebrate. On this occasion, Coin Invest Trust has created a coin for the Cook Islands that presents a united and peaceful Europe. It is a Europe without borders, recognisable by its contour. The dove with the olive branch symbolises peace. It embodies the hope of the people that even the crises of our world today will turn out well with the help of peaceful solutions.
The coin is minted by B. H. Mayer's Kunstprägeanstalt GmbH. Collectors can purchase issue through specialty dealers.
More information on this and other releases of CIT is available
here
.