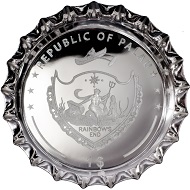 [bsa_pro_ad_space id=4]
April 21, 2016 – As the cachet of German beer, the Bavarian Purity Law celebrates its 500th anniversary. On this occasion, Coin Invest Trust has designed a very special coin for the island state Palau. A numismatic rendition of the theme, the coin is shaped like the crown cap of a beer bottle. Its innovative form and brightly coloured reverse design express the great esteem that German beer enjoys on all continents.
Palau / 1 Dollar / Silver .999 / ca. 2.5g / ca. 32mm / Mintage: 2500.
The obverse of the crown-cap-shaped coin shows the coat of arms of the issuing state below an outrigger canoe. On top, the inscription REPUBLIC OF PALAU, below, the nominal value 1 dollar.
The reverse depicts two toasting beer mugs and a crown on a background of blue and white lozenges; below, the year of issue. The circumscription reads 500 YEARS – BAVARIAN PURITY LAW.
"The Brewer", woodcut by Jost Amman, 1568.
Among the world's many brands of beer, the Bavarian "barley juice", as the Germans sometimes call it, occupies a special place. This is due to the Bavarian Purity Law from 23 April 1516. The Bavarian Dukes William IV and Louis X proclaimed "that in future in all cities, markets and in the country, the only ingredients used for the brewing of beer must be barley, hops and water." This meant that intoxicating herbal supplements like henbane or breadseed poppy could no longer be added to the brew. Brewing with breadstuff like wheat required an additional permit.
The Purity Law, which applied only to Bavaria in 1516, became binding for all of Germany in 1906. Until today, the only allowed additional ingredients are malt and yeast.
The coins were minted by B. H. Mayer's Kunstprägeanstalt GmbH. Collectors can purchase the issues through specialty dealers.
Please find more information on this issue here.
This is the website of Coin Invest Trust.
A wealth of information on beer is available on the German Beer Institute website.
And for brewing your own beer, please find a number of recipes here.