[bsa_pro_ad_space id=4]
1972, the year in which Richard Lang founded his company for positioning systems, was a memorable year in the history of coin collecting: journalists around the world reported that the Munich Olympics had been partially funded by the sale of commemorative coins. This did not only catch the attention of governments. Private companies wanted to get into this profitable market, too. Soon, private and state mints flooded the collector market with countless coin and medal issues with tiny mintage figures. However, if you only mint a small quantity of coins, you have to calculate business in a new way. A major cost factor in coin production is the creation of dies. And the Hüttenberg-based company LANG soon offered completely new solutions in this field. In 1978, Karl Lang joined the company, bringing a lot of expertise with regard to engraving machines. With positioning systems and engraving technology, LANG combined two components that offered completely undreamed-of possibilities for coin die production.
The LANG company developed machines that made it possible to replace the time-consuming and expensive process of engraving and multiple hobbing of the master tool. A perfect positioning system enabled LANG to create a die by means of a milling tool that is fixed on a table which moves three-dimensionally. This was a revolution in coin production, especially because this system – years later, of course – turned out to be ideally suited for connecting it to a computer.
Completely New Possibilities
The first machine-milled dies couldn't keep up with handmade products. Today, however, technological possibilities exceed everything the human hand and eye could ever achieve. After all, the milling and engraving machines of the LANG company have an accuracy in the micrometre range. If you don't know what that means: 1,000 micrometres, also called μm, is one millimetre. And if you still have no idea how small that is, pull out a hair and look at it. The diameter of a human hair is normally between 500 and 800 micrometres. This means the LANG engraving machines have an accuracy of one five-hundredth of a hair.
And therefore, they obviously enable coin manufacturers to create completely new designs. Today, coins are created on huge computer screens, where designers can elaborate their motifs down to the tiniest detail. A computer then converts this image into a three-dimensional model. And with the help of this data, milling and engraving machines of the LANG company transform the motif into a die – quickly, efficiently and infinitely reproducible, in case a die breaks during the minting process.
We must keep in mind that numerous technical features wouldn't exist today without this technology. Take, for example, micro-lettering, which is often used as a security feature. But there is more: for example iridescent surfaces that display all the colours of the rainbow. They are a typical feature that can only be created with laser technology. LANG developed this technology in 2012. Since then, it can be admired on an increasing amount of commemorative coins produced by international mints.
And there is no end in sight when it comes to new possibilities. For example, first attempts are being made to design coin surfaces in interesting colours by means of nano engraving.
A One-Stop Shop Solution
A prerequisite for this is the ideal combination of innovative computer technology and perfect mechanical engineering. LANG has been promoting a synthesis of these two branches for many years. Joachim Steidel, Sales Director of LANG, comments: "It's a great advantage for our customers that they can get everything from us, and everything's perfectly coordinated. After all, coin production comes with security hazards. With us, they have one single contact and don't have to follow different safety protocols for mechanical, control and software engineers. Moreover, we can react more quickly to special requests because we unite all these services under one roof. Last but not least, we have known the market for many decades and have adapted our products perfectly to the needs of mints. For example, we only use the latest Windows operating systems for the computer control of our Impala product line, so that virus scanners always work perfectly. After all, cyber security is a major concern for all of us today, and that's especially true for mints."
How Is It Possible to Mill Accurately Down to the Last Micrometre?
When you see the incredible level of artistry of today's products that are created with dies made with engraving and milling machines, you'll naturally wonder how it's possible to achieve such accuracy in the first place. For the LANG company, this starts with the foundation. Be it Pulsaris, the laser series or Impala, a series for mechanical milling machines – all LANG machines rest on a heavy granite base that dampens vibrations and is temperature stable.
That's important because when it comes to micrometres, temperature is a factor that must be considered. Keep in mind that the milling cutter of the new Impala 900S achieves 50,000 to 60,000 revolutions per minute. That's about 1,000 revolutions per second. For comparison: 1,000 to 1,500 revolutions per minute(!) is considered ideal for a dental drill. We all learned in physics class that friction produces heat, and this heat can cause the milling cutter or the work piece to expand. In the micrometre range, but that's what LANG is all about. Therefore, the machine is constantly cooled, to 25 degrees Celsius with a tolerance of 0.1 degrees.
Of course, cooling requires energy, and energy costs are an increasingly important factor that everyone takes into account. That's why LANG implemented an energy-efficient cooling concept for the entire machine of the new Impala series.
Another important aspect when it comes to utmost precision is how to accurately calculate the ideal speed of the milling head. In theory, it could achieve a speed of 25 meters per minute, but that wouldn't make any sense. The milling head has to exactly convert the data supplied by the computer to the work piece, and especially with tiny movements and changes in direction, it is very sensible to move a little slower to prevent even the slightest aberration from happening. Joachim Steidel has a fitting example: "Just as you skid off the road if you drive your car too fast, that's how you have to imagine the milling head. People sometimes take a bend too fast or they lose a lot of time by braking. For our machines, however, the system automatically calculates the speed that is needed to travel the distance in an ideal way. And keep in mind that a coin relief is three-dimensional, so the milling head has to take three-dimensional bends."
To guarantee that the desired result is achieved, constant measurements are taken using the absolute glass scales. This means that the machine is constantly comparing the actual shape of the die to its intended shape, so it can report it immediately in case something's wrong. By the way, you can define the tolerance yourself. Therefore, the customer decides how accurately and thus how fast the engraving will be.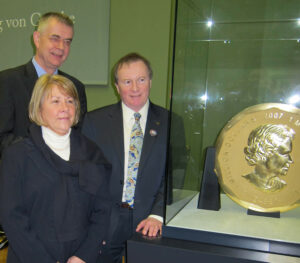 What Dies Could Theoretically Be Engraved with the Impala 900S?
If the customer so desires, the Impala 900S comes with a disk type tool changer on which various milling tools are stored ready to use for the spindle.
They can be used to engrave the usual types of commemorative coins, but of course other options are possible, too. For example, it wouldn't be a problem to create a die for a 1-kilo ingot or much more. Right now, the Impala 900S can produce dies with a diameter of 250 millimetres and 5-6mm relief. And, of course, more is possible if necessary. Joachim Steidel recounts: "If you've ever heard of the 100-kilo Maple Leaf that was stolen in Berlin: the six pieces produced by the Royal Canadian Mint back then were created with one of our milling machines. The blanks were way too big to be struck with a die. Therefore, they went the other way. We at LANG are very proud that our technology has been involved in the creation of so well-known numismatic products."
50 Years of Success: The LANG Company Celebrates Its Anniversary
Its latest milling machine, the Impala 900S, was presented by LANG GmbH & Co. KG in September at the AMB Stuttgart 2022. The AMB is the International Exhibition for Metal Working with about 1,500 exhibitors. After all, die production is of course not the only way to employ LANG's milling and engraving machines. On the contrary. The first machine will be delivered to a supplier of embossing dies for the printing and packaging industries. In line with this, LANG also takes pride in the fact that many banknotes around the world owe their watermarks to a screen that was produced with a LANG milling machine.
Joachim Steidel is pleased about it: "It's a very special feeling to know how many banknotes, coins and medals owe their perfect appearance to our milling and engraving machines."
Here you can go to the website of the LANG company.
We had the pleasure of visiting the production facilities of LANG in Hüttenberg in the summer of 2015, and we obviously reported about it.
Here you can find a technical description of the Impala 900S.
And here you can see in how many other areas outside coin production the milling and engraving machines of LANG are used.