[bsa_pro_ad_space id=4]
Throughout 2022, Numismatic Guaranty Company™ (NGC®) has been celebrating an extraordinary achievement: its 35th anniversary. Since its inception in 1987, NGC has certified and encapsulated over 55 million coins, medals and tokens, including ones from over 100 premier collections. NGC is proud to continue to serve the thriving numismatic community worldwide with its unparalleled expertise in authentication and grading.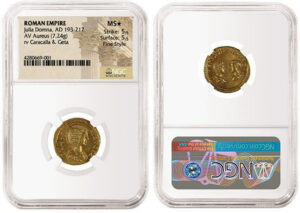 The Conundrum
Before the creation of NGC, coin collecting looked much different. Grades and values were often arbitrarily assigned, and it was difficult to reach a consensus between buyers and sellers on a coin's condition. A proliferation of counterfeits threatened the future of numismatics.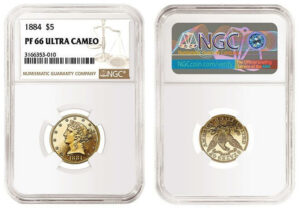 The Solution
Wanting to solve the credibility problem, NGC was established on four major principles:
Quality before quantity. This ensures that each coin submitted is thoroughly analyzed by experts and assigned an accurate grade.
Strict grading standards. NGC uses the Sheldon grading scale of 1 to 70, which is the standard that is internationally accepted.
Complete independence from buying, selling or trading coins. NGC prohibits its employees from buying and/or selling coins, medals or tokens on a commercial level to maintain impartiality and integrity.
NGC encapsulates each coin in an industry-leading holder that contains inert materials, preventing the coin from degrading and protecting the coin against damage. The holder also contains a number of security features to prevent counterfeiting and is tamper evident.
NGC quickly became the leading, most-trusted third-party coin grading service worldwide, with these tenets at the company's core. Each year, millions of coins are authenticated through the expert multi-step certification and top-notch encapsulation process, with continuous updates related to optics, security and preservation.
NGC Holders, Cores and Labels
When NGC began encapsulating coins, a sleek black core was utilized. While gold coins looked elegant, the core was less than ideal for other coins. NGC transitioned to using a white core, which enhances each coin's brilliance. Over the years, additional options for colors and designs for cores have been added, in order to highlight a coin's qualities. NGC also uses a variety of holder sizes in order to accommodate the extensive range of coin sizes.
Older holders are becoming a collector's item in their own right. Coins encapsulated in the original NGC holders are regularly realizing several times their NGC Price Guide values – just because of the classic NGC holders.
Much like the cores and holders, the NGC labels have also been upgraded to increase security and create the ultimate presentation. The first labels displayed a minimalistic style of description, grade and certification number. To differentiate the varieties, labels now can include more information, such as varieties, pedigrees and metal content.
Other specialty labels were added to complement the coins, with some of them highlighting an important connection to the coin with a hand-signed label by influential figures in the hobby. The evolution of the holders and labels has led to the current generation that incorporates advanced technology and multiple security measures, such as a hologram fused to the back of the holder, with a crystal-clear display.
This year, NGC returns to its roots by offering the limited-edition Retro black core, reminiscent of the first core used. Also available is the NGC 35th Anniversary label to compliment all modern US and world coins. The holder and special label will be available for submissions for a limited time, starting on July 1, 2022.
Specialty Services
Because of the high quality and proficiency of its services, NGC received many submissions from the very beginning, including coins that required conservation to help reveal a coin's true beauty. An example of where conservation is crucial is for coins recovered from shipwrecks. This led to the expansion of NGC's services.
Numismatic Conservation Service™ (NCS®) is the world's first professional conservation service. Through NCS, harmful impurities are safely removed, protecting the coin from further deterioration and improving its eye appeal. Since its founding in 2001, NCS has conserved more than 1 million coins, tokens and medals.
NGC Shipwreck Certification is the leading authentication service for shipwreck coins. This service authenticates coins, evaluates them for a grade and confirms that the artifacts were recovered in an archaeologically sound manner. NGC Shipwreck Certification provides professional services for those who specialize in shipwreck archaeology. Some of these shipwrecks are extraordinarily famous and have received press coverage worldwide.
NGC Ancients is devoted to certifying and grading ancient coins produced in the Western Hemisphere from the earliest struck coin through the era of the Byzantine Empire. NGC Ancients uses an adjectival grading system congruent with the Sheldon Scale, including adding important information such as Strike, Surface and Style conditions. NGC is the only major coin authentication and grading company to offer this service and it has brought an immense amount of value and transparency to the ancient coin market.
The Digital Age
The birth of the internet in the 1990s changed the world forever. Quickly utilizing the opportunity to assist coin collectors and dealers, NGCcoin.com was launched, and it presented a new way to help the numismatic community learn and connect.
Significant resources such as Verify NGC Certification and the NGC Census are at the command of the collector's fingertips to look up genuine NGC-certified coins and gain critical insight into the numismatic marketplace. This data, along with high-quality images, helps to reassure collectors who are buying and selling coins.
One of the most popular features of the website is the NGC Registry, which was created specifically for the community. Through the free NGC Registry, collectors organize their collections, connect with each other and compete in different categories for prizes and recognition. The community has grown to more than 250,000 sets registered and over 28,000 participants.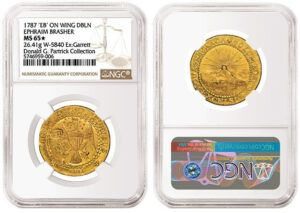 Results
NGC-certified coins are recognized everywhere, and they perform well in auctions worldwide, highlighting the trust that collectors have in the expertise of the NGC grading team. For example, in 2021, over a dozen NGC certified coins realized prices over $1 million, including the finest example of a Brasher Doubloon, which sold for $9.36 million in a January sale presented by Heritage Auctions.
"I'm proud to see how far NGC has come, and I look forward to seeing NGC's innovations continue to create a more vibrant coin collecting community," said Mark Salzberg, NGC Chairman. "As always, collectors will benefit from NGC's accurate and consistent grading, state-of-the-art holder and industry-leading guarantee of authenticity and grade."
NGC has announced two exciting developments in just the past few months. NGC unveiled its AirView Holder, a first of its kind in the coin certification industry, designed for small, fragile and oddly sized coins that previously could not be encapsulated. NGC also introduced a new and improved NGC PhotoVision Plus™ service that offers the best in coin photography – stunning, high-resolution images perfectly sized for display on social media, the NGC Registry and online marketplaces.
With the coin market flourishing both domestically and internationally, and NGC's unwavering commitment to innovation, the future is bright! We at NGC could not be prouder of our first 35 years, but the next 35 are going to be even better.
Visit the NGC website to stay up to date on NGC's upcoming activities.
In 2021, NGC celebrated another anniversary: the company certified more than 50 million numismatic objects.
Last year, Certified Collectibles Goup, which includes NGC, was acquired by the investment firm Blackstone.