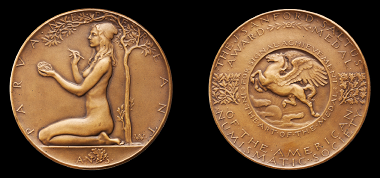 [bsa_pro_ad_space id=4]
October 4, 2018 – Bulgarian artist Bogomil Nikolov is the recipient of the 2017 J. Sanford Saltus Award for excellence in medallic art, which will be awarded to him at an event held in Sofia, Bulgaria. The ceremony will take place at the Gallery of the National Academy of Arts on October 8, 2018, at 6pm, where ANS Executive Director, Dr. Ute Wartenberg, will present the Saltus Medal to Prof. Nikolov.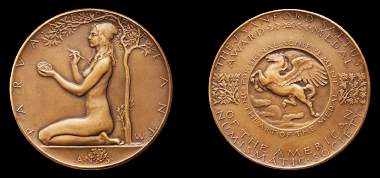 The J. Sanford Saltus Award.
The award was created with a grant to the American Numismatic Society by J. Sanford Saltus in 1913 to recognize and encourage excellence in the art of the medal. The first Saltus award was presented in 1919; the silver award medal was designed by the prominent German-born numismatic and architectural sculptor Adolph Alexander Weinman.
Since the 1970s, Prof. Nikolov (b. 1943) has exhibited his work internationally receiving notable accolades. Today, as head of the Medallic Sculpture Studio at the National Academy of Art, he has had tremendous influence on the current course of medallic art in Bulgaria supervising scores of students and exhibitions of their work. A retrospective exhibit of his work will be on display at the National Academy of Arts in Sofia, October 1–19, 2018, to coincide with Prof. Nikolov's award.
Bogomil Nikolov joins the ranks of other significant artists who have been awarded the medal including, among dozens of others, James Earl Frazer (1919), Victor D. Brenner (1922), Paul Manship (1925), Lee Lawrie (1937), Donald DeLue (1967), Kauko Räsänen (1986), Gustaaf Hellegers (2001), and João Duarte (2011).
The complete list of Saltus award winners is available on the ANS website.
More information on the work of Bogomil Nikolov can be obtained from his website.
The website of the National Academy of Art in Sofia offers a lot of information on upcoming events and the academy in general.