[bsa_pro_ad_space id=4]
November 12, 2015 – Krause Publications have announced the winners of the Coin of the Year Award 2016. Like in the previous year, Austria brings home three category awards in the first round of World Coin News' 2016 COTY voting by an international panel of judges that concluded November 8.
In the Best Silver Coin category, Austria's 20 Euro coin, KM# 3233, commemorating the fall of the Iron Curtain brought in the most votes.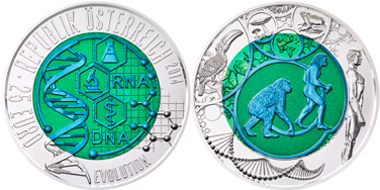 The Best Bi-Metallic Coin award went to a 25 euro silver and niobium coin highlighting the science of evolution, KM#3227.
The last win for Austria was for Most Artistic Coin, a gold 50-euro coin, KM#3229, honoring a Gustav Klimt painting, Judith II. A previous Klimt coin from 2013 won the top award in the 2015 COTY awards.
The United States of America came away with two wins, both coins from the Baseball Hall of Fame commemorative coin program. The five dollar gold Baseball coin, KM#578, won in the Best Gold Coin category.
The half dollar copper-nickel clad Baseball coin, KM#576 then won the Most Innovative Coin award, honoring the Mint's accomplishment of minting the first cupped clad coin.
Germany's 10-euro silver coin commemorating the 300th anniversary of Daniel Fahrenheit's invention of the mercury thermometer, KM#332a, came away with the Most Historically Significant Coin award. The award honors coins that highlight events that occurred at least 100 years ago.
Best Contemporary Coin winner was Latvia's five-euro silver coin for the 25th anniversary of the Baltic Way demonstration which brought together citizens of Lativa, Lithuania and Estonia, KM#161.
Canada's $20 silver coin, KM#1759, featuring a view looking up at a Maple Leaf tree canopy won in the Best Crown Coin category. Crowns are silver or copper-nickel clad coins with a diameter of 37 millimeters to 45 mm.
The award for Best Circulating Coin went to Great Britain's Lord Kitchener two pound bi-metallic coin, KM#1279.
Lastly, Poland won the Most Inspirational Coin category with its 10 zlotych silver coin, Y#902, honoring the birth of Jan Karski, who smuggled Holocaust evidence to the Allies in a hollow key.
Judges will now select the Coin of the Year from this field of 10 category winners. The final vote will conclude December 6.
A complete list of all COTY winners since 1984 is available here.