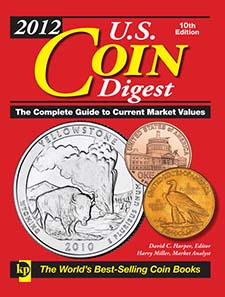 [bsa_pro_ad_space id=4]
June 2, 2011 – Everything a coin collector or dealer would need for collecting U.S. coins is in the 2012 U.S. Coin Digest. In the 10th edition of this reference, readers will find detailed listings for all circulating and non-circulating U.S. coins, from early American Token coinage to modern coins minted in the 21st century – including Presidential dollars, First Spouse coins, and America the Beautiful quarters.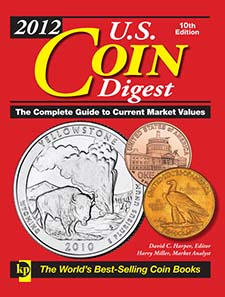 David C. Harpe, Harry Miller, 2012 U.S. Coin Digest, Krause Publications, Iola 10th edition 2012, ISBN 9781440215872 (hardcover), $ 17.99, 320 pages, 1,700 color + 200 b&w photos.
In addition to comprehensive listings, and nearly 2,000 color photographs, the 2012 edition of this top-selling guide also features:
* Up-to-date values in up to 11 condition grades
* More than 50 pages of introductory features about coin grading, buying, and storing
* Illustrated coin identification guide
* Coins of Hawaii, Puerto Rico and the Philippines
Plus, you'll never again have to juggle and struggle with keeping the pages open as you take a closer look at your coins, because the durable hard cover and concealed flexible binding of U.S. Coin Digest allows you to lay your book flat on the table for hands-free research and review.