[bsa_pro_ad_space id=4]
April 30, 2015 – Pobjoy Mint releases a new commemorative coin which is issued on behalf of the Isle of Man Government to celebrate the 175th Anniversary of the Penny Black Stamp.
Back in 1990, Pobjoy Mint issued a coin which was the most innovative coin of its time and in fact was awarded with no less than three Coin of the Year Awards: Best Crown, Most Innovative Coinage and overall Coin of the Year.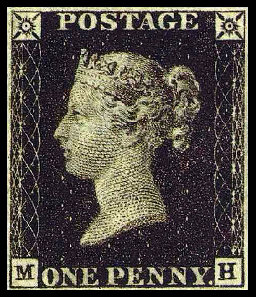 One Penny Black Stamp. Source: Wikipedia.
The coin in question was produced to commemorate the anniversary of the world's first adhesive stamp which was introduced in Britain in 1840 by the famous reformer, Rowland Hill. The stamp made philatelic history, with a beautiful but simple design by Henry Corbould showing the profile of the young Queen Victoria. This stamp became popularly known the world over as the 'Penny Black'.
Isle of Man / 2015 / Metal: Proof Sterling Silver / 38.60mm / 28.28gms / Mintage: 10,000.
This year sees the 175th Anniversary of the Penny Black and to commemorate the event the coin is being issued with the same design showing the image from the stamp but with a change of anniversary and will be issued in various sizes with the Cupro Nickel and Sterling Silver editions both having the lustrous 'pearl black' finish which is a special technique employed by Pobjoy Mint in order to create the beautiful black colour. This year's coin will also differ from the original version as a different effigy of Her Majesty Queen Elizabeth II is used. The obverse of the coin carries in incused effigy of Her Majesty Queen Elizabeth II, Lord of Man, by Ian Rank-Broadley FRBS.
The coin is available in Cupro Nickel Blackened, Sterling Silver Blackened and various Gold sizes. On the 1oz, 1/2oz and 1/5oz Gold the coin is blackened in the centre and has a gold rim whilst on the 1/10oz and 1/25oz Gold the coin is totally blackened. On the 1/5oz Platinum version, the coin is blackened in the centre with the Platinum rim showing. The Cupro Nickel Version is available in a special pack. The coins themselves are struck to the highest quality with the precious metal versions being produced with a stunning 'proof' finish.
To view this and other coins in the range, please visit the new website of Pobjoy.
You can take a look at several Penny Black Stamps at the National Postal Museum here.