[bsa_pro_ad_space id=4]
On sale to the public starting May 10th
May 27th, 2010 – From 1st May to 31st October 2010, Spain will be represented at the celebration of the Shanghai World Exposition with a pavilion designed by the studio Enric Miralles-Benedetta Tagliabue. If you want to accompany some Chinese tourists visiting this pavilion, click here.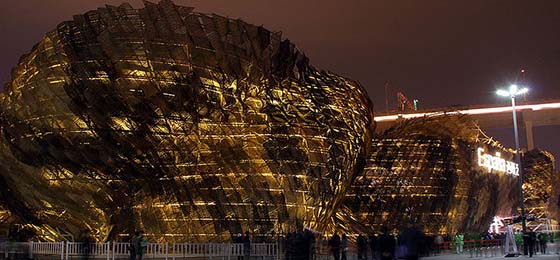 The Spanish pavilion. Photo: Wikipedia / Suzuki.
The Fábrica Nacional de Moneda y Timbre-Real Casa de la Moneda opted to immortalize this event on a collector coin. It is minted in sterling silver and in proof quality and was given a face value of 10 Euro. With a maximum mint run of 10,000 units the coin will be on sale to the public after 10th May.
10 Euro, silver 925, 40 mm, 27 g, mintage in PP: 10.000
The obverse portrays a likeness of H. M. King Juan Carlos I, surrounded by the text JUAN CARLOS I REY DE ESPAÑA in upper case letters. On the lower part of the coin, the mint year is inscribed between two dots. A border of raised dots surrounds both motifs and text.
The reverse features a rendering of the Spanish Pavilion in the Shanghai World Expo. To the left, the face value of the coin, 10 EUROS, is shown as two lines in large capital letters. To the right, a depiction in Chinese characters reads as Expo Shanghai. The mintmark is positioned at the top of the coin while the lower part is inscribed in upper case letters with the text PABELLÓN DE ESPAÑA. A border of raised dots surrounds both motifs and text.