[bsa_pro_ad_space id=4]
10.4M Euros for 772 Lots at Künker: We Present the Top Five
It was not until 10 p.m. that the two auction sales 358 and 359 held by auction house Künker in Osnabrück on 26 January 2022 came to an end. Both auctions were a tremendous success. Instead of their estimate of 7 million euros, the 772 lots realized the impressive sum of 10.4 million euros.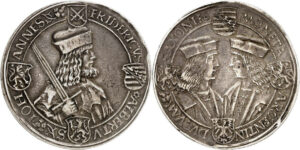 The Köhlmoos Collection played a major role in the success of the auction sale: it realized a total result of 2.8 million euros, which is an increase of 40% compared to its estimate. The highest price within this collection was achieved by a specimen of the earliest klappmützentaler type featuring the authentic portrait of Frederick the Wise. The iconic piece climbed from an estimate of 20,000 euros to a hammer price of 75,000 euros – and still did not make Künker's Top Five.
The selection of rare lösers of excellent quality from the Friedrich Popken Collection also realized a total result that was far more than satisfactory. The estimate had been 310,000 euros, the total result was 560,000 euros. The most expensive piece was a löser of 4 reichstalers minted in 1666 to commemorate the death of Augustus the Younger. Its new owner did not pay 25,000 but 80,000 euros for this specimen – and yet, the löser did not make Künker's Top Five.
Even though these are truly remarkable results, there is no denying the fact that gold coins are currently realizing even higher prices. A good example for this is the Upper Bavarian collection from Staffelsee with about 60 Bavarian gold coins. The estimate had been 300,000 euros, the hammer price added up to two and a half times resp. 250% this figure: 750,000 euros! The highest result was achieved by a quintuple ducat by Maximilian I from 1640 commemorating the refortification of the city of Munich. Due to its extraordinary quality, the price increased from 10,000 to 90,000 euros – and still did not make Künker's Top Five.
For a total of eight lots achieved results in the six-digit range, including one order but not a single silver coin!
So, who made it into Künker's Top Five? Here are the most expensive pieces of auction 358 and 359:
All results of Auction 358 and 359 are available online.
Künker's spring auction sales will take place from March 21 to March 24 and from April 4 to April 6, 2022. The corresponding catalogue can be ordered at Künker, Nobbenburgerstr. 4a, 49 076 Osnabrück; phone: +49 541 / 96 20 20; fax: +49 541 / 96 20 222; or via e-mail. By calling this number you can also arrange a meeting if you are interested in a consignment.
For further information about the auction house, visit the Künker website.