[bsa_pro_ad_space id=4]
November 17, 2016 – More than 200 sunken treasure gold coins from the legendary Spanish 1715 Plate Fleet, recovered during last year's 300th anniversary of the Atlantic Ocean hurricane that sank 11 of the fleet's 12 ships, are now coming into the numismatic marketplace for the first time along with coins found on previous expeditions.
The find
The discovery of the latest trove by the historic shipwreck recovery company, 1715 Fleet-Queens Jewels, LLC, occurred on July 31, 2015, exactly 300 years to the day of the fleet's sinking. The treasure was found in only 6 feet of water just a hundred feet from the beach in Vero Beach, Florida, and this amazing find generated international headlines.
Close ups of the obverse and reverse of a 1694-1713 Charles II type gold 2 escudos struck in Colombia, one of the 1715 Plate Fleet Spanish colonial coins recovered on July 31, 2015, the 300th anniversary of the hurricane that sank all but one ship. Photo: © NGC.
The coins
The coins range in denomination from one escudo to eight escudos. They were struck in Colombia, Mexico and Peru and are dated in the era between 1692 and 1715 during the reigns of Spanish Kings Charles II and Philip V.
Highlights include a 1712 Peru 8 escudos of Philip V, graded NGC MS 64; a 1711 Peru LM 2 escudos of Philip V Peru, NGC MS 66; and a 1699 Colombia 2 escudos of Charles II, NGC MS 64, that was discovered by 1715 Fleet-Queens Jewels inside a recovered bronze cannon.
Blanchard and Company and Monaco Rare Coins are the primary dealerships that are selling the coins. The market value of the 295 treasure coins has been estimated to more than $1 million.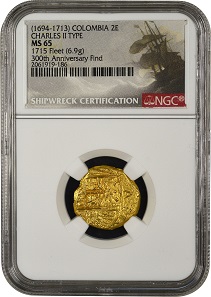 NGC has created special insert labels for the 1715 Plate Fleet coins recovered on the 300th anniversary, such as this Charles II type (1694-1713) gold 2 escudos struck in Colombia, graded NGC MS 65. Photo: © NGC.
Encapsulation and archaeological tag
In addition to the encapsulation by Numismatic Guaranty Corporation, each coin is accompanied by a certificate of authenticity signed by 1715 Fleet-Queens Jewels Co-Founder Brent Brisben, along with the original, numbered archeological tag that was used by the expedition crew to denote each item as it was discovered and recovered. The unique tag number is indicated on the certificate of authenticity for each coin.
For more background information, please visit the website of 1715 Fleet-Queens Jewels, LLC.
This is the website of Numismatic Guaranty Corporation.
And here you find the dealerships Blanchard and Company as well as Monaco Rare Coins.