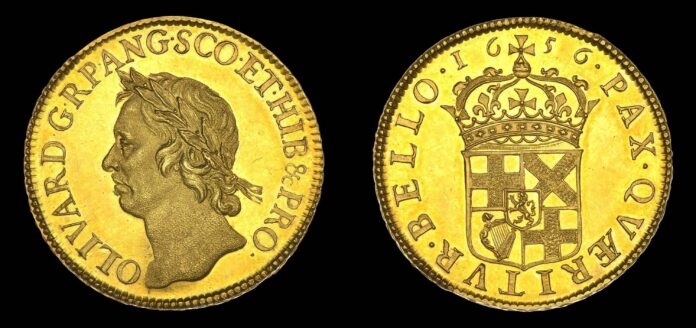 [bsa_pro_ad_space id=4]
World Record Price for a Cromwellian Coin
An extremely fine and rare Oliver Cromwell 50 Shilling gold coin, dating from 1656 by Thomas Simon, who was Cromwell's chief engraver has sold for a World Record Price of £471,200 on Thursday, 21st January 2021 by International coins, medals, banknotes and jewelry specialists Dix Noonan Webb (auction 189). It had been expected to fetch £100,000 – 150,000 and only 12 specimens are believed to exist, with most being in institutions. This example was bought by an American buyer after much interest on the phones and internet from countries such as the Far East, North America and the UK (lot 1142).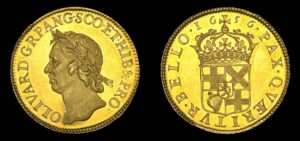 This was the fourth and final part of the North Yorkshire Moors Collection of Coins and Medals that had been amassed by American-born Marvin Lessen, he spent his career in the aerospace/defense industry, working in various technical locations in Europe and North America. However, it was when he moved to Scarborough in North Yorkshire in 1962 that he began to collect British coins on a serious basis. By the time he had joined the British Numismatic Society in October 1964, and subsequently the Royal Numismatic Society and the American Numismatic Society, he was well-known to the principal London dealers and auctioneers of the day.
As Peter Preston-Morley, Head of Department and Associate Director, Dix Noonan Webb, explains: "We are extremely pleased with the results of today's sale, which saw the Gold Cromwell 50 Shilling piece fetch a World Record Price for a Cromwellian coin."
He went on to say: "This is the best collection of Cromwellania to come onto the market in modern times – many of the pieces were either unique or the only one outside an institution. Marvin Lessen's favourite period of numismatic study centred on the mid-17th century – the coins, medals and seals of Oliver Cromwell and the early years of Charles II and the prices in the sale reflected the importance of these coins. We felt that we had kept the best to last and the prices achieved were evidence of this."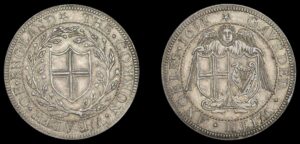 This was the fourth and final part of the collection, which has been offered at Dix Noonan Webb over the past four years and had a combined total of £2,296,050. Other highlights of the sale included an extremely rare and fine silver Commonwealth Shilling by Irishman David Ramage. Once in the collection of the Duke of Devonshire, the shilling is decorated with a small shield of England and sold for £74,400 against an estimate of £15,000 – 20,000 to a UK Collector. David Ramage was Simon's competitor and fell out of favour with Cromwell but had the monopoly on the production of 17th trade tokens (lot 1135).
An extremely rare and fine gold Naval Reward medal from 1653-4, again struck by T. Simon, decorated with the shields of England, Scotland and Ireland superimposed on anchor and surrounded by rope sold for £49,600 to the American trade against an estimate of £30,000 – 40,000. It is believed to have been awarded to Clerk of the Cheque John Clifton, on the Commonwealth warship George. "The Plaine Borderless Medal", first authorised in August 1653, was awarded after the successful conclusion of the last of the three great naval battles of the First Anglo-Dutch War (lot 1181).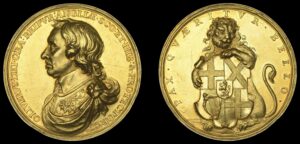 A gold medal of Lord Protector, circa 1655-8 by T. Simon, depicting an armored and draped bust sold for £39,680 to the American trade (estimate: £10,000 – 15,000). Only three or four of these medals are known and one is in the British Museum. In Simon's archive there are invoices for five medals and their recipients, namely two English officers and three ambassadors. In the 17th century it was normal for a ruler to give out precious awards to diplomats in the form of such items as miniature pictures in jeweled mounts, or gold medals and chains, and Cromwell employed both methods (lot 1175).
All results of the auction can be found on Dix Noonan Webb's website.
You can find more records in our record section.