[bsa_pro_ad_space id=4]
15-06-2014 – 01-01-1970
The Inaugural Wilkes & Curtis Auction
Fresh To The Market: The Inaugural Wilkes & Curtis Auction
Fresh to the numismatic market, a collection of coins of Morocco will join more than 500 lots of Islamic, Indian, and world coins and medals in the inaugural online-only auction for newly established numismatic auction house, Wilkes & Curtis, on Monday 16th June.
Tim Wilkes of Wilkes & Curtis said: "Our first auction is truly international but, like the Wilkes & Curtis brand, has a strong focus on coins from both the Indian and Islamic worlds. These coins give both the seasoned collector and those new to the subject of numismatics a fascinating insight into the role coinage has played in the culture and politics of the world."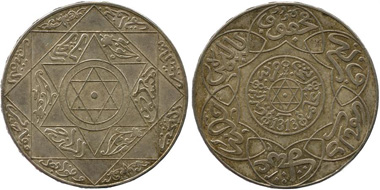 Lot 33.
The selection of 75 lots from Morocco is highlighted by a silver 10-Dirham coin of 'Abd al-'Aziz, minted in Berlin in 1313h (1895-1896 AD). The 10-Dirham coin dates from a period when an independent Morocco had, invited European intervention to help the fragile sovereign state protect threatened investments, and to help Morocco push for economic allowances. Diplomatic manipulation saw the European states, France in particular, rush to extend their interests in North Africa, and it is therefore unsurprising that Moroccan coins from this period were minted not only in Fes, but also in Berlin, Paris, Birmingham, and London. This extremely fine example is estimated to sell for £400-500.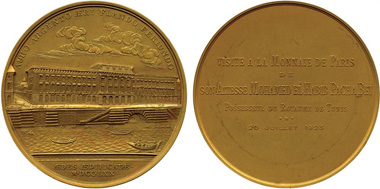 Lot 238.
An extremely rare gold medal, believed to have been presented to Tunisian ruler Muhammad al-Habib Bey during his 1923 visit to the Paris Mint, is representative of French influence in North Africa at the time. Containing over 175 grams of gold, this medal would only have been gifted to a person of very high rank and is believed to be unique, having been produced specifically to commemorate the visit of Pacha Bey, and presumably presented to him personally as a souvenir.
The finely impressed obverse is struck from the reverse die originally engraved by French engraver and medallist, Charles Norbert Roettiers. A member of the notable Roettiers family of medallists and goldsmiths, Charles Norbert worked as engraver-general at the French mint between 1753 and 1772. The original die was created in 1770 for a medal to commemorate the construction of the neoclassical edifice, the Hôtel des Monnaies, which has, since it was constructed between 1767 and 1775, housed the Monnaie de Paris, or the Paris Mint.
This medal of the highest rarity comes with a solid provenance, and is estimated to sell for £14,000-16,000.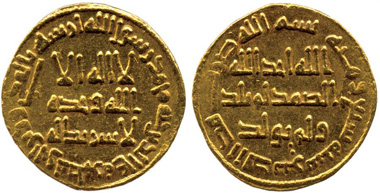 Lot 114.
The first of three online auctions planned by the auctioneers for 2014 will also see a fine selection of good quality Islamic rarities go under the virtual hammer, including an extremely fine example of the very rare 107h Umayyad gold Dinar. The Hijri year 107 corresponds to 726-726 AD. The Hijri calendar is a lunar calendar, which is why hijri years are approximately eleven days shorter than western years, which are solar. The first hijri year 1h is 622 AD in the Gregorian calendar, and marks Muhammad's flight from Mecca to Medina. A coin that no serious Islamic collection should be without, it is estimated to sell for £10,000-12,000.
Lot 96.
Elsewhere in the Islamic selection an Arab-Byzantine gold solidus from Spain depicts a small star on the obverse and an indiction year in centre of the reverse. Interestingly the indiction and hejira dates on this coin do not match, as the Indiction XI corresponds to 94-95h, but both are clearly legible. This rare example is estimated to sell for £2,000-2,500.
Also in the Islamic section is a previously unrecorded gold Ashrafi of the Afsharid ruler Amir Arslan Khan. This coin (lot 416), minted at Tabriz and dated 1161h, is graded as good very fine. It should be noted that Stephen Album does not list any gold coinage for the reign of Amir Arslan Khan in his reference work, The Checklist of Islamic Coins. This exceptionally rare coin is estimated to sell for £1,500-1,800.
Highlighting the Indian section is a gold Stater (lot 444), previously from the collection of Gupta coinage formed by notable numismatist Mrs M. Delmé-Radcliffe. This coin is from the reign of Samudragupta (335-380), and depicts the king and a Garuda bird on the obverse, and Lakshmi, the Hindu goddess of wealth, prosperity and fortune, enthroned on the reverse. Gupta rulers embraced the coin designs implemented by their Kushan predecessors who included Indian deities in their coinage but introduced new Indian style scenes, like the one on the obverse of this example. The Stater is estimated to sell for £800-1,000.
Bidders will have the opportunity to bid for all 579 lots online, by email, or by post, and printed catalogues are available on request. The catalogue can be viewed, and bids submitted, online and the auction will close on Monday 16th June.
Estimates do not include buyer's premium and prices achieved include the hammer price plus buyer's premium.