[bsa_pro_ad_space id=4]
Vineyard Collection in Nomos' Obolos 20
Nomos AG's latest web auction, Obolos 20, which closes on 3rd October 2021, has been up and running for a week or so, and it is about time we said something about it: so that is exactly what we are going to do now!
This is quite an extensive sale: with no less than 1604 lots it has quite a selection of coins of all kinds. The sale begins with 497 lots from the well-known Vineyard Collection, which focuses on ancient coins with types that have references to wine: grapes, satyrs, Dionysos, amphorae – all sorts of oenological things. The variety of material is remarkable, and just goes to show you what a single collector can amass with drive and passion. This group primarily contains coins from mints in Asia, but there are a few pieces from Alexandria and Roman Republican and Imperial issues as well. There are many rare and unusual coins here, almost all with solid pedigrees: they are well worth careful viewing!
The sale continues with a wide variety of coins from a plethora of different owners: Greek, Roman Provincial, Roman Imperial, Byzantine (including seals), Medieval and Modern. There is even a lot of Hellenistic gold attachments designed to be affixed to an ornamental harness of some kind. And there are also quite a few multiple lots as well. Now let's go to a selection of coins that have caught my eye…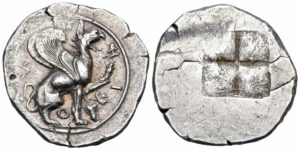 Here we have lot 88 (Estimate: 800 CHF), a very nice stater from the Ionian city of Teos. It bears the city's badge of a right-facing griffin, a mythical creature long popular in the East. It was well-known as a guardian of gold, but here it seems to be guarding a bunch of grapes – less valuable, perhaps, but certainly tastier!
A tiny hemiobol from Mylasa in Caria (lot 120, estimate: 75 CHF), which is thought to have been struck at some point during the second half of the 5th century BC. The obverse shows the forepart of a lion (not a lioness since it seems to have a mane) that is seemingly seen both from above and facing at the same time. On the reverse we have a scorpion seen from above: it has its characteristic eight legs, two claws and stinging tail. This is a rather curious type, to be sure: having a lion for a city badge or symbol is reasonable enough, but why a scorpion?
Also from Caria, this is a drachm from the city of Syangela (lot 130, Estimate: 400 CHF) and it is extremely rare (this seems to be the fourth example known). Acquired from G. Hirsch Auction 212 in 2000, it bears a bearded head of Dionysos on the obverse – quite reminiscent of the archaic heads on the drachms of Sicilian Naxos – and a kantharos with a bunch of grapes on the reverse.
This is another really rare drachm: it was struck by Seleukos I, either in Baktria or somewhere in Margiana (the area of modern Merw) or Aria (the area of modern Herat), and bears the head of a horned horse (Bukephalos?) on the obverse and the Seleukid anchor on its reverse (lot 250, estimate: 200 CHF). The tiny bunch of grapes that appears as a symbol on the reverse is the reason why it entered the Vineyard Collection – it comes from CNG 47 in 1998.
Grapes appear as a symbol on another Vineyard drachm, this one struck either by Sophytes or Andragoras: lot 280, estimate: 300 CHF. Struck in the same general area as Sekeukos's piece, the bunch of grapes and vine lear testify to the importance grapes had in the East. The head of Athena on the obverse of this coin is a standard type, but the eagle is much more idiosyncratic: he seems to be giving quite a baleful look at the grapes and kerykeion (caduceus) above his back!
Frankly, this coin is terrific! It is from the Mauretanian city of ŠMŠ (Lixus?, a city whose citizens were famous for their short messages) and was struck sometime in the second half of the 1st century BC (lot 290, estimate: 200 CHF). An ear of grain, a star and a bunch of grapes (= Vineyard) appear on the reverse, but what is extraordinary is the obverse type, a facing head of Baal-Melkart. This is certainly not a Greek head, but it is amazingly successful at portraying a god who has little or nothing to do with your typical Graeco-Roman deity. B-M's hair looks a bit like one of the Beatles (!), but in general he has a rather Druidical look; his three-pointed beard is most unusual, however. Could it be a North African fashion, after all, another person with a three-pointed beard was Septimius Severus, and he was from Leptis Magna!
Lot 497, estimate: 100 CHF, is a Roman tessera (semis?, quadrans?) dated to the general period of Domitian through Antoninus Pius, and coming from the Vineyard Collection (and from New York Sale V in 2003 [realized $350] as well as Sternberg XXXV in 2000 [realized 250 CHF]). The types are easily identifiable as a modius, with two grain ears and a poppy, and a volute crater (krater); but what do they represent? Could it be that this tessera was used as a token for the distribution of grain (the modius, used for measuring grain) or wine (the crater, from which wine was served)?
This seems to be clearly a posthumous Alexander tetradrachm struck around 200 BC; in fact, that is exactly what it is! However, what distinguishes it is that it was minted in Knidos, which makes it very rare, indeed (lot 670, estimate: 200 CHF)! In fact, this coin, probably struck when Philip V was campaigning in Caria, is one of the great rarities of the entire Alexandrine series.
To end this selection from Obolos 20 we come to lot 763 (Estimate 200 CHF), a bronze coin with a bust of Artemis on the obverse and the eagle of Zeus standing on a thunderbolt on the reverse. It is dated to the year 258 of the Pontic era, the equivalent of 55/54 BC and comes from the very obscure city of Kamos in Pontus, of which only a mere handful of coins are known. There are some collectors who would like to own at least one example of a coin from every ancient mint. That is easy with places like Athens, Corinth, Histiaea, Pergamon, Antioch or Alexandreia, but Kamos? Try finding another!
All lots of Obolos 20 can be found in the Nomos online catalog.
For further information visit the website of Nomos AG.