[bsa_pro_ad_space id=4]
17-12-2014 – 01-01-1970
Online Numismatic Auction
Numismatic Auction of Valient Auction House Online
Valient Auction House purchases and offers for sale old silver and gold coins, ancient coins and medals, Hungarian and foreign commemorative medallions, lottery tickets, stock certificates, awards, emergency money, badges, and paper money.
Customers have two options: immediate cash buying online or selling via auctions.
The market value of old coins and bank notes depend on various circumstances. Their evaluation is done by experts with many years of experience, who are always available for your service.
On regular online numismatic auctions you can find the piece of history that is still missing from your collection. The office of Valient Auction House is in the second district of Budapest, where anyone is welcome who is interested in numismatics.
Here a few interesting items of the current december auction of Valient:
Hunyadi Mátyás / 1482-1489. Goldgulden. T/C:AU,XF ÉH:540.o, Huszár: 680. 765 euros.
Spain 1336-1387. Florin Au "Pedro IV de Aragón" Barcelona. T/C:aXF. 303 euros.
Roman Empire / Hadrianus 123. Denar. Rome mint. T/C:AU RIC: 100v., RSC: 1153c. 165 euros.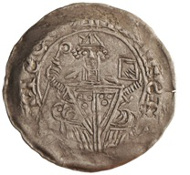 Italy (Trieste / Friuli-Venezia Giulia) 1200-1203. Denar. T/C:aXF R! Bernardi: W1., Biaggi 2711. 300 euros.
For more information on the Numismatic Auction of Valient please click here.