[bsa_pro_ad_space id=4]
On 2 February 2023, the day before the World Money Fair opened its doors to the public, minting engineers met for the 19th Technical Forum. In the elegant auditorium with its lecture hall atmosphere, machine manufacturers and mints presented the latest developments in minting technology to an expert audience of about 400 people. Those who could not travel to Berlin had the possibility of listening to the 14 presentations online. After all, the Technical Forum was held in the digital space during Covid – and very successfully so. As always, the afternoon event was hosted by Thomas Hogenkamp (Spaleck) and Dieter Merkle (Schuler). What topics were discussed and what might become relevant for collectors?
Environmental Protection and Sustainability
A trend that was picked up by almost all presentations was the topic of sustainability. Many speakers talked about making the shift towards new production methods to make production more environmentally friendly: making machines more water and energy efficient, using less toxic chemicals, reducing CO2 emissions and implementing environmentally friendly alternatives such as air drying systems for blanks.
One example is the project presented by Tony Baker from the Royal Mint. They are currently building a new production hall where gold and other precious metals can be extracted from electronic waste by means of a new chemical process. Two million tons of such waste are said to be produced in Great Britain alsone every year. So far, there has been no cost-efficient method of extracting gold from scrap material, but this has apparently changed. They are still in an advanced experimental phase, but in five years from now, the Royal Mint plans to mint all its gold coins from precious metal that was recycled in this way. Of course, they want to use sustainable methods and only use chemicals that can be reused and recycled. The chemical itself is a big secret, which Baker did not reveal despite many inquiries.
Coating
Different forms of die coating were the subject of many a presentation at the Technical Forums of the past years. Coating drastically increases the durability of dies and there is no alternative to it. Here, too, the industry works to make the process more eco-friendly. After all, chromium was usually used for this, an element that is banned in more and more countries as it is very harmful to the environment. Instead, manufacturers now use PVD coating (physical vapour deposition), which is more sustainable. Modern coating methods make dies increasingly durable. An impressive example for this was presented by Goran Paladin of the Croatian Mint: they produced millions of new coins for the introduction of the euro in Croatia over the past months. Thanks to the combination of state-of-the-art minting presses and die coating, a single 5-cent die for the national side was used to mint an incredible amount of 11,575,817 specimens before it had to be replaced!
Automation
Bad news for fans of error coins. In the age of fully-automated production plants with smart sorting machines, the detection of error coins is also an increasingly automated process. Several companies are working on such detection devices that can be integrated into the assembly line. One such system that was presented in Berlin takes up to 250 pictures per second of the coins on the assembly line and evaluates them in real time. Beforehand, the software is taught what the coin should look like, what a deviation is and how significant it is allowed to be. Faulty pieces are automatically sorted out, and in the case of severe errors, the entire production can be stopped immediately to prevent further minting errors.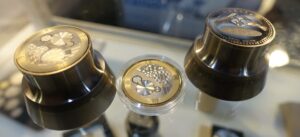 Laser Engraving
Another important topic of recent years is the way in which dies are engraved. Using a machine-controlled drill head for milling is still the most-used method, but it is slowly replaced by high-precision laser milling. No less than two manufacturers promoted the advantages of their latest laser-based die engraving systems. Depending on how much speed and precision is required, lasers with different characteristics are used – nano, pico and fementosecond lasers. The manufacturers promise that this technology will enable mints to save a lot of time in die production. Moreover, the lasers can also be used for the finishing and can achieve highly complex effects as well as create micro engravings and latent images. This was demonstrated by GF Machining Solutions in a collaboration with Swissmint by means of an impressive demo coin.
Tool-Making Software
Even the most precise laser is of no use if the digital model of the die that is given to the milling machine is not extremely precise itself. Therefore, the presentations of CarveCo are always highly fascinating. Their software with the same name is used by mints around the globe to create three-dimensional digital coin designs that can easily be read and implemented by milling machines. As every year, they presented major improvements to their software. The maximum resolution of the designs has recently been doubled, which is why digital models can include much more details now. In addition, the software is now much faster in calculating the designs; there are more design tools available, enabling designers to create complex motifs in an easier way. In addition, surfaces can be recognised more quickly and, for example, marked for frosting or another type of finish. This makes the work of designers much easier, since they will be faster to create more sophisticated, more detailed digital models. Combined with increasingly precise engraving lasers, we may soon be looking at more detailed coin designs than ever before. Exciting times!
Here you can find the entire program of this year's Technical Forum.
Unfortunately, you can only watch the stream of the presentations if you registered at a fee beforehand. That was different last year. Here you can find the presentations of the 18th Technical Forum.