[bsa_pro_ad_space id=4]
by Mark Teller
June 19, 2014 – In the 1970s, a group of numismatic friends decided to get together for a Sunday breakfast. We started at Factor's Deli and then branched out to other venues on the west side of Los Angeles and West San Fernando Valley. Some forty years later, we are still at it, Sundays at 9:30 AM.
The founding members, all committed numismatists, were Richard "Dick" Lissner, Irving "Irv" Goodman, and M. Louis "Mark" Teller. Within a year, we were joined by Dr. Lawrence "Larry" Adams, a prominent Los Angeles physician. Over the years such illustrious collectors as Dr. Osmund Chan, Dr. Robert Hesselgesser, and Paul Covey from San Antonio often appeared at the table. Wives, children, and grandchildren were often guests. Later, Dr. Vladimir Golovchinsky became a member of the group. Victor England sometimes joined the group when traveling through the area. Vibrant numismatic conversation was always in the forefront, along with a wonderful show-and-tell of exceptional numismatic specimens.
Politics, world news, and other current events often led to vigorous conversation. The full spectrum of political thought was represented and explored. We were good friends and listened and debated with courtesy. We also spoke of personal matters. We were a close-knit group of cronies.
As we aged, our meetings were still vibrant but some members could not attend due to illness or other issues.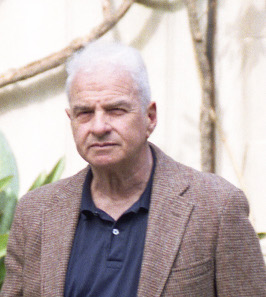 Richard Lissner.
Recently, Dick Lissner passed away at the age of 87. Losing him was a devastating loss for us all. In addition to being a wonderful man, he was one of the great coin collectors in Los Angeles and worldwide. His collection, of impeccable quality, encompassed all world type coins of the 19th and 20th centuries, with the exceptions of Canada and the United States. Should a beautiful 17th or 18th century coin come along, he would add it to the collection.
His numismatic start was as a 10-year-old boy collecting Lincoln cents, and he once received a rare 1914-D in change on a Los Angeles street trolley. While in high school, he joined the U.S. Army Air Corps cadet program, and after graduating from high school, he joined the U.S. Army Air Corps in 1943. Upon returning home after the war, he attended Stanford University, and then graduated Cum Laude from University of California, Berkeley. After being accepted at Harvard, Yale, and other fine institutions of learning, he chose to attend Yale where he received his law degree. He married his wife Judy in 1952, and they lived in the Los Angeles community of Brentwood, where they raised their four children.
Dick's family were gold rush arrivals in California with an impressive background and history – from a Grand Rabbi in Lisse, Poland, to a great grandfather who left home at a tender age and settled in Massachusetts. His great grandfather then came to California by ship, crossing the Isthmus of Panama on foot before continuing on by ship to San Francisco. While in San Francisco, he became a successful businessman, marrying the daughter of another successful businessman. Her father was one of the original founders of the first professional baseball team in Oakland (the Oakland Oaks, established in 1879).
Coming from a successful business family, Dick's grandfather, Meyer Lissner was a successful attorney and was deeply immersed in politics and its inner workings. Dick was proud of the letters he inherited that had been exchanged by his grandfather and President Theodore Roosevelt. As a political reformer, Meyer was greatly at odds with the very conservative Los Angeles Times. The Times published several seemingly anti-Semitic cartoons of Meyer and their mutual animosity grew. Meyer was deeply immersed in California politics and was the campaign chairman of Senator Hiram Johnson, a Republican Senator from California from 1917 to 1945. Meyer Lissner died in 1930. During WWII, a U.S. Liberty ship was named for the late Meyer Lissner.
Richard's father was an assistant United States attorney in Los Angeles in the 1920s before joining the L.A. law firm of Loeb and Loeb, where he became a full partner. After practicing law for a period of time, Dick, who never cared for the legal profession, managed family properties in downtown Los Angeles. At one time, his maternal grandfather, Isidor Eisner, owned the largest number of high-rise buildings in the downtown area of Los Angeles. Most are still in existence.
Although Dick came from an affluent and highly connected family in Los Angeles, he always remained very down to earth in a friendly, outgoing way. He was, as his ancestors, very philanthropic. This writer's favorite memory is the time Dick left a theater in Santa Monica, California and saw a homeless man with no shoes. He promptly took off his own shoes and gave them to the man. He was always discreet and private and rarely spoke of his philanthropy.
His four children, now grown, were given top-notch educations both in the United States and Europe. He believed that education was the finest gift that could be given to one's offspring. The proceeds of the sale of his excellent Russian collection (sold in Triton X, January 2007) were given to his 11 grandchildren to further their education.
As a linguist and scholar of history, the numismatic world was comfortable for him. His numismatic endeavors are legendary. He only wanted the finest specimens to add to his ever-growing collection. He amassed amazing type collections of France, Scandinavia, the Low Countries, Italy, and the Balkan States. He also collected crowns of the world. He was especially fond of Spain and the New World, and his collection of South American coins is known by dealers and collectors worldwide.
This August 1st and 2nd his collection will be offered for sale in the Chicago area before the annual ANA summer convention. It will be the finest sale of its type in 50 years.
We will miss "Dicky Boy," but his legacy will live on with his family and friends. His coins will find new homes. Richard Lissner always said; "We are only numismatic caretakers." He was right and these coins will live on as his numismatic legacy.
Thank you Dick, we miss you.
We published an auction preview of the Lissner Collection sale in CoinsWeekly.
You can view the Lissner Collection sale on the CNG website.
There is also available a preview catalogue for world coins …
and a preview catalog for the New World coins.
To browse through the Lissner Collection in the CNG coin shop please click here.