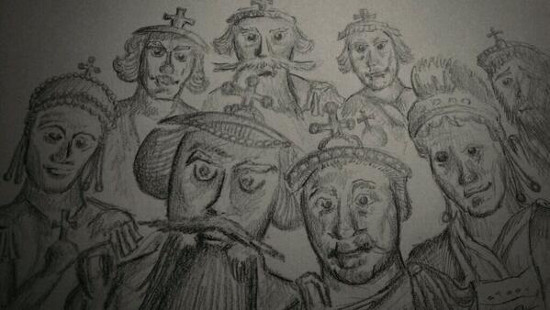 [bsa_pro_ad_space id=4]
by Jeremy Bostwick
September 18, 2014 – The wonderful world of numismatics presents the perfect backdrop for a blending of history, art, and pop culture, with a healthy dose of puns thrown into the mix as well. Today's cartoon is dedicated to Byzantine numismatics which Jeremy loves: An imperial selfie!
The Backstory…
Thanks to the Oscars and the retweet storm initiated by Ellen's selfie, everyone has been getting into the personal snapshot craze lately. Just because it's completely anachronistic (and features some emperors who had their predecessors assassinated), why can't we believe that these guys would get together for a selfie, completely decked out in their regnal and military garb of the day? Our cast includes Constans II and Constantine IV (up front), Maurice Tiberius (to the outer left), Justinian I (to the outer right), Heraclius Constantine, Heraclius, and Heraclonas (in the back), and of course, poor Phocas (way to the outer right), who is woefully out of focus.
You may follow 'The Revenge of the Solidi' on Tumblr …
… or on Twitter.