[bsa_pro_ad_space id=4]
Summer Auction at Felzmann in Düsseldorf
At its 169th auction, Auktionshaus Felzmann will be offering its usual extensive range of material for numismatics enthusiasts. Assuming that it is still permitted by the authorities, the auction will take place in Felzmann's own auction hall in Düsseldorf and live on the internet on its online platform. A total of 2,700 lots from all numismatic collection fields will be going under the hammer.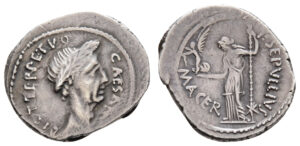 The auction will begin with antiquity, which includes a collection featuring a wonderful series of Roman and Byzantine rulers, not to mention a number of extremely rare depictions that should not be missed. The European section boasts excellent Spanish coinages, siege issues and attractive specimens from the Old Italian States. This time around, South America is one of the main highlights of the overseas territories, including many silver 8-real coins.
It is also well worth taking a look in the Orders & Decorations department, particularly for the specimens with very rare clasps. There is also plenty for collectors of currency notes to discover – such as the non-issued Ukrainian 2-karbovanet issue. The sheer diversity of the catalogue is also demonstrated in the Miscellaneous section, where collectors of pocket watches will find rare pieces from Eisenhütte, IWC and many other gems of this nature. The wide variety of gold lots on offer is sure to bring a sparkle to many collectors' eyes. For this, the catalogue should be studied carefully – because there is gold in all areas from antiquity to the modern age, up to and including old 250-gram bars. Those who prefer compact yet extensive collections need look no further than the strong collections and inherited collections featured in the auction, which contain many promising items to bid for on the second day. It is definitely worthwhile viewing the material digitally or on location. Owing to the current situation, a greater range of options has now been provided for digital viewing. An additional WhatsApp service that allows photos and short videos to be sent is also available at +49 (0)173-900 85 43. There has also been a significant increase in the number of high-resolution photos in the online catalogue.
Coin auction highlights
Lot 113: Roman Republic. Gaius Julius Caesar, Denarius, circa 44 B.C., starting bid: €3,500
Lot 497, Landau, siege klippe (1 livre and 1 sou), 1704, starting bid: €1,500
Lot 583, Nassau, Friedrich Wilhelm zu Weilburg, Conventionsthaler, 1809, starting bid: €1,500
Lot 931, Flanders, 2 souverain d'or, no year, Tournai, starting bid: €4,000
Lot 936, Merovingian denarius, Paris, rare in this condition, starting bid: €750
Lot 1371, Russia, Gold Medal for Merit from the St. Petersburg Academy, starting bid: €15,000
Lot 1610, Persia, Reza Pahlavi, 5 Pahlavi, commemorating 50 years of rule by the Pahlavi dynasty, starting bid: €1,600
Lot 2033, an attractive, interesting marine clasp with (for example) oval silver Duke Carl Eduard medal with sword clasp 1914/18, starting bid: €750
Lot 2230, Assmann, Glashütte, hunter pocket watch with case and certificate, starting bid: €9,000
The online catalogue is available at the Felzmann website. Bids can now be placed in the online catalogue, by e-mail or fax, or on the Philasearch or Sixbid platforms. The auction will be held on 30 June and 1 July 2020 in the auction hall in Düsseldorf as well as live on the internet complete with live bidding. Following this, the stamp auction will take place between 2 and 4 July 2020. Further information and the latest updates on the auction can be found on the auction house website.