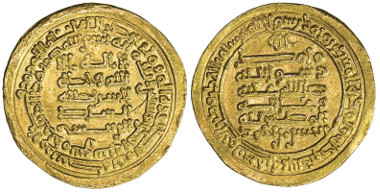 [bsa_pro_ad_space id=4]
13-01-2016 – 15-01-2016
Auction 24
Stephen Album's Auction 24 is highlighted by Indian Coins, Chinese Cash Coins and Canadian Tokens
January 14-16, 2016 are the dates for the next auction by Stephen Album Rare Coins, to be held at their offices in Santa Rosa, CA USA.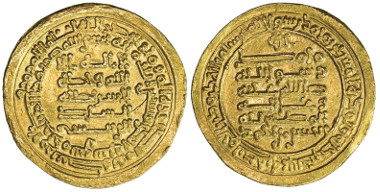 LOT 277: QARMATID: al-Hasan b. Ahmad, 972-975, gold dinar, Dimashq, AH361, Album-684, choice EF, Extremely Rare. Estimated at $8,000-9,000.
The auction will be made up of 2,831 lots and covers the areas of Ancient, Islamic, Chinese, Indian, and World Coins, in addition to Numismatic Literature. The auction also features Part II of the Dr. Paul Stevens Collection of Indian Coins, Part II of the Zhao Quanzhi Collection of Chinese Cash Coins, and the Paul Montz Collection of Canadian Tokens.
LOT 1544: MUGHAL: Akbar Adil Shah, 1753, rupee, Allahabad, year one (ahad), KM-763, Zeno-78896 (same dies), choice VF to EF, Highest Rarity, ex Paul Stevens Collection. Estimated at $12,000-16,000.
The Dr. Paul Stevens Collection features additional selections from his extensive collection of rupees of the Mughal Empire. Also offered are many choice coins from the Durrani and Barakzai dynasties of Afghanistan, as well as coins from the Indian Princely States of Awadh, Bahawalpur, Baroda, Bela, Bharatpur, Bhopal, Bikanir and Bindraban. This is only a portion of the overall collection. The firm will offer additional portions of the collection in future auctions.
LOT 803: MIN: Tian De, 943-945, large AE cash, Hartill-15.59A, Fine, Highest Rarity, ex Zhao Quanzhi Collection. Estimated at $10,000-15,000.
The Zhao Quanzhi Collection features additional cash coins and spade money from his collection. The first part of his collection achieved record prices for Chinese copper cash, the most notable being a Tai He 10 cash coin that hammered for $240,000 in the firm's January 2015 auction.
LOT 2626: CANADA: AE ½ penny token (6.92g), ND (ca. 1835), Charlton-BL-51, HW-268, Blacksmith issue, imitative of the Bouquet Sou obverse with a Chihuahua Republic ¼ real reverse, Very Crude Fine to VF, RRRR, ex Paul Montz Collection. Estimated at $4,500-5,500.
The Paul Montz Collection of Canadian Tokens includes a total of 121 lots, including some rare or unique pieces, as well as some scarce pieces in choice condition. Some examples include an extremely rare Blacksmith's token (Charlton type BL-51), as well as an 1837 (1842) penny token graded MS-65 (Charlton type PC-2A1).
LOT 1844: JAIPUR: Man Singh II, 1922-1949, AV nazarana mohur, Sawai Jaipur, 1945 year 24. KM-201. In the name of George VI, NGC graded MS64, Highest Rarity, Possibly Unique. Estimated at $10,000-12,000.
Lot viewing is available at the upcoming NYINC (New York International Numismatic Convention) on January 7-10, 2016. Go to table G-2 (Gramercy Suite) for lot viewing. The firm will also have their usual retail table S-5 (Starlight Roof).
The complete auction catalog can be found on the website of the firm.