[bsa_pro_ad_space id=4]
14-05-2014 – 16-05-2014
19th Auction
Arab-Byzantine coins at Steve Album's Santa Rosa auction
On May 15-17, 2014, Stephen Album Rare Coins will present their 19th Auction at their offices in Santa Rosa, California. The sale will include extensive selections of Ancient, Islamic, Chinese, Indian, general World Coinage, and Numismatic Literature, numbering a total of 2441 lots. Of particular interest will be a collection of 159 lots of Arab-Byzantine coins, one of the largest groups ever brought to auction.
Some highlights of the auction include the following:
LOT 103: BYZANTINE EMPIRE: Heraclius, 610-641 A.D., Aes follis (16.91g), Jerusalem, year 4 (613/614), S-852B, nice strike, with minimal weakness, one of the finest known specimens, struck during the Persian siege of Jerusalem, About VF, RRR Estimate $9,000-10,000.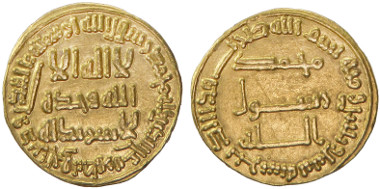 LOT 346: ABBASID: al-Saffah, 749-754 A.D., gold dinar (4.23g), NM (no mint name, as always), AH132, A-210, lovely strike, EF, RRR Estimate $8,000-10,000.
LOT 912: SZECHUAN-SHENSI SOVIET: silver dollar, 1934, Y-513.5, LM-891, large solid stars on reverse, PCGS graded AU-50, RR Estimate $6,000-8,000.
LOT 940: KUSHAN: Vima Kadphisis, ca. 105-127 A.D., gold distater (15.63g), G-13, 3 nicks near the edge, F-VF, RR Estimate $5,000-7,000.
LOT 1025: MUGHAL: Dawar Bakhsh, 1627 A.D., silver rupee (11.34g), Lahore, AH1037 year 1, KM-195.1, BM-527 (same reverse die), 5 testmarks, VF, RRR Estimate $5,000-6,000.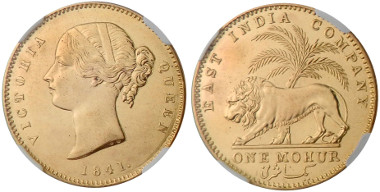 LOT 1675: BRITISH INDIA: Victoria, Queen, gold mohur, 1841, KM-462.1, NGC graded MS-62. Estimate $4,500-5,500.
LOT 2430: VENEZUELA: silver 5 reales (50 centavos), 1858, Y-11, Stohr-27, very rare type, VF, RR Estimate $2,800-3,200.
For more information see Steve Album's website.