[bsa_pro_ad_space id=4]
16-05-2018 – 18-05-2018
Auction 31
Stephen Album Auction 31
Stephen Album Rare Coins will hold its Auction 31 on May 17-19, 2018 at its offices in Santa Rosa, California. The auction will comprise 2,966 lots of Ancient, Islamic, Chinese, General World, and Indian Coins, as well as Numismatic Literature. Featured this time are the Don Erickson Collection of German Coins and Part II of the Mike Edwards Collection of British and Swiss Coins. Also in the sale is a large collection of So-Called Dollars.
Some highlights from the sale follow:
Lot 213.
Lot 213: Arab-Byzantine. Anonymous, 715-718, gold solidus (4.24g), Africa, AH97, A-121M, BMC-P.49, Bernardi-34Ca, Latin & Arabic text both sides, with the Arabic kalima divided equally between obverse & reverse; the obverse Latin legend is SLD FRT IN AFRK AN XCVII (abbreviation of "Solidus Feritus In Afrika Anno XCVII", i.e., "solidus made in Africa in the year 97"), with an abbreviated Latin version of the Islamic kalima on the reverse, struck with slightly worn dies, especially noticeable on the reverse, attractive F-VF, RRR. Estimated at $7,000-9,000.
Lot 1585.
Lot 1585: Russian Empire. Catherine II, the Great, 1762-1796, 5 kopeks, 1787/77-EM, Cr-59a, Brekke-6, Bitkin-1294, Swedish issue, superb quality! NGC graded EF45 BR, RR. Estimated at $7,000-9,000.
Lot 1897.
Lot 1897: Danish West Indies. Christian IX, 1863-1906, gold 10 daler, 1904, KM-73, Fr-1, reflective fields, mintage of only 2,005 pieces! NGC graded MS63 PL, RRR, Only two 10 daler coins have been certified as prooflike by NGC, MS-63 (this coin) and MS-64. Estimated at $10,000-12,000.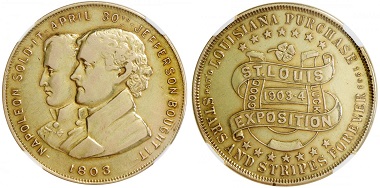 Lot 2002.
Lot 2002: United States. 1904, gold medal, H&K-311b, "So-Called Dollar", Louisiana Purchase Exposition, NAPOLEON SOLD IT / APRIL 30TH / JEFFERSON BOUGHT IT above conjoined busts left of Napoleon and Jefferson, date 1803 below // LOUISIANA PURCHASE above, STARS AND STRIPES FOREVER below, ST. LOUIS / 1903-4 / EXPOSITION / GOOD LUCK all entwined on ribbon on horseshoe with four-leaf clover above, rim filing, RRR, NGC graded VF details, ex Kurt Krueger Collection, Apparently only two known struck in gold! Estimated at $10,000-15,000.
Lot 2702.
Lot 2702: British India. Victoria, Queen, 1837-1876, gold 10 rupees, 1870, KM-477, S&W-4.18, Pridmore-32, "Young Bust" Calcutta mint proof restrike, PCGS graded Proof 63, S. Estimated at $8,000-10,000.
Lot 2768.
Lot 2768: HAN: bronze mold, 71mm x 227mm x 9mm, complete half mold with neck end of 40mm, in bronze for casting wu zhu type coins; on tip end surface there is a pin sticking up that would enter a hole in the other half of the mold to hold both sides in position during casting, while at the base end there are two indentations to take the pins from the other half of the mold. This mold would cast six coins on either side of the main channel. Heavy patination as expected, EF, RRR, ex Lyn Knight Auction June 2011 "Arthur B. Coole Collection.". Estimated at $15,000-20,000.
Lot 2902.
Lot 2902: Yunnan. Kuang Hsu, 1875-1908, silver trade rupee, ND [1907], L&M-427, Wenchao-pg.512 #830 (rarity 5 stars), this type is clearly modeled after the Szechuen Tibet Rupee series and although similar in appearance, various modifications have been made to the design which include some stylistic changes and the addition of the English legends YUN-NAN PROVINCE around central portrait // SILVER COIN within Indian rupee style wreath, environmental damage as hornsilver, NGC graded VF details, RRR, ex Hans Mondorf Collection. This is only the fourth example to appear for sale on CoinArchives in 15 years. Estimated at $12,000-14,000.
The firm is now inviting consignments for its Auction 32 on September 13-15, 2018.
To browse through the catalogue and bid visit the online catalog on iCollector.
For more details visit the Stephen Album website.