[bsa_pro_ad_space id=4]
13-05-2015 – 14-05-2015
Auction 22
Strong prices at Auction 22 of Stephen Album Rare Coins
Strong prices were seen at the May 14-15, 2015 Auction 22 of Stephen Album Rare Coins at their offices in Santa Rosa, CA. Total sales were $719,141 (including buyer's fees) on a $603,000 estimate, for the 1744 lots, which included Ancient, Islamic, Chinese, Indian, and World Coins and Numismatic Literature. The sell through rate was 86%.
Highlights of the sale include:
Lot 342: IKHSHIDID: Muhammad, 935-946, AV donative fraction (1.39g), NM, ND. A-A676. Bacharach-217. Byzantine style, nimbate enthroned figure, holding scepter / two helmeted frontal busts, separated by palm tree, VF, RRRR
Estimate: $2,000 to $2,500
Hammer Price: $6,000
Lot 668: SINKIANG: Yakub Beg, 1865-1877, AV tilla (3.54g), Kashgar, AH"12". Cr-37.3. A-O3090, in the name of the Ottoman sultan Abdul Hamid II, known only to Craig/Krause from a drawing, possible trace of having once been placed in jewelry, unlisted by L&M and Wong Yongsheng, possibly unique, EF, RRRR
Estimate: $12,000 to $14,000
Hammer Price: $14,000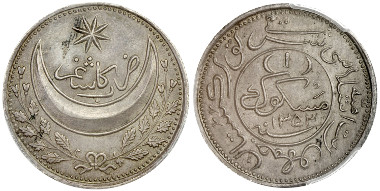 Lot 672: ISLAMIC REPUBLIC OF EAST TURKESTAN: Hoja Niyaz Haji, 1933-1934, AR miscal, Kashgar, AH1352. Y-E39. L&M-775A. 8-pointed star & crescent with zarb kashgar (struck in Kashgar) between, oak wreath around / Uyghur legend, sharket turkhestan cumhuriyet islamiyesi (Islamic Republic of East Turkestan) around central circle (1) muskuk sanah 1352 within, eight rayed sun variety, faint trace of cleaning on the obverse, NGC graded AU Details (Surface Hairlines)
Estimate: $8,000 to $10,000
Hammer Price: $15,000
Lot 931: SIKH EMPIRE: AR rupee (11.05g), Amritsar, VS1903. KM-21.2. Herrli-01.22.04, VS1884 series, bird to left of guru on obverse, extremely rare subtype, EF, RR
Estimate: $700 to $900
Hammer Price: $8,000
Lot 1151: IRAN: Mohammad Reza Pahlavi, 1942-1979, medallic AV 25 pahlavi (200g), MS2535 (1976), 76mm, AGW 5.787, 50th Year of Pahlavi Rule, conjoined busts of Reza Shah and Mohammad Reza Pahlavi / Bank Melli Iran building, stamped No.109, BU
Estimate: $8,000 to $10,000
Hammer Price: $20,000
Lot 1555: NORWAY: Christian V, 1670-1699, AR 2 mark, Kongsberg, 1699. KM-198. HCM mint master, NGC graded MS64, RRR
Estimate: $9,000 to $10,000
Hammer Price: $10,000
All prices realized you may find here.
The company's next auction will take place September 10-11, 2015.
For consignment information, or any other information, please visit the website of Stephen Album Rare Coins.