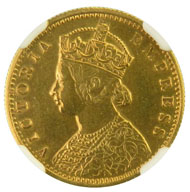 [bsa_pro_ad_space id=4]
17-01-2013 – 18-01-2013
Auction 15
Indian coins reach splendid results at Stephen Album Rare Coins auction
Auction #15 was the largest auction yet offered by Stephen Album Rare Coins, with 2239 lots (2113 coin lots, the rest books), completed in two lengthy days of about 12 hours each.
Of special interest was part two of the John Page collection, primarily coins of British India and the Republic of India, which realized many fabulous results. He was overjoyed by the results, and most of the other consignors contacted the auction house to express their pleasure. Here are the results of some of the British Indian coins from his collection (including buyer's fee), mostly graded by NGC:
Lot 1309, copper 1/4 anna, 1857(h), rare date, MS64, $2,530.
Lot 1337, silver 1/2 rupee, 1886-C, type A/1, EF-AU, with minor sufrace hairlines, $1,610. (estimate $200-300).
1428: BRITISH INDIA: Victoria, Empress, 1876-1901, AV 5 rupees, 1879(b), KM-494, Y-A25, proof restrike, NGC graded Proof 62, ex. John Page Collection. Estimate $7,000-9,000. Realized $9,500.
Lot 1428, gold 5 rupees, 1879(b), proof restrike, PF62, $10,925.
Lot 1472, silver rupee of Edward VII, 1904(c), MS65, $2,070 (estimate $200-300).
Lot 1487, gold medal (42.41g), 1911, for the Delhi coronation celebration of George V, ef-au and lightly polished, $9,200 (estimate $2,500-3,000).
Lot 1531, 8 annas 1920(b), PF64, $2,070 (estimate $200-300).
Lot 1576, silver rupee 1938(b), graded MS65, superb example, $2,990 (estimate $150-250).
And other coins not from the John Page collection that did especially well:
Lot 722, Iran, gold toman, Tehran, AH1272, royal portrait of Nasir al-Din Shah, choice EF, type A-2926, $7,130 (estimate $1,000-1,200).
Lot 815, Szechuan-Shensi Soviet State, silver dollar, Y-513.6, EF45, record price of $7,130 (estimate $3,000-4,000).
Lots 819-825, various coins of Tibet, most selling well above estimate, especially lot 825, Szechuan type trade rupee, $977.50 (estimate $100-200).
983: MUGHAL: Shah Shuja, 1657-1660, AR rupee (11.05g), Ujjain, ND/DM, KM-276.x, well worn, as though someone carried it for many many years as a pocket piece, Very Good, RRR. Estimate $1,300-1,600. Realized $9,000.
Lot 983, Mughal, Shah Shuja, silver rupee, Ujjain mint, date off flan, KM-276.x, only vg with several testmarks, unattractive, but fetched the astounding price of $10,350 (estimate $1,300-1,600).
Lot 1177, Sikh Empire, copper dam of Kashmir, VS1876, year of Sikh conquest of Kashmir, about vf, unpublished, $2,415 (estimate $375-475).
Lots 1643, copper dub of Madras Presidency, f-vf, even strike, $1,150 (estimate $75-125).
Lot 1645, silver 1/4 pagoda, first series, choice au (KM-343), $1,610 (estimate $500-700).
Lot 1694, 50 paisa, 1964(b), commemorating the death of Jawaharlal Nehru, PF63, $1,000 (estimate $250-350).
Lot 1855, Annam (Vietnam), silver lang of Gia Long, $920 (estimate $150-200).
Lot 1891, French Equatorial Africa, 5 centimes, 1943, MS65, $1,380.
2105: AUSTRALIA: George V, 1910-1936, AE penny, 1920, KM-23, dot below bottom scroll variety, NGC graded MS65 RB. Estimate $7,000-9,000. Realized $10,000.
Lot 2105, Australia, penny, 1920, without dots variety, $11,500 (estimate $7,000-9,000).
It is clear that throughout the auction, both grade and eye-appeal were of great importance, whereas unattractive coins, even if moderately rare, fetched a modest price or failed to sell.
Coins of India in general, from ancient to modern times, received great interest, especially the Mughal, Sikh, Princely States, and British India. So did several other areas, including the coins and glass jetons of the Fatimid dynasty, Islamic gold in general, the Rum Seljuqs (in Turkey, 13th century), machine-struck coins of Iran, and several other areas, whether represented by few or many lots.
In these modern times, bids were received by email, on the floor, by phone, and above all, from the internet during the sale via iCollector, which functioned perfectly, without any errors. And a few bids were received by fax and that oldest of methods, "snail mail".
You can find the complete auction catalogue online at Steve Album Rare Coins.