[bsa_pro_ad_space id=4]
14-01-2015 – 15-01-2015
21th Auction
The Zhao Quanzhi Collection of Chinese Cash Coins
Stephen Album Rare Coins will hold its Auction 21 on Thursday, 15 January, and Friday, 16 January, in their offices in Santa Rosa, CA. The auction includes Ancient, Islamic, Chinese, Indian, World Coins, and Numismatic Literature comprising 2,126 lots. Sure to draw attention is The Zhao Quanzhi Collection of Chinese Cash Coins, along with many other rarely encountered items. Some highlights of the auction are as follows:
Lot 315: ALMORAVID: Ishaq b. 'Ali, 1145-1146, AV dinar (4.15g), Marrakesh, AH540, A-474, H-434, superb strike, Choice AU, extremely rare. Hazard knew of only one specimen of this mint/date combination, and very few dinars of any type for Ishaq b. 'Ali. Estimate $4,000-4,500.
Lot 573: QAJAR: Fath 'Ali Shah, 1797-1834, AV presentation keshvarsetan (4.58g), Isfahan, AH1245, A-2871, Rabino-577 (same reverse die), obverse portrays the king seated on throne, with medallion bearing the ruler's name to the left, mint & date in elegant border on reverse, minor spot of weakness of strike, UNC, extremely rare. Estimate $3,000-3,800.
Lot 579: BUKHARAN PEOPLE'S SOVIET REPUBLIC: ND, 56mm, uniface medal for the suppression of the Basmachi Revolt, with symbols of the State, a large star with crescent below, Arabic script within, five small stars around and two rifles with bayonets either side, VF, extraordinarily rare. A similar but enameled variant sold in The New York Sale XIX, Lot 2194. Another sold on the Russian website, Auction-su.com, for $4,300 in October 2008. This is only the third example we know of for this apparently unpublished medal. Estimate $4,000-5,000.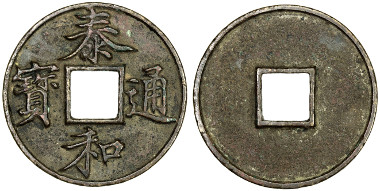 Lot 819: JIN: Tai He, 1204-1209, AE 10 cash (19.26g), H-cf. 18.62, orthodox script, EF, extraordinarily rare, ex Zhao Quanzhi Collection. Few recorded specimens of this rare denomination of this reign title are known. Please see the article about these coins on Zeno by Gilbert Tan and Wu Xiankang. This piece has been well known in China for 75 years, but was lost track of after the collection left Shanghai for the United States in 1949. Estimate $8,000-10,000.
Lot 1161: MUGHAL: Jahangir, 1605-1628, AV zodiac mohur, Agra, AH1028 year 14, KM-180.1, Aries (ram), rising sun behind, NGC graded EF45, extremely rare. For five years, AH1028-1033, the Agra mint struck monthly zodiac mohurs, and it is likely that each of the twelve zodiacs were struck each year. Aries is one of the rarest, and the British Museum catalog lists only two years, AH1028 and 1030. No original example of an Aries mohur is recorded on CoinArchives. Estimate $35,000-45,000.
Lot 1354: BRITISH INDIA: George VI, 1937-1947, AR rupee, 1939(b), KM-555, S&W-9.13, reeded edge, light obverse scratch, very rare date, EF, extremely rare. Estimate $5,000-7,000.
Lot 1785: BELGIUM: Leopold I, 1831-1865, piéfort AV 10 francs, 1849, KM-P1, Bogaert-397, based on KM-18, considered by Bogaert at the highest level of rarity, NGC graded AU58, extraordinarily rare. Estimate $3,000-4,000.
For more information see Steve Album's website.