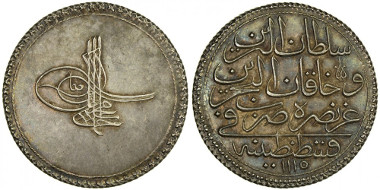 [bsa_pro_ad_space id=4]
14-01-2015 – 15-01-2015
21th Auction
Frenzied bidding at the Auction of Stephen Album
Spirited bidding was seen at the January 15-16, 2015 auction of Stephen Album Rare Coins, held at their offices in Santa Rosa, CA. The 21st auction for the company realized a total of $1,377,888 on a $738,390 estimate. The total amount is a new high for the firm, and the sell through rate was 79% for the 2,126 lots.
Particularly frenzied bidding occurred in the Chinese section, which featured the Zhao Quanzhi Collection of Chinese Cash Coins. The Tai He 10 cash featured on the cover of the catalog sold for $240,000, a record for a pre-modern or cash coin sold outside of China. The collection that Zhao Quanzhi amassed in China prior to World War II was a significant collection of cash coinage. The collection was brought out of China in 1949 by his daughter to the United States. Part 2 of this collection will be sold by the firm in their September auction.
Some highlights for the auction are as follows: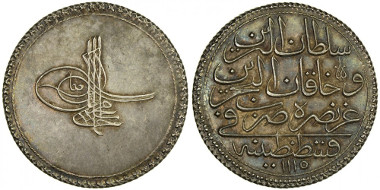 Lot 479: TURKEY: Ahmed III, 1703-1730, AR pattern (16.26g), Kostantiniye, AH1115, KM-—, elegant toughra of Ahmed / standard titles ("sultan of the two continents, khaqan of the two seas" and "may his victory be glorious"), mint and accession year, uniform oblique reading, fabulous strike, lovely rainbow toning, About Unc, RRRR. Realized $5,500 on a $3,000 estimate.
Lot 573: SHAHS OF IRAN: QAJAR: Fath 'Ali Shah, 1797-1834, AV presentation keshvarsetan (4.58g), Isfahan, AH1245, A-2871, Rabino-577 (same reverse die), obverse portrays the king seated on throne, with medallion bearing the ruler's name to the left, mint & date in elegant border on reverse, minor spot of weakness of strike, Unc, RRR. Realized $7,000 on a $3,000 estimate.
Lot 806: CHINA: YOU ZHOU AUTONOMOUS REGION: Anonymous, 900-914, AE cash (17.24g), H-15.162, yong an yi bai, encrustation, Fine, RRR, ex Zhao Quanzhi Collection. Realized $22,000 on a $200 estimate.
Lot 819: CHINA: JIN: Tai He, 1204-1209, AE 10 cash (19.26g), H-cf. 18.62, orthodox script, 45.17mm diameter, 3.55mm thickness, EF, RRRR, ex Zhao Quanzhi Collection. Realized $240,000 on a $8,000 estimate.
Lot 1053: TIBET: AV 20 srang, BE15-54 (1920), Y-22, snow lion looking left, NGC graded MS65, RR, ex Charles Schulz Collection. Realized $7,750 on a $2,500 estimate.
Lot 1161: INDIA: MUGHAL: Jahangir, 1605-1628, AV zodiac mohur, Agra, AH1028 year 14, KM-180.1, Aries (ram), rising sun behind, NGC graded EF45. Realized $57,500 on a $35,000 estimate.
Lot 1780: BELGIUM: Leopold I, 1831-1865, AV 25 francs, 1850, KM-13.2, one-year type, rare in this quality, NGC graded MS63, RR. Realized $3,500 on a $2,500 estimate.
Lot 1886: MALTA: Antoine de Paule, 1623-1636, AR 3 tari (7.80g), 1624, KM-47, Maltese cross, date between the limbs, choice VF, R. Realized $1,900 on a $500 estimate.
The firm's CEO, Joseph Lang, said "the results for the Chinese collection was nothing short of extraordinary. We were pleasantly surprised at the prices realized, showing the strength of this area of the market."
For more information see Steve Album's website.