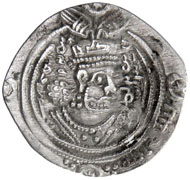 [bsa_pro_ad_space id=4]
18-09-2013 – 20-09-2013
17th auction
Stephen Album hold a strong 17th auction
Stephen Album Rare Coins held its 17th auction on September 19-21 2013, in their offices in Santa Rosa, California. The auction comprised 2237 lots, and included Ancients, Islamic, Indian, Oriental, and World Coins, in addition to Numismatic Literature. Total hammer price was $733,261 (including buyer's premiums).
Some highlights from the auction (prices realized include buyer's premiums):
Lot 104: ARAB-SASANIAN: Abd al-Malik b. Abi Shay(kh), fl. 692, AR drachm (3.02 g), APRShT (Abarshahr), AH72, A-M29, clipped down to about the post-reform Umayyad standard, very clear name, mint & date, F-VF, RRRR (first known example of this governor). Realized $22,705 on a $1,500-2,000 estimate.
Lot 147: UMAYYAD: Yazid II, 720-724, AV dinar (4.28g), Ifriqiya, AH102, A-134A, nice even strike, choice EF, RRR. Realized $16,730 on an $8,000-10,000 estimate.
Lot 546: QARLUGHID: Nasir al-Din Muhammad, 1249-1259, AR dirham (2.55g), NM, ND, A-L1817, 1 testmark on reverse, VF, RRRR (first reported silver coin for this ruler). Realized $6,110 on a $1,900-2,200 estimate.
Lot 1033: GUPTA: Kumaragupta I, 414-455, AV stater (8.00g), Altekar Pl. 12, 6, king standing, shooting arrow into the belly of a tiger/ goddess Lakshmi nimbate, standing on a small crocodile, feeding fruit to a peacock, one small nick at the rim, bold strike, EF, R, Realized $6,214 on a $2,500-3,500 estimate.
Lot 1190: MUGHAL: Shah Shuja, 1657-1660, AR rupee (11.28g), Akbarnagar, AH1068 year one (ahad), KM-275.1, decent strike, 1 testmark & 3 small bankerís marks, Fine, RRR. Realized $7,050 on a 1,500-2,000 estimate.
Lot 1401: SIKH EMPIRE: AR rupee (11.46g), Multan, VS1829, KM-83, Herrli-11.01.04, struck during the first year the Sikh conquered Multan from the Durranis (AH1184), countermarked 'rayij 1188' on obverse, EF mark on VF-EF host, RRRR. Realized $9,560 on a $700-800 estimate.
Lot 1697: KOREA: AE mon tree, 1857, Mandel-28.11, casting tree of seed or mother coins, including series 2 (4), 3, 4, 5, 6, 7, 8, and 9 (2), totaling 12 pieces, casting style suggests late 19th or very early 20th century production, still an interesting item, VF. Realized $7,050 on a $75-125 estimate.
Lot 1721: NEPAL:Surendra Vikram, 1847-1881, AV duitola asarphi (22.93g), SE 1771, KM-B618, Rh-937, special presentation issue, superb bold strike, AU, RRR. Realized $6,580 on a $7,000-8,000 estimate.
Lot 2179: VENEZUELA AR 2 bolivares, 1912, Y-23, reverse is especially nice and lustrous, AU. Realized $4,780 on a $1,000-1,200 estimate.
Paul Montz, the firm's Director of World Coins, said 'We were pleasantly surprised with many areas of the auction, especially on some of the Korean lots. We were very happy with our sell-through percentage, which was one of our best ever. The World session did particularly well, but all sessions were fairly strong.'
The firm is now planning its Auction 18, to be held January 16-17, 2014. They are actively seeking consignments for this auction up through November 1, 2013. For more information, go to their website.