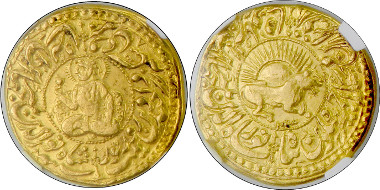 [bsa_pro_ad_space id=4]
15-01-2014 – 17-01-2014
Auction 18
Exquisite Mughal coins
Stephen Album Rare Coins Auction 18 is just a few weeks away, a three-day auction in six sessions, January 16-18, 2014, is now online. There are 2,470 lots, including a wide variety of coins, many group lots, plus a small selection of numismatic books.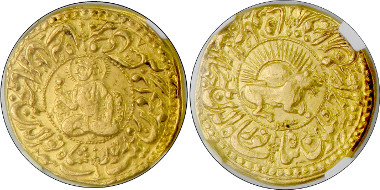 MUGHAL: Jahangir, 1605-1628, AV portrait mohur (10.67g), Ajmir, AH 1023 year 8, KM-179.5. Estimate: $60,000-80,000.
The first session commences at 9:00 on Thursday morning, January 16, 2014. The cover coin is Lot 1188, a Mughal gold portrait mohur of Jahangir, 1605-1628, dated AH1023 year 8, KM-179.5, BMC-318 with a small figure of Jahangir, nimbate, seated crosslegged head to left on Mughal throne, holding a wine goblet in right hand, left hand on a Koran resting on his left knee with a lion surmounted by a sun on the reverse. A very rare type and seldom found outside museum collections.
Another very rare gold portrait mohur of Jahangir is offered as well, Lot 1187 with bust of Jahangir left, radiate, wearing turban with egret, holding goblet in right hand & book in left hand and lion on reverse.
BRITISH INDIA: Victoria, Empress, 1876-1901, 3 coin set, 1879(b). Estimate: $50,000-60,000.
Another highlight is Lot 1751, the British Indian 3-piece gold proof early restrike set of Queen Victoria dated 1879 and struck at the Bombay mint. The set includes a gold mohur NGC graded PF-63; gold 10 rupees NGC graded PF-63 and a gold 5 rupees NGC, graded PF-62, and includes the original case of issue. It is very rare to encounter Bombay mint originals or restrikes and more so as part of an intact set with the original case of issue. Inside the case is a gold embossed inscription reading H. M. BOMBAY and the Imperial State Crown. The box appears to have been manufactured at the end of the 19th century. Paul Stephens and Randy Weir do not list early proof restrikes or original proofs for either the mohur or 10 rupee coins, but do mention an early proof restrike of the 5 rupee exists in the British Museum. We know of no other set in existence!
TURKEY: Abdul Mejid, 1839-1861, Mecidiye Nisani order set, AH1268 (1852), Order of the Medjidie, 2nd Class. Estimate: $5,000-6,000.
The auction also includes a session of Military Orders and Medals mostly from the Ottoman empire but many other countries are represented in the session as well. One highlight is Lot 1905, a Mecidiye Nisani (Order of the Medjidie), 2nd Class, two piece set from Ottoman Turkey, dated AH1268 (1852). The set is encased in the original red velvet case embossed with golden Tughra on cover with numeral '2' in Arabic. The Second Class Order (Gold) was awarded only to 150 people, all given by the Sultan himself.
The largest and best selection of Mughal Empire coins we have yet offered will be hammered down in this sale including:
Muhammad Akbar II, 1806-1837, AV mohur (10.72g), Shahjahanabad (Delhi), AH1225 year 4, KM-781. Estimate: $3,000-4,000.
Lot 1362; Muhammad Akbar II, 1806-1837, AV mohur, struck in Shahjahanabad (Delhi), dated AH1225 year 4, KM-781, with parasol in obverse field, a superb bold strike with superb, lustrous surfaces! NGC graded MS64.
Lot 1269; Azam Shah, 1707, AV mohur, struck in Surat, dated AH1119 year one (ahad), KM-334.6, with full date & regnal year in VF condition.
Lot 1122; Jahangir, 1605-1628, AR rupee, struck in Agra, dated AH1020 year 6, KM-A144.1, superb ornate design with the finest calligraphy, solar month of Mihr, superb strike, NGC graded AU58.
Lot 1114; Akbar I, 1556-1605, AV mohur, struck in Agra, dated AH978, KM-106.1, Lid-G5, superb bold strike, choice EF.
Other highlights in the sale include:
Lot 29: Sasanian Kingdom, Shahpur II, 309-379, AV dinar, struck in Marw, G-1287/1289, crowned bust facing right / fire-altar, with adjacent ribbons. Marw was one of just two mints that occasionally are actually cited on the coins during this reign (the other one is Sakastan). It was an important city, now located in Turkmenistan, and served the ancient and medieval silk roads that linked China with Iran.
Lot 867: Eastern Chou dynasty of China, 500-400 BC, AE spade money, H-2.182, pointed shoulder hollow handle type, a superb example fully intact with lovely patina, ex Ernest A. Ikenberry Collection.
Lot 924: Tibetan coin in the name of the Chinese emperor, Qian Long, 1736-1795, AR 1/2 sho, year 58 (1793), Cr-71, L&M-638B, with 24 dots, this is a very rare denomination, NGC graded EF45.
Lot 1542: Indian Princely State of Mysore, Tipu Sultan, 1782-1799, AR 1/4 rupee (baqiri), struck in Patan, dated AM1218 year 7, KM-D125, lovely bluish toning, NGC graded MS62. This is the finest specimen of this scarce type we have yet offered.
Lot 1844: French India, AR 1/2 nazarana rupee, struck at Arcot, dated AH1203 year 28, KM-14A, in the name of Shah Alam II, crescent privy mark. Although a small group of nazarana rupees of this same type appeared on the market about 15 years ago, we are not aware of any other 1/2 nazarana rupees in that group or any other specimens on the market. A wonderful rarity.
Lots 1864 and 1865: Republic of India: silver rupee and 1/2 rupees dated 1964(b), of the Jawaharlal Nehru commemorative types. These extremely rare off metal strikes in silver are unpublished to the best of our knowledge and both are NGC graded Proof 63.
Lot 2165: Thailand, Rama IV, 1851-1868, AR baht, ND (1860), KM-Pn27, wire rims, semi-proof like fields, lovely original toning, choice EF-AU. A very rare and desirable type!
Lot 2384; Argentina, AR 4 reales, Potosi, 1813, KM-4, assayer J, a superb example! PCGS graded AU53.
And of course, Stephen Album Rare Coins are actively seeking consignments for their Auction 19, scheduled for May 15-16, 2014.
Please contact Joseph Lang for more information.
For more information on the auction house and their auctions please go to the Stephen Album Rare Coins website.
You can find the complete catalog of auction 18 there.