[bsa_pro_ad_space id=4]
12-09-2018 – 13-09-2018
Auction 32
Mohur and Ottoman Empire coins
Stephen Album Rare Coins will hold its Auction 32 on September 13-14, 2018 at its offices in Santa Rosa, California. The auction is comprised of 2,200 lots of Ancient, Islamic, Chinese, General World, and Indian Coins, as well as Numismatic Literature.
A significant portion of the sale is made up of general World Coins, of which there are 893 lots. Of particular note this time are a number of high grade Chinese dollars, a Jahangir portrait mohur, the Don Erickson Collection of German Coins (Part II) and the Hazerfans Collection of Ottoman Empire Coins. Additionally there is a large grouping of ever-popular Fatimid coins from an anonymous collection, as well as a grouping of coins from Sind & Multan that are historically significant and will surely attract specialized collectors.
Some highlights from the sale follow:
Lot 141.
Lot 141: Sasanian Kingdom: Queen Azarmidokht, 631, AR drachm (3.98g), WYHC (the Treasure mint), year one, Sunrise-1007, Mochiri-505/10, the rarest of the Sasanian rulers, VF-EF, RRR. Estimated at $8,500-10,500
Lot 408.
Lot 408: Ottoman Empire: Mehmet II, 1451-1481, AV sultani (3.54g), Kostantiniye, AH882, A-1306, superb bold strike, choice AU, RR, ex Hazerfans Collection. Estimated at $4,000-5,000
Lot 727.
Lot 727: China: Hsuan Tung, 1909-1911, AE 2 fen, ND (1910), Hsu-36, KM-Pn279., CCC-630, Duan-2487, pattern struck at the Vienna mint, lovely smooth chocolate patina, NGC graded MS63 BR+, RR. Estimated at $10,000-15,000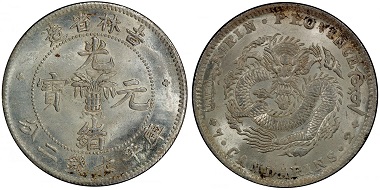 Lot 751.
Lot 751: Kirin: Kuang Hsu, 1875-1908, AR dollar, ND (1898), Y-183, L&M-515, Kann-287, branched horns type, brilliant white original luster, the finest known graded example, PCGS graded MS64. This coin is featured on the front cover of this auction catalog! Estimated at $10,000-15,000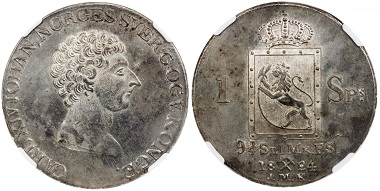 Lot 1363.
Lot 1363: Norway: Carl XIV John, 1818-1844, AR speciedaler, 1824, KM-290, mintmaster JMK, superb strike with wonderful reflective toned luster! NGC graded MS62. Estimated at $6,000-8,000
Lot 1414.
Lot 1414: Europa: Complete Collection of 410 dated coins, complete for every year from 1500 to 1899 – a remarkable achievement; ten of the dates have duplicate coins. The collection consists primarily of European states and countries, with about 10 pieces of Spanish America and another 20 of post-independence Latin America of the 19th century; retail value of over $30,000, collection of 410 items. Estimated at $22,000-28,000
Lot 1866.
Lot 1866: Mughal: Jahangir, 1605-1628, AV portrait mohur (10.80g), Ajmer (Ajmir), AH1023 year 9, KM-197.6, magnificent design and calligraphy, same dies as #319 of the British Museum (published by Lane-Poole in 1892), and far superior to another example from the same dies, but only good fine condition, that sold in the Triton Auction XIX, Lot 2398, for $350,000, NGC graded AU55. Estimated at $220,000-260,000
The firm is presently inviting consignments for its Auction 33 which will be held on January 17-19, 2019, and will present lots for viewing at the NYINC convention in New York the week prior.
More information can be found on Stephen Album Rare Coins' website.