[bsa_pro_ad_space id=4]
09-09-2015 – 11-09-2015
23rd Auction
Strong prices for Chinese Coins
A strong market was present during the 23rd auction of Stephen Album Rare Coins on September 10-12, 2015. Total sales for the 2,747 lots was $1.57 million (including buyer's premiums), a new record for the firm. Strong prices were seen throughout the catalog, although the Chinese section, featuring four major collections, was a standout. Some highlights of the auction are as follows:
Lot 1469: MUGHAL: Jahangir, 1605-1628, AV zodiac mohur (10.84g), Agra, AH1028 year 14. KM-180.19. BMC-350 (same obverse die). NGC graded EF45, RRRR, ex Joel Malter auction 6/19/1985.
Estimated Value: $50,000 to $70,000. Realized: $170,000.
Lot 676: LIAO: Da Kang, 1075-1084, AE amuletic multiple cash (28.21g), year 1. Zeno-1586 (this piece). da kang yuan nian ("Da Kang first year [1075]"), lovely calligraphy and style, bold VF, RR, ex Shèngbidébao Collection.
Estimated Value: $4,000 – 5,000. Realized: $28,000.
Lot 322: EGYPT: Mahmud II, 1808-1839, AR 5 qirsh (6.48g), Misr, AH1223 year 31. KM-184. An exceptionally well struck and well preserved example of this very rare denomination for the reign of Mahmud II, EF, RRR.
Estimated Value: $4,500 – 5,500. Realized: $9,500.
Lot 996: QING: Xuan Tong, 1909-1911, AE cash, Board of Revenue mint, Peking. H-22.1516, North branch mint, cast in 1909, one coin missing, thus nearly complete casting 'money tree' of 59 coins, EF, RRRR, ex Wéiduolìya Collection.
Estimated Value: $10,000 – 14,000. Realized $32,500.
Lot 2486: SPAIN: Carlos II, 1665-1700, AV 8 escudos, Sevilla, 1700. KM-233.3. Cayon-7952. Very rare one-year type, lovely example. NGC graded AU55.
Estimated Value: $7,000 – 9,000. Realized: $11,000.
Lot 68: ARAB-BYZANTINE: AV solidus (4.27g), NM, ND. A-3548.2. Miles (1967), Plate XLV:4, Bernardi-2. Choice EF, RRRR.
Estimated Value: $40,000 – 50,000. Realized: $50,000.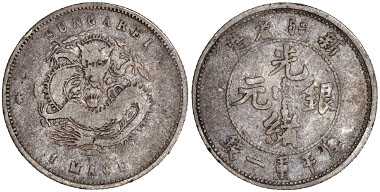 Lot 1221: SUNGAREI: Kuang Hsu, 1875-1908, AR mace, Tihwa mint, ND (1897). Y-10. L&M-832. NGC graded VG8, ex Wéiduolìya Collection.
Estimated Value: $4,000 – 5,000. Realized: $11,000.
The firm's next auction will take place January 14-15, 2016.
For consignment information, or any other information, please visit website of Stephen Album.