[bsa_pro_ad_space id=4]
13-01-2016 – 15-01-2016
Auction 24
Auction 24: A big success for Stephen Album Rare Coins
Auction 24 of Stephen Album Rare Coins was a big success for the company, netting $1.593 million (including 17.5% buyer's fee). The January 14-16 auction saw many items sell for well above estimate as evidenced by the $837,525 pre-sale estimate for the auction. The sell-through rate for the auction was 82.3%, showing strength in nearly every section. Joseph Lang, the company's CEO, noted that especially rare items did very well, continuing the recent trend. Also noted was the sale of Part 2 of the Zhao Quanzhi Collection of Chinese Cash Coins, which was very strong.
Following are a few highlights from the auction (prices are before buyer's fees):
Shun Tian. AE charm.
LOT 801: TANG: Shun Tian, rebel, 758-761, AE charm (24.58g), CCH-304, four dots around legend, possibly a phoenix on reverse, waves round rims, VF, RRRR, ex Zhao Quanzhi Collection. Realized $32,500 on a $1,900 estimate.
LOT 956: MING: Jia Jing, 1522-1567, AE 3 cash (9.93g), H-20.134, san qian at right on reverse, heavy encrustation, VG-F, RRRR, ex Zhao Quanzhi Collection. Realized $7,000 on a $900 estimate.
Budhagupta, ca. 480-500. AV dinar.
LOT 1371: GUPTA: Budhagupta, ca. 480-500. AV dinar (9.33g), Mitch—, Altekar Pl.XV:11, BMC p. 134, king standing, holding bow & arrow, Garuda to left / Lakshmi seated on lotus, Brahmi sri vikkrama to right, bold strike, choice EF, RRR. Realized $13,000 on a $2,500 estimate.
Akbar, 1753, AR rupee.
LOT 1544: MUGHAL: Akbar Adil Shah, 1753, AR rupee (11.29g), Allahabad, year one (ahad), KM-763, Zeno-78896 (same dies), obverse couplet sikka zad dar jahan ba-fazl alah / shah-i-alam panah akbar shah, third known example of this Mughal Emperor, whose rupee was only recently discovered, and the only example ever offered on the market, choice VF-EF, RRRR, ex Paul Stevens Collection. Realized $35,000 on a $14,000 estimate.
LOT 1844: JAIPUR: Man Singh II, 1922-1949, AV nazarana mohur, Sawai Jaipur, 1945 year 24, KM-201, in the name of George VI, MGC graded MS64, RRRR. Realized $24,000 on a $11,000 estimate.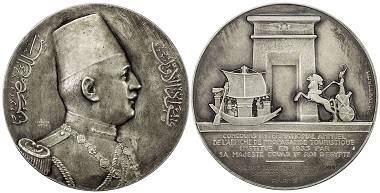 Fuad I. AR medal.
LOT 2226: EGYPT: Fuad I, King, 1922-1936, AR medal (167g), 1933, 72mm, for the "Concours International Annuel de l'Affiche de Propagande Touristique Institute en 1933" in honor of His Majesty Fuad I King of Egypt, awarded to the Societe Nationale des Chemins de Fer Francais in Paris, marked ARGENT on the edge by the Paris mint, obverse designed by S.E. Vernier in 1924, the reverse by P.M. Dammann, with the original presentation box, AU, RRR. Realized 15,000 on a $2,250 estimate.
LOT 2680: COLOMBIA: Gran Colombia, 1819-1831, AR 8 reales, 1820, KM-D7, Cr-115a, Restrepo-156.1, mule of Republica de Colombia and Nueva Granada types, minor obverse laminations as usual for type, reverse rim nick, transitional one-year type, minor edge defect, but unusually good strike for these, VF, RR. Realized $5,000 on a $3,000 estimate.
The company is currently accepting consignments through March 11 for its Auction 25, which will take place May 19-20. For further information, please visit their website or contact them via email.