[bsa_pro_ad_space id=4]
18-01-2017 – 21-01-2017
Auction 27
Part VI of the Dr. Paul Stevens Collection of Indian Coins
The next auction by Stephen Album Rare Coins will be January 19-22, 2017 at the firm's offices in Santa Rosa, CA. All lots will be available for viewing the previous week, January 12-15, 2017, at the New York International Numismatic Convention (NYINC) at the Waldorf-Astoria Hotel. This auction has 2,692 lots of Ancient, Islamic, Chinese, World, Indian, and Numismatic Literature. Featured this time is Part VI of the Dr. Paul Stevens Collection of Indian Coins, this part focusing on Indian Princely States.
Highlights of the auction are as follows:
Lot 246.
Lot 246: Abbasid Revolution: Anonymous, 744-751, silver dirham, Mahayy, AH128, Album-206.1, Klat-, struck by partisans of 'Abd Allah b. Mu'awiya, some minor adhesions, predominantly on the reverse, VF, RRRR Estimated Value $6,000 to 7,000.
Lot 830: Western Liao: Xu Xing, 1151-1164, AE cash, Hartill-, Zeno-105364, VF, RRR. Estimated Value $7,000 to 9,000.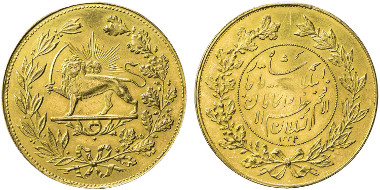 Lot 1017.
Lot 1017: Iran: Ahmad Shah, 1909-1925, gold 5 toman, AH1334, KM-1038, Rabino-83, Iranian lion & sun in wreath // name & titles of the Shah within wreath, some weakness in center (as on the gold specimen illustrated by Rabino), surface hairlines, one small scratch at top of reverse, AU, RRRR. Estimated Value $12,000 to 14,000.
Lot 1166.
Lot 1166: Biafra: silver crown, 1969, KM-5, 38mm, bust of Chukwuemeka Odumegwu Ojukwu, chief of staff during Biafra's brief independence 1967-1970 // coconut palm tree, NGC graded MS61, RRR. Estimated Value $5,000 to 7,000.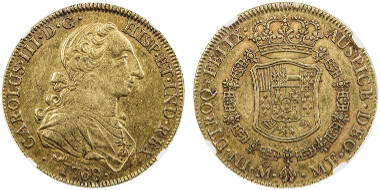 Lot 1770.
Lot 1770: Mexico: Carlos III, 1759-1788, gold 8 escudos, 1768/7-Mo, KM-155, Fr-29, Calicó-83var, Cal. Onza- 754var, Assayer MF, so-called "rat face" variety with dot after date, well struck, exceedingly rare, NGC graded EF45, RRR. This overdate does not appear to be published. A look at the major search engines shows no sales recorded. The NGC census shows only two pieces certified, both EF-45, making this tied for the finest certified at NGC. There are no examples certified by PCGS. Estimated Value $6,500 to 8,500.
Lot 1793.
Lot 1793: Mexico: Augustin I Iturbide, 1822-1823, gold 8 scudos proclamation (35.34g), 1823, Grove-11, 39mm gold proclamation medal for the Feast of the Proclamation on January 24, 1823 by J. Guerrero, uniformed bust right with "J. Guerrero f" below in italic script and AGUSTIN PRIMERO.EMPERADOR POR LA DIVINA PROVIDENCIA. around // crowned eagle on a cactus with head to right and laurel and palm wreath around with EN SU SOLEMNE PROCLAMACION LA CIUDAD D MEXICO around all and A 24 DE ENERO / DE 1823 in exergue, edge grains worn, lightly polished, numerous small pecks, perhaps used as a pendant, beautiful strike, exceedingly rare, EF, RRR. Estimated Value $12,000 to 18,000.
Lot 1996: Delhi: Sikandar Shah, 1488-1517, gold tanka, AH919, G-D700, without mint name (as always), lustrous mint state example of a very rare type! UNC, RRR. Estimated Value $20,000 to 25,000.
The firm is also accepting consignments now for its May sale. Please visit the company's website for more information.