[bsa_pro_ad_space id=4]
Stephen Album Rare Coins Auction 44
Stephen Album Rare Coins will hold its Auction 44 on September 15-18, 2022 at its offices in Santa Rosa, California. The Auction is made up of 3,250 lots of Ancient, Islamic, Chinese, Indian, and General World Coins. There is also a small selection of Ethnographic money. The pre-sale estimate is approximately $1.4 million USD, with the final total expected to far exceed that amount.
Featured in the sale is the Joe Sedillot Collection of World Coins (Part III) which includes a wide array of type coins from numerous countries. A significant number of the coins in the collection are in choice condition and were selected for encapsulation in PCGS holders. Part I was offered in the firm's January 2022 sale and Part II was offered in May 2022. Many pieces went for multiple times estimate and some items set new price records. Part III largely consists of European coins including Austria, Belgium, Denmark and France. Additional parts of the collection will be offered in subsequent auctions in 2023.
Some highlights from the sale follow:
Lot 133: Arab-Sasanian: Bishr b. Marwan, fl. 692-694, AR drachm (4.00g), BCLA (al-Basra), AH75, A-27.1, Malek-206, this remarkable coin, the Caliph Orans types, has the standard Sasanian style obverse, with the name of Bishr b. Marwan in Pahlavi and Arabic bism Allah muhammad rasul Allah in the margin; the reverse has the portrait of the caliph, in praying position, in place of the fire altar, flanked by two bearded attendants in Arab dress, VF, RR. Estimate: $5,000.6,000.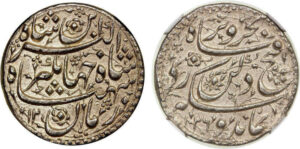 Lot 730: Mughal: Jahangir, 1605-1628, AR rupee (11.44g), Mandu, AH1026 year 12, KM-149.19, "fath-e dekkan" ("victory over the Deccan") commemorative, with the special couplet that translates as "the coin of the victory over the Deccan, struck at Mandu by the Shah of the Land and the Sea // the emperor of the time, Shah Jahangir, son of Shah Akbar"; wonderful example, without any testmarks, bold strike, NGC graded AU55, RRR. Estimate: $15,000-20,000
Lot 945: Fukien: Tao Kuang, 1820-1850, AR dollar, ND (1844), Kann-5, L&M-290, Changchow Military Ration issue, character tong with open head variety, with single Chinese chopmark as usual for this rare type, NGC graded AU details, RRR. Estimate: $10,000-15,000
Lot 1001: Yunnan: Republic, AV 10 dollars, ND (1919), Y-482, L&M-1057; Fr-10; K-1527; WS-0652, variety with "1" below reverse tassels, struck for General T'ang Chi-yao, military governor of Yunnan, cleaned, overall a nice example of this rare and popular type, PCGS graded AU details. Estimate: $5,000-6,000.
Lot 1046: Tibet: AV 20 srang, Ser-Khang Mint, BE15-54 (1920), Y-22, L&M-1063B, snow lion looking left, variety with dot, a lovely lustrous mint state example! PCGS graded MS63. Estimate: $10,000-15,000.
Lot 1403: Anglo-Gallic: Edward the Black Prince, 1362-1372, AV pavillon d'or (5.31g), Aquitaine, ND, Boudeau-508, Duplessy-1120, the Prince seated facing on throne, crowned with roses, holding raised sword and flanked by four ostrich feathers, under Gothic canopy, with 2 leopards lying on either side of his feet with ED: PO: GNS: REG – ANGL: PnCPS AQ around // acorned and leafy cross with rose in a curvilinear heart-shaped lozenge, with two leopards and two lis in the angles, in a four-lobed square flanked by clovers with + DNS: AIVTO: Z: PTECTO: ME: – IIPO: SPAVIT: COR: MEVM: B around, well struck, some luster, EF-AU. Estimate: $5,500-7,500.
Lot 1556: Essequibo & Demarary: George III, 1760-1820, AR 3 guilders, 1809, KM-8, Prid-4, edge grained left, nicely detailed despite the shallow-strike that is standard for this type, much original mint bloom present, PCGS graded MS62, R. Estimate: $5,500-6,500
Lot 1705: Micronesia: Yap, rai stone money (12,010g), ca. 1871-1931, Opitz p.316-321, Opitz (2011) p.533 (plate example), 34 x 28.5 x 9cm (13.4″ x 11.2″ x 3.5″, 26.48 lbs), made from crystalline calcite (aragonite per Opitz), holed in the center, a very nice example of this famous ethnographic currency, VF, RR, ex Charles Opitz Collection. Estimate: $4,000-6,000
SARC CEO Joseph Lang commented: "We have received many kind compliments about our auctions in the last few months, in particular about our sales featuring coins that cater to a broad audience of real collectors. It has always been our goal to expand the size of our auctions while being mindful of continuing to offer the interesting material that people have come to expect from our sales. It is encouraging to hear feedback from clients who are excited to see what we will be offering in our sales."
All lots of the auction can be found in the online auction catalog.
More information can be found on Steve Album website.