[bsa_pro_ad_space id=4]
Stack's Bowers' Winter 2022 Auction
Stack's Bowers Galleries Winter Auction 2022 will be divided into 15 sessions of floor and internet auctions featuring several thousand lots. The sessions will take place from 27th October until 9th November 2023. Highlights of the auction include coins from the Syd Martin, Harvey B. Jacobson, Fairmont and many other collections.
Colonial and Gold Rarities
The sale will begin with live bidding for Part II of the Sydney F. Martin Collection and ending with the final Internet Only session on Wednesday, November 9. Presented is an exciting array of Numismatic Americana, U.S. Colonial and Federal coinage, and Physical Bitcoins and Cryptocurrency, including several significant collections that represent the pinnacle of their respective categories.
Part II of the Sydney F. Martin Collection will be offered in two live sessions on October 27 and 28 to be held at the Expo location in Baltimore, Maryland. Session 1 will include Martin's French colonial material, Rosa Americana coinage, and 1785-1786 Connecticut coppers, while Session 2 will feature Washingtoniana. Each of these collections is remarkable and reflects Martin's decades of collecting and unparalleled research. Part II includes such highlights as one of three known 1785 African Head, Miller 4.2-F.6. Connecticut coppers and a rare 1724/3 Rosa Americana Pattern penny, Martin 4.1-G.1. graded MS-64 BN (PCGS) that was once in the collections of Virgil Brand and John J. Ford, Jr.
Additional colonial coins in the Winter 2022 Expo Auction include a recently-discovered NE shilling which tops the population census at MS-61 (NGC), a VG-8 (PCGS) 1786 Non Vi Virtute Vici copper, an EF-45 (PCGS) 1694 Carolina Elephant token, PROPRIETORS, O/E variety, a MS-63 BN (PCGS) 1760 Voce Populi farthing and an EF-40 (PCGS) ca. 1785 Bar copper. This colonial material is presented in cooperation with the Colonial Coin Collectors Club (C4).
Presented from the Harvey B. Jacobson, Jr. Collection is a complete set of Capped Bust $10 gold eagles, 1795 through 1804, including all known die varieties struck for circulation. This 32-piece set is the third known complete collection of this series and the second such set offered by Stack's Bowers Galleries, who in 2019 presented the Anthony Taraszka Collection. Standouts from the Jacobson Collection include a rare BD-3, 9 Leaves 1795 Capped Bust Right eagle graded AU-58 (NGC), an exceptional MS-62 (PCGS) BD-1 1796 Capped Bust Right eagle, a BD-2 1797 Heraldic Eagle $10 graded MS-62 (PCGS) and an 1804 BD-1, Crosslet 4 example graded MS-61 (NGC). The Harvey B. Jacobson, Jr. Collection will open for live bidding on November 1 at 2:00 pm PDT.
The CBL Set of $5, $10, and $20 gold coins from the Fairmont Collection is another standout offering in the Stack's Bowers Galleries Winter sale. Comprising mostly complete runs of each denomination beginning in 1834, the CBL Set exhibits an astounding combination of Condition Census and Everyman quality across the rarest dates and varieties of U.S. gold. Highlights from the CBL Set from the Fairmont Collection include a superior MS-62 (PCGS) 1909-O Indian half eagle, a MS-61 (PCGS) CAC 1884-CC Liberty Head eagle, and an exceptional No Motto 1866-S Liberty Head double eagle graded AU-58 (PCGS).
Among other featured cabinets, the Abernathy Collection presents an impressive array of early copper rarities including a remarkable VF-25 (PCGS) Sheldon-13 1793 Liberty Cap cent and a bold Good-4 (PCGS) Sheldon-80, Jefferson Head variety of the 1795 Liberty Cap cent. The Addison Collection offers tremendous early American and territorial gold rarities highlighted by a group of "1776" Continental dollars that includes an AU-55 (PCGS) CAC of the Newman 1-B, CURENCY variety struck in brass and a MS-64 (NGC) pewter striking of the Newman 2-C, CURRENCY variety.
The Augustana Collection is the source for astounding rarities from the Dahlonega Mint including a MS-61 (PCGS) 1860-D gold dollar, an AU-55 (PCGS) 1854-D quarter eagle, and a MS-62 (PCGS) 1859-D half eagle. An impressive assortment of high-end Saint-Gaudens double eagles are presented from the Collection of Dr. Gregory D. Jay, highlighted by a MS-60 (PCGS) OGH 1926-D and a MS-62 (PCGS) 1925-S.
Of particular note is an incredible six-piece 1885 gold Proof set with all denominations from the gold dollar through the double eagle. These coins all display exceptional eye appeal, and the majority are approved by CAC. Also offered is a near-complete nine-piece 1900 Proof set that includes gold coinage. Remarkably, each coin in this set has been awarded a green sticker by CAC, and they are all housed in desirable old-style NGC holders.
Accompanying these colonial and federal coins is an exciting selection of Numismatic Americana including rarities in the token and medal categories. The Numismatic Americana is highlighted by a pair of Libertas Americana medals in silver and bronze, a Feuchtwanger three-cent piece graded MS-63PL (NGC), a 1953 Assay Commission medal with a Presidential appointment document, and a silver 1876 U.S. Diplomatic medal.
Stack's Bowers Galleries also presents their Cryptocurrency Anniversary Session which celebrates one year since their first offering in this category. Presented in this special session is an unprecedented 104 coins spanning the Bitcoin, Litecoin, Monero, and Dogecoin cryptocurrencies. This remarkable selection showcases all the most popular series including Casascius, Lealana, BTCC, Microsoul, MoonBits, Satori, Crypto Imperator, Denarium, Titan Mint, and many others. Seventy-two coins are loaded and funded with cryptocurrency, while 32 lots feature non-loaded coins including redeemed, unfunded, and crypto-themed items. This diverse offering will appeal to advanced specialists as well as collectors who are looking to dip their toes into this category for the first time.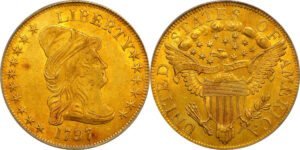 Harvey B. Jacobson, Jr. Collection of 1795 to 1804 $10 Gold Eagles
Mr. Jacobson is only the third collector known to have completed this set by die marriage, joining the august company of Anthony J. Taraszka and the owner of the Tyrant Collection.
Taraszka, author of the standard reference on the early $10s, sold his complete set of early $10s through Stack's Bowers Galleries in its August 2019 Official Auction of the ANA World's Fair of Money, making Stack's Bowers Galleries the first and only auction firm to have brought such a set to market. When the hammer falls on the last coin in Jacobson's 32-piece set, Stack's Bowers Galleries will become the only firm to have sold both such complete collections to come to market.
As with so many collectors, Jacobson, a patent attorney by trade, returned to his childhood avocation of coins later in life, at first collecting readily available pre-1933 gold coinage before taking a deep dive into the much rarer first gold coinages produced by the United States. Within a few years, he advanced to the challenge of collecting the early $10s by die marriage, inaugurating his collection with the early 2002 purchase of a superb, original, and boldly lustrous 1797 BD-2, Taraszka-8 with Heraldic Eagle reverse graded PCGS MS-62 (CAC).
With this auspicious start, Jacobson was hooked, methodically acquiring die marriages of the early $10s as they came up for sale through specialist dealers and major public auctions. And, just a few months after the 20th anniversary of the beginning of his set, Jacobson filled the last hole in the collection with the acquisition of the 1803 BD-5, Taraszka-30 "14 Star Reverse" graded PCGS MS-60 OGH from Stack's Bowers Galleries' April 2022 Auction of the Andrew M. Hain Collection.
"The temptation when collecting a series by die marriage is to just fill in the holes with any old coins," commented Stack's Bowers Galleries Vice President of Numismatics Vicken Yegparian. "But Harvey was not that guy, instead picking up great looking coins and examples with significant pedigrees in his journey toward completion. His 1795 9 Leaves graded NGC AU-58 from the George H. Blake Collection is just one of the coins in the set that marries a great look with a great pedigree."
This coin, last sold by Stack's in its October 2006 71stAnniversary Sale, had been consigned by descendants of Blake, who had passed away in 1955. The extremely rare 9 Leaves reverse type, with only about 20 specimens thought to survive, was first published in 1926, and another example was not identified and publicly sold until 1960, perhaps making the Blake specimen only the second identified of this distinctive type.
"I have had the opportunity to work with Harvey numerous times during my tenure as president of Stack's Bowers Galleries, and he's been a true gentleman at every turn" commented Brian Kendrella. He continued: "It makes me happy and proud to see the fruits of Harvey's labors in the pages of our award-winning catalogs."
The Jacobson Collection will be featured in its own, stand-alone catalog and will be sold in Griffin Studios in Costa Mesa, CA as part of Stack's Bowers Galleries' Tuesday, November 1, 2022 Rarities Night Session in its Official Auction of the Whitman Coin & Collectibles Expo.
Collection highlights include:
1795 BD-3, Taraszka-3. Rarity-6. 9 Leaves. AU-58 (NGC). – From the George H. Blake Collection before 1955.
1796 BD-1, Taraszka-6. Rarity-4. MS-62 (PCGS). – From the Byron Reed Collection before 1891.
1797 BD-2, Taraszka-8. Heraldic Eagle. Rarity-4+. MS-62 (PCGS). CAC.
1798/7 BD-1, Taraszka-9. Rarity-4+. Stars 9×4. MS-61 (PCGS).
1799 BD-1, Taraszka-13. Rarity-7. Small Obverse Stars. AU-55 (NGC). – The Finest Certified of this Very Rare Die Marriage.
1800 BD-1, Taraszka-23. MS-62 (PCGS).
1804 BD-1, Taraszka-31. Rarity-4+. Crosslet 4. MS-61 (NGC). –Very well struck for the issue.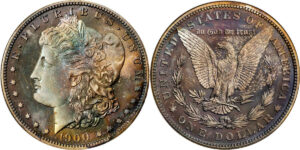 CAC-Approved 1900 Proof Set
Stack's Bowers Galleries also offers two remarkable early Proof sets, one from 1855 and one from 1900. The 1900 Proof set is nearly complete (missing only the Barber dime) including the gold denominations and all coins feature CAC approval. The 1855 set showcases the silver and minor denominations from the silver dollar to down to the half cent and includes several coins with CAC approval. The coins will be offered individually in consecutive lots in the firm's Rarities Night session on Tuesday, November 1.
The 1900 Proof set features exceptional specimens with matched eye appeal all housed in desirable old-style NGC holders. The gold eagle and half eagle both earned Ultra Cameo designations for their gorgeous contrast, while the double eagle received a Cameo designation. Details of the complete 1900 Proof set are listed below:
$20 1900 Proof-65 Cameo NGC CAC
$10 1900 Proof-65 Ultra Cameo NGC CAC
$5 1900 Proof-66 Ultra Cameo NGC CAC
$2.50 1900 Proof-65 NGC CAC
S$1 Proof-66 NGC CAC
50c Proof-67 NGC CAC
25c Proof-66 NGC CAC
5c Proof-66 NGC CAC
1c Proof-65 RD NGC CAC
Proof set production at the Philadelphia Mint was relatively high in 1900, with a total of 912 full sets produced; minor Proof sets (which included the cent and the nickel) were also produced. Production declined over the next 15 years, reaching a low in 1914.
Walter Breen noted that many early 20th century Proof coins exhibited spots which often prompted harsh cleaning, making attractive original examples like those offered in the Stack's Bowers Galleries November auction especially sought-after. These pieces would be lovely additions to the cabinets of many numismatists, from Proof type collectors to series specialists.
Also offered in the sale is a nicely matched 1855 Proof set including all silver and minor coinage from the Braided Hair half cent through the Liberty Seated dollar. Proof production in the mid-19th century was not extensive, and some of the offered coins have estimated mintages of just 20 or so. Precise mintages of specimen coinage were not recorded, and most examples were struck for collectors with political connections or relationships with Mint personnel. The Liberty Seated dime, half dollar, and dollar received Cameo designations while the three-cent silver piece, quarter and half dollar all received CAC approval. This sale represents a great opportunity for 19th century Proof collectors to acquire some attractive, rare issues. Details on the 1855 Proof Set are listed below.
1/2c Proof-62BN NGC
1c Proof-63 RB NGC
3CS Proof-64 NGC CAC
H10c Proof-63 NGC
10c Proof-66 CAM NGC
25c Proof-65 NGC CAC
50c Proof-64 CAM NGC CAC
S$1 Proof-65 NGC CAM
The complete Stack's Bowers Galleries Official Auction of the Whitman Coin & Collectibles 2022 Winter Expo is now available for viewing and pre-bidding on the firm's website.
For further information, visit the Stack's Bowers website.